This was made for referential purposes only. The content on this site is made for fair use and for understanding. None of this is official, it has been made by collaborating from websites, articles, and books. The major content available on the Answer bank is made by compiling docuements which are available on the Notes Section of the site. The Site does not take responsibility for someone's Grades.
The Use of the Site is completely an individuals choice and responsibility.

This website is still Under Development, and on the verge of constant improvement

Thank you for bearing with us, and Enjoy Reading!
If there are any suggestions, mistakes, grievances or issues, Reach out on
[email protected]
Printing of this file is not allowed. Follow me on my Instagram Account, to connect with me
Case Study : Successful Campaigns
What is a social media campaign?
It's a coordinated marketing effort on behalf of a business that's designed to reinforce information or sentiments (about a product, service, or overall brand) through at least one social media platform.
Campaigns are strategically focused, have measurable outcomes, and are ultimately aimed at influencing social media users to feel or act in a certain way.
To inspire your next effort, here are some of the best social media campaigns from the past couple of years.
The Campaigns
I tried my level best to handpick campaigns which were heard or can be easy to remember for us.
Always #LikeAGirl
#LikeAGirl was such a runaway hit that even after three years the tag is still enthusiastically embraced by girls and women doing badass things all over the world.
https://www.youtube.com/watch?v=XjJQBjWYDTs
In fact, it's such a part of common parlance that people might not even remember that it started as a branding campaign for a major corporation.
#LikeAGirl is a reassuring reminder that a brand can take an adamant social or political stand and still be greatly rewarded.
Deadpool
The Deadpool movie was a box office smash hit, and the marketing was doubtlessly a major contributing factor. A lot of people have used the words "viral marketing." This is what it actually looks like. The internet was thick with Deadpool humor for months leading up to the release, whether the joke trailer, the trailer which promoted it like a valentines romantic movie, stupid emoji billboard, or any of the myriad others.
What can you take from this? Flip the table. How many times does Seth Godin have to expound on the mindless futility of millions of brands beating their heads against their desks trying to fit in, when what it really takes to stand out is taking a chance at being radically different and genuinely not caring if you fail?
Apple: #ShotOniPhone
Apple wanted to show users how easy it was to shoot great photos on the iPhone. Users could post photos to Instagram and show them off with the hashtag.
iPhones are known for their cameras. So when competitors made a point to put in better cameras, Apple had to take theirs to the next level. So, like some of the other campaigns in this post, they turned to customer generated content. There #ShotOniPhone hashtag is now a standard hashtag on Instagram.
(is it successful? Well have you ever thought of getting an iphone because of the camera? Nope. Ay High Five!) ( *cries in wallet* )
(ps they use additional equipments in those ads)
British Airways: Fuelled by Love Campaign
https://youtu.be/ZFb01yTR9bA
The video by British Airways is among the top emotional best digital marketing campaigns which shows the journey of a British Airways crew member who fell in love with India and formed a deep bond with India. Indians are full of emotions. The airline brand, British Airways has released a new digital marketing campaign titled as "Fuelled by Love."
The campaign showcased a real-life example of a British Airways cabin crew who have experienced once in a lifetime experience in India during her first flight to India. The main subject of the campaign and the story was that "while the service is driven by purpose and efficiency, but the true care is only fuelled by love." SapientNitro created the film. The cabin crew meets an Indian passenger and develops a special bond with her.
She later visited the passenger's house in India and is amazed by the hospitality and care which she received. With this digital marketing campaign, the airline company announced a special three-day offer for its customers from India to London with exclusive fares starting from INR 53,542 and INR 1,45,517 in economy class and business class respectively. The offer was valid for a specific time-period between February 2 to 4, and for outbound travel period till 30th June.
Vicks – Generations of Care #TouchOfCare Campaign
https://youtu.be/7zeeVEKaDLM
The video by Vicks India is a digital marketing campaign #TouchOfCare, launched by Vicks in India which urges rethink of what makes a family. Vicks has launched the digital marketing campaign in India titles as "#TouchOfCare" challenging the viewers to redefine the meaning of a family in today's society while reaffirming the importance and touch of care.
Publicis Singapore created the campaign, with Orphan Gayatri's story. The film has captures how a transgender woman, Gauri, cared for Gayatri against all odds and challenges she faced from society. The film was launched in India in March 2017 which reinforces the brand's belief in the power of care. The campaign shows how two people not connected with blood, can end up being a happy family through love and care. The campaign was uploaded on YouTube on 30th March and gained now more than 9.7 million views. The goal of the campaign was to make people recognize that everyone has a right to love and care and have a family. It was promoted across all digital and social media channels. Here is what shared on Twitter.
The Facebook post by Vicks India got more than 2.5 Million views and more than 34,000 shares.
Spotify Wrapped
In 2017, Spotify unveiled a quirky-looking site that gave personalized statistics garnered from your listening data. Giving a much-needed update to their Year in Music campaign, Spotify used the same visuals as their data-driven billboards.
In 2018, Premium users were given the chance to have their personal Wrapped statistics broadcasted on digital billboards at landmarks like Times Square and Piccadilly Circus.
Why It Worked: Having personalized numbers over pleasing graphics made screenshotting these statistics and posting them on social media a no-brainer. By compiling listening data and presenting them to users visually, Spotify started a viral conversation at the end of every year (and kicked off the next with some free advertising). Showing your friends your listening habits is a unique way to show your personality and Spotify recognized that.
KFC's Twitter Herbs and Spices
Sometime before October 2017, KFC unfollowed everyone except 6 people named Herb and the 5 Spice Girls.
After this Easter egg joke about their famous recipe was discovered, the tweet went viral and was shared hundreds of thousands of times. KFC rewarded the man behind the tweet with a custom painting and 52 gift cards.
KFC's sneaky gag paid off by sparking an organic conversation through the discovery of their hidden joke. They attempted to continue the viral discussion by commissioning a whimsical painting of Colonel Sanders and the Twitter user behind the revelation. This social strategy was genius in its playfulness and simplicity. KFC came off as a lighthearted brand that likes to have fun with its customers.
#StraightOuttaCompton Movie Campaign
In 2015, Beats by Dr. Dre and Universal Pictures created a website called StraightOuttaSomewhere.com to promote the biographical drama Straight Outta Compton (based on rap group N.W.A.). Visitors could create their own #StraightOutta memes and input any place and picture. This quickly made the hashtag go viral as people shared their creative and personal posts with the website soon reaping over 10.8 million visits.
#StraightOuttaCompton became the number one topic on Twitter, Facebook, and Instagram within 24 hours due to its highly customizable and shareable format. Several celebrities wanting to curate content for social media joined in, including Serena Williams, Bette Midler, Ryan Reynolds, LeBron James, Ava DuVernay, and Jennifer Lopez. This helped boost the meme's popularity even further. Even Oxford University joined in on the fun.
(insert bmm)
Posts ranged from clever to hilarious to personal, and there was something new yet recognizable in each one through utilizing N.W.A.'s iconic logo. By using user-generated content, the organic reach for this film reached heights that would have been unachievable without this effective social media campaign.
The Blair Witch Project
This was a low budget horror movie that used a viral social media campaign that used web sites and message boards to incite anticipation and interest months before the its release in 1999. The anticipation was created by spreading  rumors about the fate of the movie's main characters with fake newspaper clippings and police photos of their missing car being spread on what was then the 1999 version of what we now call social media.
The result for a movie that cost $22,000 to make, at last count it has grossed over $240 million, making it the worlds most profitable movie ever.
Old Spice Campaign.
The Old Spice campaign has proven to be one of the most memorable creative marketing and advertising concepts ever executed.
It has longevity and endurance that has been achieved through a mix of several reiterations as well as using online and offline marketing, social media and PR that has kept the original content bubbling across the Web.
Wieden + Kennedy created the original ad for the Super Bowl for their client Procter and Gamble the owners of the iconic Old Spice brand.
The ad featured former NFL athlete Isaiah Mustafa and was a a video centric marketing campaign that combined both traditional and social media.
https://www.youtube.com/watch?v=owGykVbfgUE
(its even more crazy to find out that all of Old Spice Ads are One Take. Also theres Terry Crews below. Watch it to laugh out like idiots )
https://www.youtube.com/watch?v=Hq2SlCja3zo
Make a Wish : Batkid
This multi-channel campaign is without a doubt a suckerpunch of emotions. Batkid Begins is a short documentary film about Miles, a young boy fighting leukemia, whose wish was to become the real Batman.
Make-a-Wish worked with the city of San Francisco, and thousands of people showed up to support Batkid. It was then turned into a documentary for people to see young Miles become Batman.
Why this campaign works?
Not only does this campaign make you want to cry happy tears, it hits the ground running by treating Batkid Begins at the same level as a blockbuster movie premiere.
It harnesses the emotions of those who see these posts and draws them into a human moment.
Promotion Using Facebook/Twitter
I wont make a big post about it. Its very easy. I will just add some pointers.
1. Create a Hashtag for the Event
2. Share Photos of your Campaign
3. Share Promotional Photos
4. Share Photos of People who used the Hashtags
5. Encourage People to use the Hashtags
6. Create Events based on your Hashtags
7. Share posts of Recognized and Verified Accounts on Facebook who used your Hashtag and was a part of Campaign
8. Connect with the current trend or be updated on the trends
9. Encourage or Engage recognized YouTubers or Influential People
10. Make sure the Campaign is something people will "love" to be a part of
11. Have Physical Activites or Events whos Images or Videos can be shared
12. Use Promotion Mediums like Facebook Ads / Twitter Promoted Tweets / Google AdWords
[Additions Appreciated but I guess it sums it up]
What the hell should I do with these pointers Epsit?
– All of these pointers can be used irrespective of Facebook or Twitter or YouTube. Just use the medium once and you will know hoe.
– Add words like "enjoy" "share" "live" "friends" based upon what mood you want to include and company
– Use frenzy or words which will sound engaging from a larger perspective
– Elaborate on these points based upon the company or case.
You just have to the objectives your Campaign which would be provided.
What is Digital Media? Principles? Concepts?

What is Degital Media
From Navigation Apps on a Phone, or even a smartwatch, a handheld gaming console, to an ultrasound imaging device in a hospital are all digital media products.
Ever since the inception of the concept of digital programmable computer by Dr. Charles Babbage, the Digital World is ever increasing. From being able to connect with people throughout the vast space, being able to share images, text and videos with any person on this globe within seconds to being able to access a vast library of information in any desired format, or even being able to create it.
Many devices like cameras, drones, transmitters, have the ability of creating and processing information. With the advent of Internet all of the existing technologies receive a massive boost and can be broadcasted on a massive level
Digital media are any media that are encoded in machine-readable formats. Digital media can be created, viewed, distributed, modified and preserved on digital electronics devices.
They are successful because they are engaging, easy to use, and deliver results (often immediately). Digital Media is a blend of technology and content, and building digital media products requires teams of passionate professionals with diverse skills, including technical skills, artistic skills, analytical and production coordination skills. All of these skills need to be balanced on a team, with all team members focused on creating the best user experience.
The world we live in today is populated by digital media products, and these products enable and deliver experiences in many industries, including industries that aren't typically associated with digital media—such as health, government and education.
Types of Digital Media include
Software

Digital Images

Digital Video

Video Game

Web Pages
Websites Including Social Media

Data And Databases

Digital Audio, Such As Mp3 And Electronic Books.
Digital media often contrasts with print media, such as printed books, newspapers and magazines, and other traditional or analog media, such as images, movies or audio tapes. Digital media has a significant broad and complex impact on society and culture. Combined with the Internet and personal computing, digital media has caused disruptive innovation in publishing, journalism, public relations, entertainment, education, commerce and politics.
Principles of Digital Media
1. Innovation
Innovation has become the most used and abused word in digital media planning these days. Everybody wants to be innovative, and why not? The important aspect to look at with innovation is to identify the platform for doing so. The proposed idea could be a creative innovation or a media innovation and there is huge difference in both. However, they are highly interconnected.
Creative innovation as the name suggests is all about bringing new formats of creative assets, or a new technology in existing forms. One of the obvious problems in executing creative innovations is the feasibility of implementation, especially when it involves new technology. The capability of media owners in execution decides the fortune of the 'innovation'.
Media innovation is all about finding new ways of using the media space or creating a new media space altogether. We have seen how the media space has evolved, for it to be used for advertising purpose. Therefore, its very hard to differentiate 'innovation' from what it would have been an organic evolution of the space. For example, if you had run advertising in mobile apps five years back, we would have called it innovative, but today it's a standard part of any mobile media plan. Creative and media services need to and are blending very fast with each other, which is essential for bringing about a true innovation.
Innovation suffers from another major bottleneck while selling the idea and that is resistance from advertisers. Digital media is always being looked at as a highly measurable media, and this measurability extends to 'innovation' before even executing it. Usually clients ask about the projected numbers as a result of the proposed idea, how it will achieve results that are quantifiable, what are the benchmarks, etc. First of all, if it's an innovation, how can there be any benchmarks? Secondly, if clients have the appetite for innovation, then they should not be afraid to try it in absence of any benchmarks.
Innovation leads to impact. While we question the reasonability of clients' doubts, another problem with executing innovations is the lack of farsightedness on agencies' parts in the proposed idea. Advertisers always want to see some actionable results through the innovation and they are not doing it for the sake of doing it. Agencies will need to support the idea with scalability so that the overall media/marketing objectives are always in sight while ideating and execution. Most of the creative ideas fail purely because of the scalability issue. The long-term impact of the innovation on brand has to be kept in mind and should be visible as a result of the execution. It could be difficult to measure the impact in purely quantifiable terms but there are some soft parameters that can be deployed to gauge response and effect of the execution.
2. Integration
The importance of integration within digital media and with traditional media is ever increasing. With increasing media fragmentation, as it becomes harder for clients and agencies to choose an apt media, the need for integration is inevitable. The media needs to work harder and integration is a huge help to the cause. We have seen some real good examples of integrated marketing from across categories such as outdoor hoardings carrying a short code for SMS, tickers scrolling on TVCs to send SMSs or participate in online contests, print ads with QR codes to be scanned, so on and so forth. Integration remains the most favourite question of today's marketer and agencies need to deliver what we call 'integrated media plans', which calls for a different kind of talent within the partner agencies and most agencies are moving towards it.
3. Investment
Investment in digital media has always been in debate and its not only about how much a brand should be investing in digital vis-à-vis other traditional media, but also about how much should be invested within digital media itself given the choices of display, SEM, mobile, and social media advertising. More choices signify more confusion in choosing the right option. While there is no exact formula of how much should be invested, there are some principles that digital can adopt from traditional media. For example, SOV (share of voice) can be translated to SOI (share of impressions) in digital media, especially SEM and display. Secondly, the ROI of digital media will always be the forefront of measurability for this medium. This has resulted in a number of metrics that can be used while buying digital media other than purely CPM or CPT viz. CPC, CPL, CPA, and now even CPF (cost per fan). We will talk more about ROI in the next section.
4. Insights
Rich customer insights have always been a very strong point for digital media both pre and post planning. It will continue to enjoy that status for years to come. No other medium can compete with digital when it comes to real consumer data. Whether it is the total number of search queries on Google about a brand as pre-planning insights or the number of repeat and late visitors on brand website post-execution kind of insights, both have equal importance. Web analytics post executions provide quite useful insights on how users behaved after interacting with the ads. Insights help the media planner to know the ROI of each media vehicle used in the digital media plan. These are also helpful in building benchmarks for future planning such as help in building a media mix of various digital media viz. display, search, mobile and social, etc. How much of what vehicle to be used can be answered if these insights are accumulated over time?
5. Involvement
Involvement from all stakeholders while planning for digital media is an absolute necessity nowadays. Digital media is more of a mindset than anything else, and this needs to be shared jointly by the creative agency, media agency, PR agency, and the advertiser. These partners can no longer work in isolation in order to execute an effective digital media initiative. I still remember those days when clients used to brief the agencies and then left everything to them for delivering an effective campaign plan.
All partners need to learn the art of complementing each other with their respective skill sets. The boundaries of responsibility and accountability are blurring, and are blurring rapidly. Lack of support by one partner might result in the failure of the entire initiative or a campaign.
6. Interactivity
Interactivity was and will continue to be the differentiator for digital media from the rest of the media, although the 'type' of interactivity is changing as expected. We have witnessed discussions are not only about the 'click' but also the 'touch', especially for tablets and touch phones. Marketers and agencies are preparing themselves to deliver the interactive experiences across devices such as PCs, mobiles, tablets, and now even GPS/navigation devices. Given this scenario, content needs to be device agnostic and it calls for an effective content strategy and interactivity needs to be delivered across owned, earned, and paid media.
Traditional vs Digital Media
Digital marketing isn't simply another channel for sharing advertising. It's not like you craft ads like companies have for generations, then share the ads across different channels, such as radio, TV, and print. And, while you may change the execution of your ad across media, you fundamentally kept the message the same and use similar main elements in your ads regardless of channel.
Digital isn't a channel. It's a totally different way of looking at the world and engaging with your audience.


Traditional Media
Television
This can be an expensive option in prime time spots but your ad can still reach broad audiences, particularly if your campaign also includes placement within the network's on-demand site. With a smaller marketing budget it's worth looking for advertising opportunities on specialised channels, such as those focused on sport, outdoor activities or cooking. These channels have smaller viewer numbers but allow marketers opportunities to target a niche audience.
Sponsoring popular TV shows can be highly effective option, in combination with an ad campaign. Researchers at Thinkbox found that when the brand personality and show had a good fit it made the brand appear as more successful.
TV advertising also requires a production budget in addition to purchasing the actual media time. These can include:
Creative Fees
Film company costs
Talent fees for actors. Even with old ads, you'll need to check your talent fees are covered or renegotiate them.
Radio
Radio is portable. You can reach people while they drive, work or walk the dog. Keep your message short and sweet so that your 'on the go' audience knows what the offer is and how to get in touch. Production costs may be relatively inexpensive. In fact most radio stations will create the ad for you. As with all advertising, strong creative will always give you better cut through and memorability so while it may be low cost, it still has to be good at getting your message across and building your brand preference.  Your campaign proposal is likely to be a bundle of stations with some spots in prime time and others in lower listening times. Negotiate your campaign package for maximum frequency in prime time.
Print Ads (newspapers and magazines)
For print advertising, readership is your best guide. Many publications will advertise circulation figures but if they are a free local tabloid, this may not equate to readership. Surveyed readership figures may be quite a bit less. Printed media can give you a short exposure but in this media, you may reaching a more engaged audience – especially if they are sitting down to read with a cup of coffee. Newspapers and magazines are also often seen as credible or trusted sources and there may be publications that perform well in your industry that are best suited to your products and services. If the magazine or newspaper has an online edition your ad will reach a broader audience here.
Billboard Ads
Billboard ads provide broad access to customers in a specific geographical area. The location of the site can be powerful and your performance will depend on your creative. Keep it simple and if possible entertaining or clever. Costs for Billboard advertising include the monthly site rental, creative artwork (which may include talent fees) and production of the billboard 'skin'.
Flyers / Letterbox drop
This can be a great way to put your brand in the hands of your customer. As with any marketing activity, the key is to make sure your message is compelling and makes them want to act, or you may end up in recycling. You don't have to offer a huge discount but it's worth including a short time offer that drives store visits or enquiry. A physical coupon that you collect from customers can be a good idea to help gauge your return on investment too.
Digital Marketing
A small budget is no longer an insurmountable barrier when it comes to marketing. Digital marketing has given small businesses more tools to reach their audience with a much smaller budgets. Social media or email marketing campaigns can be created for little or no cost, if you put in some time. Adding a bit of budget can boost your message to specific target groups.
Video Hosting sites
Television is not the only method for disseminating filmed advertisements. Now your video can be shared on YouTube, Vimeo and other video hosting sites. Even if you create an ad for TV, it is important to post here too. If your creative is engaging you get the power of online sharing and the 'viral' effect. Platforms like YouTube are all about user generated content, There are no middle men to pay. You own your channel and pay direct for any promotion of your campaign. If you are using content created by someone else make sure you have the usage rights or it has a creative commons license.
Website and Search Engine Optimisation
Every business needs a website but this shouldn't be a static brochure for your business. SEO strategies are used to help improve your website's ranking on search engine results pages in a sustainable way in order to attract more visitors to your site over time. SEO can involve a variety of techniques including the use of key words, links, metadata and making your website attractive to visitors, easy to navigate and rich in useful content. A website that offers visitors valuable information can be an effective marketing tool that more than repays the investment involved in creating it. Having got the best advice on SEO techniques, almost anyone in your organisation can then apply them.
Search Engine Marketing (SEM) or Search Marketing
This is the process of using paid advertising to promote your website and increase its ranking on the search engine results page (SERP). SEM also includes banners and ads which appear to people while they search the internet. The advantage SEM offers, is your ability to target a specified consumer group in a more precise manner than traditional advertising methods. And like all digital marketing, you get much better reporting and tracking on your campaign performance. You can look at the visitor numbers to your site and from where as well as click throughs, enquiries and where they went next.
Display Advertising
Display or Banner ads usually include a headline, text and your web address and in addition a graphic, video or sound. They are not limited to the search engine results pages. They can appear while you search other sites across the internet, but still related to the searcher's query. These ads can be targeted to audiences based on location, demographics and interests. Google display ads appear on websites within the Google Display network which includes, news sites, Gmail, YouTube and blogs. When someone clicks on your display ad they land on your website so it's important to make sure that the page they arrive on delivers on the promise of the ad.
Email Marketing
Email can deliver a return on investment that is among the highest of all digital marketing activities and part of the reason for this is that it is delivered directly to your customer – but you will need a good database of contacts. Your contact list can be built organically through consumer opt-in methods and you can offer something in return such as handy guides or e-books. The cost of sending emails is low – But make sure your content is useful and compelling for recipients. Your content needs to serve both your business goals and your customers' needs.
Social Media
Your customers are there and you should be too. Social media channels help you reach new and different audiences. Through sites like Facebook, LinkedIn, Twitter and Instagram you can build a relationship with fans and followers. The trick is to show your brand personality here. So be yourself when you post comments, images, long form opinion and video.
Unlike your website, the communication is two-way. Make sure you respond to comments and ask for engagement on things like surveys and competitions. If you posts strike a cord with your audience, they will like it, share it with their friends and you get even greater reach.
Social Media Marketing
You can use social media platforms to target custom audiences and push your message out well beyond your immediate fans and followers. Social media is certainly a powerful tool for marketing because of the mass appeal of platforms like Facebook and Instagram. Advertising helps you cut through the noise and promote your message above others. There are lots of options to build your campaign target audience. In Facebook these include things like location, age, gender, job title and interests. While there are costs involved you can set your maximum budget and easily track what works and how many people you will reach. Your paid social media marketing should be supported with organic methods too for best results.
Keyword Optimization and its Benefits
Keyword optimization (also known as keyword research) is the act of researching, analyzing and selecting the best keywords to target to drive qualified traffic from search engines to your website.
Keyword search optimization is a critical step in initial stages of search engine marketing, for both paid and organic search. If you do a bad job at selecting your target keywords, all your subsequent efforts will be in vain. So it's vital to get keyword optimization right.
But optimizing keywords isn't something you do ONLY at the outset of a search marketing campaign. Ongoing keyword optimization is necessary to keep uncovering new keyword opportunities and to expand your reach into various keyword verticals. So keyword optimization isn't a set it and forget it process. By continuously performing keyword analysis and expanding your database of keywords, your site traffic, leads and sales will continue to grow.
Benefits of Keyword Optimization
In a recent survey, participants listed keyword optimization as one of the hardest tasks in search engine marketing. Because of its difficult nature, most site owners, marketers and bloggers don't spend enough time optimizing keywords. This is ironic since optimizing keywords is the most important aspect of SEO and PPC. If you don't choose and use keywords your customers are searching for, you won't get found. That means no traffic, no sales, no money.
So to look at the big picture, you must practice search engine keyword optimization to:
Drive qualified traffic to your website: To drive searchers to your site, you must optimize for the keywords they're searching for

Measure traffic potential: Analyzing the popularity of keywords helps you gauge the size of a potential online market.

Write effective content: By incorporating optimized keywords into your website content, you can connect instantly with potential customers and address their needs.

Understand user behavior: By analyzing the words that your customers use, you get an idea of their needs and how to service those needs.
HTTP and HTML
 First thing first. HTML is a Language while HTTP is a Protocol. If that went a bouncer like the Doctor Strange Eye Opening Scene. Lets try to discuss here.
HTML stands for HyperText Markup Language.

 It is a well known markup language used to develop web pages. It has been around for a long time and is commonly used in webpage design.

HTTP, on the other hand, stands for Hypertext Transfer Protocol.

 It is a means of data communication for the World Wide Web. It is an application protocol for distributed, collaborative, hypermedia information systems.

HTML stands for HyperText Markup Language. It is a well known mark up language used to develop web pages. It has been around for a long time and is commonly used in webpage design. XML or Extensible Markup Language defines a set of rules for encoding documents in a format that can be read by both, human and computer.

HTML is written using HTML elements, which consist of tags, primarily and opening tag and a closing tag. The data between these tags is usually the content. The main objective of HTML is to allow web browsers to interpret and display the content written between the tags. The tags are designed to describe the page content. HTML comes with predefined tags. They allow one to insert images, text, videos, forms and other pieces of content together into a cohesive webpage.

HTTP, on the other hand, stands for Hypertext Transfer Protocol. It is a means of data communication for the World Wide Web. It is an application protocol for distributed, collaborative, hypermedia information systems. Basically, it works as means of telling where the data on the World Wide Web travels from and where to. It allows computers to pass information in an orderly fashion.

HTTP is the protocol to exchange or transfer hypertext. Hypertext is a multi-linear set of objects that are used to build a network by using hyperlinks between the nodes, such as text or words.

A disadvantage of HTTP is that it is difficult to implement Web sites that react intelligently to user input. This is mainly due to the independent execution of the commands. This difficulty in implementation led to the development of other technologies, such as ActiveX, Java, JavaScript and cookies.
HTML (Hypertext Markup Language) is a language for marking the normal text so that it gets converted into hypertext. Again, not so clear. Basically, HTML tags (e.g. "<head>", "<body>" etc.) are used to tag or mark normal text so that it becomes hypertext and several hypertext pages can be interlinked with each other resulting in the Web. Please note that the HTML tags are used to help render web pages as well in the Browser. On the contrary, HTTP (Hypertext Transfer Protocol) is a protocol for transferring the hypertext pages from Web Server to Web Browser. For exchanging web pages between Server and Browser, an HTTP session is setup using protocol methods (e.g. GET, POST etc.). This would be explained in another post.
HTML is a language for marking the normal text so that it gets converted into hypertext. Again, not so clear. Basically, HTML tags are used to tag or mark normal text so that it becomes hypertext and several hypertext pages can be interlinked with each other resulting in the Web.
Please note that the HTML tags are used to help render web pages as well in the Browser. On the contrary, HTTP is a protocol for transferring the hypertext pages from Web Server to Web Browser. For exchanging web pages between Server and Browser, an HTTP session is setup using protocol methods. This would be explained in another post.
To understand this difference between HTML and HTTP. Think of HTML as C language and HTTP as FTP. Now one can write C programs in C language and then one can transfer these C programs from Server to Clients using FTP. Same way, web pages are written in HTML and these web pages are exchanged between Server and Clients using HTTP.
Since HTML is a language and HTTP is a protocol, they are two different things though related. In fact, it's possible to exchange HTML web pages without HTTP . Even, it's possible to transfer non HTML pages using HTTP. More details on XML in some other post. We hope that the above clarifies the difference between HTML and HTTP.
Page Structuring and Designing in Websites
Web "sites" are complete abstractions—they don't exist, except in our heads. When we identify a site as such, what we're really describing is a collection of individual linked pages that share a common graphic and navigational look and feel. What creates the illusion of continuity across a cohesive "site" is the design features that pages share. Individual html pages and how they are designed and linked are the atomic unit of web sites, and everything that characterizes site structure must appear in the page templates.
As the web has matured over the past decade, the structure of web pages in text-driven information sites has become more uniform and predictable. Although not all web pages share the exact layout and features described here, most web pages incorporate some or all of these basic components, in page locations that have become familiar to web users
What does it include in a brief?
Page Headers

Home Link

Global Navigation

Breadcrumb Navigation

Search

Baskets / Cart

Scan Columns

Mail , Contact

Content Area

Footers
Page headers
Page headers are like miniature versions of the home page that sit atop each page and do many of the things that homepages do, but in a limited space. Headers provide site identity and global navigation, with search and perhaps other tools. The exact location and arrangement of the components vary from site to site, but the overall design pattern has become fairly consistent.
Headers are the most visible component of site identity. What seems real is real: a collection of pages that share headers will be perceived as a "site" even if the pages originate from very different technical sources (php/Perl, jsp, .net, blog software, portal systems, SharePoint, web applications, content management systems, and so on).
Home link
Placing your organization or site logo in the upper left corner of the page—and linking that logo to the home page—is a widely used convention and one you should adopt. If you are not using a logo or graphic in your header, at least put a "home" link near the upper left corner of the page, where 99 percent of users will expect to find it.
Global navigation
Headers are the most frequent location for global navigation links that span the site. The ideal arrangement is to use an html list of links, styled with css to spread horizontally across a section of the header. This gives you:
Usability:

 global links where users most expect to see them

Semantic logic:

the collection of global links should be marked up as a list, because, well, it

is

 a list

Accessibility:

the list format of links appears early in the code listing, where it should be

Search visibility:

a collection of your major navigation keywords, linked and at the top of the code listing, is ideal for search engine optimization
Tabs are another widely used, easily understood convention for global navigation. The best way to implement tabs is to style an ordinary html list with a more elaborate css treatment to form the "tab" graphic around each link. Be sure you get the graphic details right: the selected tab should be graphically unambiguous, and the remaining tabs should clearly be behind the selected tab. This type of "you are here" marker is essential in orienting users within the site. Tabs can also be used to implement a two-tiered navigation scheme, in which a secondary horizontal list of links appears under the selected tab, again as a simple html list with css styling, to keep things semantic, accessible, and search visible
Breadcrumb navigation
Breadcrumb navigation is a widely used, easily understood navigation device that is particularly useful in large sites with deep levels of content organization. Breadcrumbs integrated into the header are best at the top of the header, as in the Google and useit.com sites. Another popular location for breadcrumb navigation is just above the main page content.
Breadcrumbs (or breadcrumb trail) is kind of a secondary navigation system that displays the visitor's location on a site or web app. Interestingly, the term is derived from the famous Hansel and Gretel fairytale where the two main characters form a trail of breadcrumbs so that they can trace their way back home once they get lost in the forest.
Just like the fairytale, breadcrumb navigation is to aid the users to track their way back to the place from where they originally started. They want to know their location in the site's hierarchical structure to be able to browse to a higher level in the hierarchy.
Search
All sites with more than few dozen pages should offer local site search. The upper right area of the header is a popular location for search boxes, but a header search box must necessarily be simple to fit in this relatively small area. If you need more screen area to offer more controls and choices to the search user, consider locating your site search in the left or right scan columns of the page.
"Checkout baskets," online shopping "carts"
Long ago, Amazon put its "cart" link in the upper right of the header, and that's where virtually all other shopping sites put it now, too. Don't buck the trend; it's one of the most firmly rooted interface conventions on the web
Scan columns
Subdividing the page field into functional regions is a fundamental characteristic of modern graphic design. Early in the web's history, designers began using narrow "scan" columns at the edge of the page to organize navigation links and other peripheral page elements, much as scan columns have been used in print publications for a century or more. Research on web user expectations now supports the common practice of locating navigational links—particularly section navigation—in the left column.
Scan columns are also useful as locations for web search boxes, mailing address and contact information, and other more minor but necessary page elements. Research shows that the left scan column under the local navigation links is the second place most users will look for search features, after they look in the right header area
Left or right scan columns for navigation?
Extensive eye-tracking and user research says that it doesn't really matter whether you use left or right navigation columns. Users seem to do just fine either way, as long as you are consistent about where you put things. We favor the left column for navigation simply because that is the most common practice.
Mailing address and contact information
Basic "real world" information about who the company responsible for the site is, where the company is, and how to contact the company is often hard to find on otherwise well-designed sites. If you sell a product or service, don't hide from your customers. Display your contact information in a prominent location, such as the scan column, on every page.
Advertising and the scan columns
Our advice about ads in the scan column is the same as with header ads (above): beware! Users often ignore content that looks like advertising when they see it in a scan column. Use formats that don't scream "advertising!" Never make your scan column content or navigation look anything like a typical banner ad, or users may never notice it.
The content area
Web content is so multifaceted that few general rules apply, but the following common practices make content areas easier to use:
Page titles.

 Don't bury the lead. Every page needs a visible name near the top. For all kinds of logical, editorial, accessibility, search visibility, and

common-sense

 reasons, use an

<h1>

heading at the top of the page to let users know what the page is about.

Breadcrumb navigation.

 The top of the content area is the most common location for breadcrumb navigation.

Jump-to-top links.

 Jump links are a nice refinement for long pages. These links don't need to be elaborate—just a top of page link will do, but a small up-arrow icon offers good reinforcement.

Rules.

 These elements can easily be overused and lead to a cluttered design. Use

css

 to keep page rules as unobtrusive as possible. When in doubt, skip rules and use a little white space to create visual content groupings or separations.

Paging navigation.

 In multipage sequences it is convenient to have simple text links at the top and bottom of the page to move the reader to the previous or next pages in the sequence. In longer sequences it is helpful to provide information describing where they are in the series.

Dates.

 Publication and update dates are useful for assessing the currency and relevance of content. In news and magazine sites the publication date should appear at the top of the page. Other sites should display a last-updated date at the bottom of the content area
Page footers
Page footers are mostly about housekeeping and legal matters. These elements need to be on the page, but place them somewhere out of the way:
Page author or, in large enterprise sites, responsible party

Copyright statement

Contact details, especially email

Links to related sites or to the larger enterprise

Redundant navigation links, for long pages
What makes a good website, and what are the most important features that a website should have
In web design, good website usability is about making it easy for visitors to find the information they need quickly and easily. There are many ways to improve the usability of your website. These simple usability recommendations can make your website more appealing for customers and improve your chances of success online.
Here are 12 essential characteristics of a user-friendly website.
1. Mobile Compatibility
As more and more people use their mobile phones to access the Internet, creating a mobile optimized website has become a necessity.
The first step is to check how your existing website appears on mobile. You can use Google mobile site tester to find this out. If your website cannot currently be accessed on mobile, you can create a mobile version of your website for free with the help of web-based mobile website builders.
2. Accessible to All Users
A user-friendly website should also be accessible to everyone including blind, disabled or the elderly. These users typically use screen-readers to access the Internet. The 508 website accessibility guidelines highlights simple web design techniques that can be applied to make sure your website can be accessed easily on-screen readers, making your website available to a larger audience.
3. Well Planned Information Architecture
How information is organised and presented on your website is vital for good usability. However, it is often neglected. It has become even more important today as websites offer a wide range of information and resources to attract their target market. Plan your website sections and categories carefully and present information in a way that it is easy for users to find. Always think from the perspective of your users. This is particularly important if you offer a lot of content on your company's website.
4. Well-Formatted Content That Is Easy to Scan
The average Internet user skims through the content on a web page instead of reading each and every word from top to down. Users tend to scan through key parts of the page quickly to determine if it is relevant to their needs.
It is important to format your content with this in mind. Correct use of headings, sub-headings, paragraphs, bullets or lists help to break up text, making it easy for readers to scan.
5. Fast Load Times
Nothing is more annoying for website visitors than a website that takes long to load. In fact, slow speed is one of the main reasons why visitors leave a website. Making sure your website loads within 4 to 6 seconds is important for good usability. It also affects your search engine ranking.
You can use free tool such as Pingdom to test the speed of your website and to get suggestion on what you can do to improve your speed.
I have found third-party website plugins and widgets including website tracking, social media, to be one of the most common factors that affects website speed. Try to limit their use and only use the ones that are absolutely necessary.
It is also one of the main reasons visitors leave your site. Customer expectations have changed significantly in recent years. A typical customer will only wait for a few seconds for your page to load, after which they will most likely navigate away to a competitor's site never to visit again.
6. Browser Consistency
Browser compatibility can be easily overlooked. Even the websites of some of the most reputable companies suffer from this problem due to neglect. This is bad for branding and has a negative affect on website usability.
Although modern browsers have evolved and become more efficient, some inconsistencies still exist in how a website is interpreted by different browsers. It is important to ensure your website appears and behaves consistently across all major browsers such as Chrome, Internet Explorer, Firefox, Safari and Opera. Simple things like this set a professionally designed website apart from the rest.
7. Effective Navigation
Good navigation is one of the most important aspects of website usability. Simple HTML or JavaScript menus tend to work best and appear consistent on all browsers and platforms.
It is equally important for the navigation to be clutter-free. Try to limit the number of menu items as far as possible. A drop-down menu or sub-navigation may work better on large site with many sections and pages.
Advancement in DHTML, and JavaScript libraries such as Motools and Ajax also opened the doors to many new possibilities for creating innovative navigation systems. Take a look at Mashable's example below.
There is more to navigation than menu. Here are some other aspects to consider:
Good search feature.

Multiple ways to explore content e.g. top 10, most rates, most popular, etc.

Custom 404 Page.

Good Internal Linking

Informative header and footer
8. Good Error Handling
Good error handling and description on-screen messages are very important for good usability. However it is often overlooked. Correct handling of errors at a code level ensures the website is robust and free from bugs. Displaying the right error message improves the user experience and overall usability.
9. Valid Mark-Up & Clean Code
A website that adheres to the relevant web design best practices and standards is often more robust and dependable. It also ensures the website will load faster and appear consistent across browsers and devices. It also makes it easier to locate problems and troubleshoot if the need arises.
More information and mark-up validation tools can be found on W3C's website.
10. Contrasting Colour Scheme
The right contrast between the background of the website and content is one of the most basic yet most important web design principles that should never be overlooked. Good contrast between background and text e.g. black text on a white background makes your content legible and easy to read. Lack of contrast, on the other hand, makes it very difficult for visitors to read your content.
11. Usable Forms
Forms are a very important element on business websites. They allow users to interact with the site. Forms are also very useful for generating leads for a business.
To get the most out of your site, it is important to ensure the forms are easy to use and accessible to everyone.
Here are some tips:
Use correct labels for all fields

Follow good form design principles

Try to keep the number of fields to a minimum

Offer tooltips and suggestions

Display on-screen message on completion

Use correct validation
Marketers are faced with an ever-growing list of responsibilities. From social media marketing to customer experience and advertising, it can be a challenge to stay on top of everything.
In today's world, social media is one of the best ways for your business to stand out in its field and to reach a wider audience. Having an active presence on all major social networks, from Facebook to LinkedIn and beyond, is a necessity for any brand that wants to become an industry leader while engaging with its potential and current customers in new ways.
However, social media can be overwhelming if you don't have the proper knowledge or tools. Whether it's to create or repurpose content, to find the best way to engage with your online community or to create a comprehensive posting schedule, having the right social media management tools is crucial to your success.
Let the list begin!!!!!!!
1. HootSuite
Whether you are a user handling multiple accounts, or an agency that handles hundreds, HootSuite makes it easy. It's easy to add accounts, easy to schedule posts across all major platforms and easy to add account managers. In addition, the company also has a robust training platform that teaches not just the tools, but how to think about social marketing as a whole. As a package, the best out there for the price.
2. Hubspot
While there are a lot of tools out there that let you monitor and publish to social accounts, Hubspot is a widely recommended platform where you can not only monitor and publish but also get closed-loop reporting data. That means you're not just seeing what channels drive the most engagement, but you can track further down the funnel to see what posts and channels drive actual leads and sales.
3. MeetEdgar
There are countless tools that post for you and schedule posts but what about a system that re-shares evergreen posts? MeetEdgar is the one thing which is another great platform because it has the biggest impact on traffic by automatically re-sharing your evergreen content.
4. TweetDeck
TweetDeck has been around a long time now, and there's a reason for that: It's one of the best and best-priced (what can beat free lmao?) ways out there to be a part of the Twittersphere. The multi-columned layout makes it easy to follow several conversations at once, and scheduling content is a snap. Twitter moves so fast, but TweetDeck makes it doable and even enjoyable.
5. IFTTT
IFTTT, or "If This Then That," is a great automation tool that can help you save a lot of time on trying to manage social media platforms, apps and websites. The tool can link these services together based on a trigger and an action. Based on the trigger you create, it will start an action. For example, if you publish a blog (the trigger), then IFTTT will automate and create a tweet (the action).
6. Buffer
I'm a fan of Buffer (actively using since 2016). It lets you schedule and manage social media posts across all of the most widely used channels, and you can individually customize each post for all of the different platforms it gets posted to. Buffer also shares your content at the best possible times throughout the day and tracks links so that you can see what content gets the most traction.
7. Sprout Social
Many companies Sprout Social for its social media management, which allows the team members to monitor clients' social media mentions, engage with brand advocates, schedule content in advance, and utilize reporting tools to inform future strategies. It is an essential tool to streamline real-time communication.
8. Google Analytics
Google Analytics is the one tool that manages can manage your social media. Why? (because I can😎roasted) Because the data which can be gathered from analytics focuses our efforts on the social media platforms that are driving traffic and conversions. Did we receive a ton of traffic from Reddit in the last month that converted to subscribers? Did we have a negative ROI on our Facebook ad spend? Google Analytics provides these answers and more.
9. Raven
Individual reports and scheduling posts for individual channels are always helpful, but that is not always a sufficient representation of your online image. I like Raven because it provides reports gathering information from pay-per-click (PPC), search engine optimization (SEO), and social media channels. It also allows you to access data and schedule posts on a wide variety of digital media channels.   – Ahmad Kareh, Twistlab Marketing
10. SocialFlow
SocialFlow's algorithms analyze user behavior and then optimize each post based on real-time data, in order to predict the best times for publishing content to capture peak attention from target audiences. They release posts when timing, relevance and audience are optimized, and also offer a full suite of services that aim to expand audience engagement and increase revenue per customer.
11. Iconosquare
If Instagram is a big part of your business, you absolutely need to be using Iconosquare. Its in-depth analytics are the best out there, and they keep rolling out new features, such as monitoring the content of multiple accounts in one place, scheduling posts, etc.
12. Sprinklr
Social tools are not all created equal. Some are quite expensive. The tools trying to cover everything mainly focus on organic vs. paid, so it is nearly impossible to have just one tool for organic and paid social. If you want an all-in-one service, Sprinklr seems to be the best management tool for all of your social channels. It helps you with posting, approval of content, and metrics reporting. Union+Webster
13. KnowEm
Too often, businesses fail to secure all of the relevant social media profiles prior to kicking off a formal social media strategy. KnowEm allows you to check for the use of your brand, product, personal name or username instantly on over 500 popular and emerging social media websites. By securing your social media identities you will maximize brand equity.
14. Humans
Not a real tool guys chill but do read bout wendys on the net.
Perhaps the hardest part of social media marketing is staying relevant. Even large brands find it difficult to connect with their fan base effectively at all times. One brand that is doing it extremely well right now is Wendy's — by having a dedicated social media manager, Amy Brows, the company is able to be very fluid, responsive and engaging. Simply using a tool to schedule posts will not get you results.
What is Search Engine
Search engine is a service that allows Internet users to search for content via the World Wide Web (WWW). A user enters keywords or key phrases into a search engine and receives a list of Web content results in the form of websites, images, videos or other online data. The list of content returned via a search engine to a user is known as a search engine results page (SERP).
The information may be a mix of web pages, images, videos, infographics, articles, research papers and other types of files. Some search engines also mine data available in databases or open directories. Unlike web directories, which are maintained only by human editors, search engines also maintain real-time information by running an algorithm on a web crawler. Internet content that is not capable of being searched by a web search engine is generally described as the deep web.
First Search Engine
The first tool used for searching content (as opposed to users) on the Internet was Archie. The name stands for "archive" without the "v". It was created by Alan Emtage, Bill Heelan and J. Peter Deutsch, computer science students at McGill University in Montreal, Quebec, Canada. The program downloaded the directory listings of all the files located on public anonymous FTP (File Transfer Protocol) sites, creating a searchable database of file names; however, Archie Search Engine did not index the contents of these sites since the amount of data was so limited it could be readily searched manually.
How to access a search engine

For users, a search engine is accessed through a browser on their computer, smartphone, tablet, or another device. Today, most new browsers use an omnibox, which is a text box at the top of the browser that shows the address and is where you can also search on the Internet. You can also visit one of the major search engines home page to perform a search.
How a search engine works
Because large search engines contain millions and sometimes billions of pages, many search engines not only search the pages but also display the results depending on their importance. This importance is commonly determined by using various algorithms.
Visual search engine example. As illustrated in the image on the right, the source of all search engine data is a spider or crawler, which automatically visits pages and indexes their contents.
Once a page has been crawled, the data contained in the page is processed and indexed. Often, this can involve the steps below.
Strip out stop words.

Record the remaining words in the page and the frequency they occur.

Record links to other pages.

Record information about any images, audio, and embedded media on the page.

The data collected above is used to rank the page and is the primary method a search engine uses to determine if a page should be shown and in what order.

Finally, once the data is processed, it is broken up into one or more files, moved to different computers, or loaded into memory where it can be accessed when a search is performed.

 

Do all search engines give the same results?

Not necessarily. Search engines use proprietary algorithms to index and correlate data, so every search engine has its own approach to finding what you're trying to find. Its results may be based on where you're located, what else you've searched for, and what results were preferred by other users searching for the same thing, for example. Each search engines will weigh these factors in a unique way, and offer you different results.


What is the best search engine?

There isn't one search engine that is better than all the others. Some people could argue that Google's search engine is the best and it is probably the most popular and well known. Often, if someone asks how to do something, or what something is, another person will suggest they "Google it." "Google," used as a verb, means to search for results using the Google search engine.
Microsoft's Bing search engine is also popular and used by many people. Bing does an excellent job of finding information and answering questions. Yahoo's search engine, while not quite as popular as it used to be, still does an excellent job of searching for information.
How does a Search Engine work
In Short
To find what you're after, a search engine will scan its index of webpages for content related to your search.
A search engine makes this index using a program called a 'web crawler'. This automatically browses the web and stores information about the pages it visits.
Every time a web crawler visits a webpage, it makes a copy of it and adds its URL to an index. Once this is done, the web crawler follows all the links on the page, repeating the process of copying, indexing and then following the links. It keeps doing this, building up a huge index of many webpages as it goes.
Some websites stop web crawlers from visiting them. These pages will be left out of the index, along with pages that no-one links to.
The information that the web crawler puts together is then used by search engines. It becomes the search engine's index. Every webpage recommended by a search engine has been visited by a web crawler.
Search engines have become part of our daily life. We use them as a learning tool, a shopping tool, for fun and leisure but also for business.
It's not an exaggeration to say that we reached a point that we depend on search engines for almost anything we do.
Having a clear understanding of how search works, can help you create a website that search engines can understand, and this has a number of added benefits.
It's the first step you need to take before even dealing with Search Engine Optimization (SEO) or any other SEM (Search Engine Marketing) tasks.
Crawling
Search engines have a number of computer programs called web crawlers (thus the word Crawling), that are responsible for finding information that is publicly available on the Internet.
This involves scanning sites and collecting details about each page: titles, images, keywords, other linked pages, etc. Different crawlers may also look for different details, like page layouts, where advertisements are placed, whether links are crammed in, etc.
When a web crawler visits a page, it collects every link on the page and adds them to its list of next pages to visit. It goes to the next page in its list, collects the links on that page, and repeats. Web crawlers also revisit past pages once in a while to see if any changes happened.
This means any site that's linked from an indexed site will eventually be crawled. Some sites are crawled more frequently, and some are crawled to greater depths, but sometimes a crawler may give up if a site's page hierarchy is too complex.
Indexing
Indexing is when the data from a crawl is processed and placed in a database.
Imagine making a list of all the books you own, their publishers, their authors, their genres, their page counts, etc. Crawling is when you comb through each book while indexing is when you log them to your list.
Now imagine it's not just a room full of books, but every library in the world. That's a small-scale version of what Google does, who stores all of this data in vast data centers with thousands of petabytes worth of drives.
Retrieval and Ranking
Retrieval is when the search engine processes your search query and returns the most relevant pages that match your query.
Most search engines differentiate themselves through their retrieval methods: they use different criteria to pick and choose which pages fit best with what you want to find. That's why search results vary between Google and Bing.
Ranking algorithms check your search query against billions of pages to determine each one's relevance. Companies guard their ranking algorithms as patented industry secrets due to their complexity. A better algorithm translates to a better search experience.
They also don't want web creators to game the system and unfairly climb to the tops of search results. If the internal methodology of a search engine ever got out, all kinds of people would surely exploit that knowledge to the detriment of searchers like you and me.
Different types of Search Engine
When people mention the term "search engine", it is often used generically to describe both crawler-based search engines and human-powered directories. In fact, these two types of search engines gather their listings in radically different ways and therefore are inherently different.
Crawler-based search engines
It includes search engines like Google, AllTheWeb and AltaVista, create their listings automatically by using a piece of software to "crawl" or "spider" the web and then index what it finds to build the search base. Web page changes can be dynamically caught by crawler-based search engines and will affect how these web pages get listed in the search results.
Crawler-based search engines are good when you have a specific search topic in mind and can be very efficient in finding relevant information in this situation. However, when the search topic is general, crawler-base search engines may return hundreds of thousands of irrelevant responses to simple search requests, including lengthy documents in which your keyword appears only once.
Human-powered directories
Like Yahoo directory, Open Directory and Look Smart, depend on human editors to create their listings. Typically, webmasters submit a short description to the directory for their websites, or editors write one for the sites they review, and these manually edited descriptions will form the search base. Therefore, changes made to individual web pages will have no effect on how these pages get listed in the search results.
Human-powered directories are good when you are interested in a general topic of search. In this situation, a directory can guide and help you narrow your search and get refined results. Therefore, search results found in a human-powered directory are usually more relevant to the search topic and more accurate. However, this is not an efficient way to find information when a specific search topic is in mind.
 Meta-search engines
Examples can include types such as Dogpile, Mamma, and Metacrawler, transmit user- supplied keywords simultaneously to several individual search engines to actually carry out the search. Search results returned from all the search engines can be integrated, duplicates can be eliminated and additional features such as clustering by subjects within the search results can be implemented by meta-search engines.
Meta-search engines are good for saving time by searching only in one place and sparing the need to use and learn several separate search engines. "But since meta- search engines do not allow for input of many search variables, their best use is to find hits on obscure items or to see if something can be found using the Internet.
Hybrid Search Engines
Hybrid Search Engines use both crawler based and manual indexing for listings the sites in search results. Most of the crawler based search engines like Google basically uses crawlers as a primary mechanism and manual screening as a secondary mechanism. When a site is being identified for spam activities, manual review is required before including it again in the search results.
Search Engine Algorithm
You know how there are always criterias and unsaid rules for doing things in our lives?
Like you gotta get the best in 10th or 12th ! Why?! No Questions Asked!
Or make a remark about how noodles are killing people throughout the country but it just seems to work for Japan for centuries. Just like that Google and other Search Engine has criterias by which they decide how to give you information.
Its like "hey google what is search engine algorithm?"
Google : okay so you said "google" "search engine" and "algorithm" so what pages will have these three words together? Oh here are some couple million. Wait these are bad, pfft, gone, oh yea this is good, u see em first. Also we rank quora on top. For funsies.
BEGIN ANSWER!!!!
A search engine algorithm is a set of rules, or a unique formula, that the search engine uses to determine the significance of a web page, and each search engine has its own set of rules. These rules determine whether a web page is real or just spam, whether it has any significant data that people would be interested in, and many other features to rank and list results for every search query that is begun, to make an organized and informational search engine results page. The algorithms, as they are different for each search engine, are also closely guarded secrets, but there are certain things that all search engine algorithms have in common.
1. Relevancy
One of the first things a search engine algorithm checks for is the relevance of the page. Whether it is just scanning for keywords, or looking at how these keywords are used, the algorithm will determine whether this web page has any relevance at all for the particular keyword. Where the keywords are located is also an important factor to the relevancy of a website. Web pages that have the keywords in the title, as well as within the headline or the first few lines of the text will rank better for that keyword than websites that do not have these features. The frequency of the keywords also is important to relevancy. If the keywords appear frequently, but are not the result of keyword stuffing, the website will rank better.
2. Individual Factors
A second part of search engine algorithms are the individual factors that make that particular search engine different from every other search engine out there. Each search engine has unique algorithms, and the individual factors of these algorithms are why a search query turns up different results on Google than Bing, or DuckDuckGo. One of the most common individual factors is the number of pages a search engine indexes. They may just have more pages indexed, or index them more frequently, but this can give different results for each search engine. Some search engines also penalize for spamming, while others do not.
3. Off-Page Factors
Another part of algorithms that is still individual to each search engine are off-page factors. Off-page factors are such things as click-through measurement and linking. The frequency of click-through rates and linking can be an indicator of how relevant a web page is to actual users and visitors, and this can cause an algorithm to rank the web page higher. Off-page factors are harder for webmasters to craft, but can have an enormous effect on pagerank depending on the search engine algorithm.
Search engine algorithms are the mystery behind search engines, you can call it the Krusty Krab Recipe, or Kung Fu Pandas Scroll. Beyond the basic functions of a search engine, the relevancy of a web page, the off-page factors, and the unique factors of each search engine help make the algorithms of each engine an important part of the search engine optimization design.
Explain working of Google Search Engine
Yea a giant shark like Alphabet Inc. [parent company of Google] will definitely put that out on the Internet. This Answer is pretty same like how Search Engine works.
Google's search engine is a powerful tool. Without search engines like Google, it would be practically impossible to find the information you need when you browse the Web (and also make the countless number of textbooks, at the price of which you can buy 10 Insignia or Imax Tickets or something). Like all search engines, Google uses a special algorithm to generate search results. While Google shares general facts about its algorithm, the specifics are a company secret. This helps Google remain competitive with other search engines on the Web and reduces the chance of someone finding out how to abuse the system.
Google uses automated programs called spiders or crawlers, just like most search engines. Also like other search engines, Google has a large index of keywords and where those words can be found. What sets Google apart is how it ranks search results, which in turn determines the order Google displays results on its search engine results page (SERP). Google uses a trademarked algorithm called PageRank, which assigns each Web page a relevancy score.
What is SERP?
SERP is an acronym that stands for "Search Engine Results Page". Search Engine Results Pages (SERP) are the pages displayed by search engines in response to a query by a searcher. The main component of the SERP is the listing of results that are returned by the search engine in response to a keyword query, although the pages may also contain other results such as advertisements.
Basically all the results when you search, those sextillion number of pages
PageRank?
PageRank is the first algorithm used by Google to evaluate web pages. It uses a simplistic model of web surfing to estimate the probability of browsing to each site on the internet. It uses the concept of random walks in a Directed Acyclic Graph. The model of web surfing works like this:
85% of the time you randomly choose a link on the page you are on and visit that (if there are any links)

15% of the time you choose a random site on the internet and go there.
Page Rank
Google's search engine is technically complex.There are thousands of different factors taken into account so that the search engine can figure out what should go where.It's like a mysterious black box, and very few people know exactly what's inside.However, the good news is that Search engines are actually pretty easy to understand.
How do search engines crawl the web?
Google's first job is to 'crawl' the web with 'spiders.' These are little-automated programs or bots that scour the net for any and all new information.The Spider will take notes on your website, from the titles you use to the text on each page to learn more about who you are, what you do, and who might be interested in finding you.So the first massive challenge is to locate new data, record what it's about, and then store that information (with some accuracy) in a database.
Google's next job is to figure out how to best match and display the information in its database when someone types in a search query. Scaling becomes a problem again.
Search Engine Steps
Web Crawling

Indexing

Algorithms
Web Crawling
This is the means by which search engines can find out what is published out on the World Wide Web. Essentially, crawling is copying what is on web pages and repeatedly checking the multitude of pages to see if they are changed and make a copy of any changes found.
The programs which have the job of doing this are variously referred to as robots, crawlers, spiders or some variation using 'web'. e.g. web crawler..
Indexing
Once a spider has crawled a web page, the copy that is made is returned to the search engine and stored in a data center.Data centers are huge, purpose built collections of servers which act as a repository of the all the copies of webpages being made by the crawlers. Google owns dozens of them dotted around the world, which it guards very closely and which are among the most hi-tech buildings in the world.The repository of web pages is referred to as the 'Index', and it is this data store which is organized and used to provide the search results you see on the search engine. Indexing is the process of organizing the masses of data and pages so they can be searched quickly for relevant results to your search query.
The Algorithm
Finally, we have a huge collection of web page copies which are being constantly updated and organized so we can quickly find what you are looking for. But we need a means by which they can be ranked in order of relevance to your search term — this is where the Algorithm comes into play.The algorithm is a very complex and lengthy equation which calculates a value for any given site in relation to a search term. We don't know what the algorithm actually is, because search engines tend to keep this a closely guarded secret from competitors and from people looking to game the search engine to get to the top spots.
Statistics say that Google now processes over 40,000 search queries every second on average (visualize them here), which translates to over 3.5 billion searches per day and 1.2 trillion searches per year worldwide.
What is Search Engine Optimization
Search engine optimization (SEO) is the process of increasing the visibility of a website or a web page to users of a web search engine. The term excludes the purchase of paid placement, referring only to the improvement of unpaid results (known as "natural" or "organic" results).
SEO is performed because a website will receive more visitors from a search engine the higher the website appears in the search results page. These visitors can then be converted into customers. SEO may target different kinds of search, including image search, video search, academic search, news search, and industry-specific vertical search engines. SEO differs from local search engine optimization in that the latter is focused on optimizing a business' online presence so that its web pages will be displayed by search engines when a user enters a local search for its products or services. The former instead is more focused on national or international searches.
Suppose your name is Ramlal. And you got a company for probably physiotherapy on the net. And you want people to visit that site. You basically add dozens of words so that whenever someone searches for them, people will see your site on top.
What is the difference of SEO and Internet marketing?
Some people often ask me "Is SEO the same as Internet Marketing?" The simplest answer I can give is that SEO is one of the tools available in your Internet Marketing arsenal.
It is not Internet Marketing as such but it can be part of your overall Internet Marketing campaign which normally includes other things like social media promotion, content strategy etc.
What are the main stages of the Search Engine Optimization process?
A Quick Rundown. If an elaborative answer is needed please PC.
For simplicity though, SEO can be broken down into 3 main stages:
Technical SEO: With technical SEO you can ensure that search engines can crawl and index your website with out any issues.
On-site SEO: Rules to apply on your site and content to make it search engine friendly.
Off-site SEO: Ways to promote your website or blog so that it can rank higher in search results.
Technical SEO
The first stage in the SEO process is called technical SEO. As the name implies, technical SEO has nothing to do with the actual content of a website or with website promotion methods.
It has to do with settings you need to configure to make the job of search engine crawlers easier. Usually, once you get your technical SEO correct, you may not have to deal with it again.
On the other hand, if you have problems with crawling and indexing, it can negatively impact on your rankings.
On-site SEO
The second stage is On-Page SEO. On-Page SEO has to do primarily with the content and other elements found on a page.
Unlike technical and off-page SEO, the main focus of on-page SEO is to provide search engine crawlers enough signals so that they can understand the meaning and context of your content.
Remember that search engines don't read a page like a human so they are looking for signals to figure out what a page is all about.
It is at this stage that you will deal with website structure, keywords, title optimizations, headings, internal links, image SEO, structured data markup and other techniques that can send the right signals to search engines.
If followed correctly, on-page SEO will also improve the usability and credibility of a website or blog.
Note that content optimization is part of on-page SEO but sometimes this is referred to as Content SEO.
Off-site SEO
The third stage is Off-Page SEO.
Besides the changes you can do to your website (on-site SEO) so that it ranks higher in the SERPs, the other way to improve your website's ranking position is by using off-site SEO techniques.
Why is off-page SEO important?
In general, when a user types a search query, search engine algorithms look into their index and try to find the best pages that can satisfy the intent of the user.
Pages that are good candidates appear to the first positions of the search results.
One of the factors to determine the position a webpage in the results, is the number of incoming links (backlinks).
Backlinks are a signal of trust and depending from where the links are coming, they can greatly affect your ranking position.
If the links are coming from well-known and trusted sites, your ranking will be positively affected.
If  they are paid links, links in article directories, link farms or a result of an exchange, your ranking will be negatively affected.
Getting links this way, is a violation of Google guidelines and most probably it will also result in a Google Penalty.
State any benefits of SEO
In today's competitive market, SEO marketing is more important than ever.
(No making it a big deal and making this a one big paragraph thing to tell you why it is important. Why cant people get this simple fact that everyone whos reading this is mature enough to understand its important for market bs.)
Search engines serve millions of users per day looking for answers to their questions or for solutions to their problems.
If you have a website, blog or online store, SEO can help your business grow and meet the business objectives.
Search engine optimization is important because:
The majority of search engines users are more likely to click on one of the top 5 suggestions in the results pages (SERPS). To take advantage of this and gain visitors to your web site or customers to your online store, your website needs to appear in one of the top positions.

SEO is not only about search engines but good SEO practices improve the user experience and usability of a web site.

Users trust search engines and having a presence in the top positions for the keywords the user is searching, increases the web site's trust.

SEO is good for the social promotion of your web site. People who find your web site by searching Google or Yahoo are more likely to promote it on Facebook, Twitter, or other social media channels.

SEO is important for the smooth running of a big web site. Websites with more than one author can benefit from SEO in a direct and indirect way. Their direct benefit is increase in search engine traffic and their indirect benefit is having a common framework (checklists) to use before publishing content on the site.

SEO can put you ahead of the competition. If two web sites are selling the same thing, the search engine optimized web site is more likely to have more customers and make more sales.
In simpler terms, Search Engine Optimization is a way to improve your website so that it will appear closer to the top positions in the search results of Google, Yahoo, Bing or other search engines.
When you perform a search on Google the order by which the returning results are displayed, is based on complex algorithms.
These algorithms (also known as search engine ranking algorithms), take a number of factors into account before they decide which web page will be shown in the first place, second place etc.
Organic SEO VS Inorganic SEO
What Is SEO?

Before we dive into the whys and wherefores of organic and inorganic SEO, let's look at what exactly SEO is. SEO is a marketing strategy where digital marketers make it easier for search engines to crawl, index, and rank the websites they manage.
Google determines how a website ranks depending on many different factors. These include the age of the domain, bounce rate, keyword relevance, and more.
Most of the analysis and comparison are based on the architecture of Google. This is because it holds a significant majority of the search engine market, but all the points in this article apply to other search engines as well.
Organic SEO or Natural SEO as it is also called,  generally takes more time to execute but can yield longer term results.  It works by focusing on content creation, link building, meta-tag  optimization, keyword enhancement, etc.
Pros: Long-term results, Inexpensive, Attracts 80% of search traffic
Cons: Takes longer to see effect, Can be complicated, Unpredictable results
Non-organic SEO or Artificial SEO may yield  quicker results and bump up your initial ranking and placement, but the  effects are generally less effective in the long run when compared to  organic SEO. It works by concentrating on search engine marketing which  involves paid advertising, pay-per-click advertising as well as paid  affiliate marketing.
Pros: Quick, Ideal for customer targeting, Great for brand awareness
Cons: Can be expensive, Requires constant fine-tuning, Ranking can plummet if you stop
What Is Organic SEO?

Organic traffic comes from users who enter a search query and then click on one of the websites that are displayed on the search engine results page. The biggest difference between organic and inorganic SEO is that websites do not pay for organic traffic.
Organic traffic is considered more valuable than inorganic traffic. Part of this is because the websites that are displayed are the best ones available for that term. The other part is that visitors are considered to have a more legitimate interest in the subject.
Organic SEO is built by a combination of quality content and keyword optimization.

What Is Inorganic SEO?

Inorganic SEO refers to optimization through paid strategies for your website. These can include pay-per-click advertising (PPC) and paid social media advertising.
When you buy website traffic via PPC, a brand pays the search engine whenever someone clicks on an advertisement for their website. The most common form of PPC advertising is through the Google Display Network.
To set up an inorganic SEO strategy such as a PPC campaign, a digital marketing expert must research keywords that they want to target. Afterward, they write text ads that will be displayed when users search for that keyword.

Benefits of Organic SEO

One of the main benefits of organic SEO is that users frequently see these results as more trustworthy than their paid counterparts. In fact, one-third of internet users skip the paid results in favor of the first organic result displayed for their search query.
Another benefit of organic SEO is that there is no direct cost associated with it. Improving your website's organic SEO increases awareness about your brand and improves your company's credibility at the same time.
Much in the way that Google displays websites higher in the search rankings based on trustworthiness, users assume that if you're ranked highly by Google then you can be trusted by them as well.

Benefits of Inorganic SEO

You must be wondering, if organic SEO is free and brings in better traffic, why would anyone pursue inorganic SEO strategies? But like anything, there are two sides to the coin and that includes the benefits of using an inorganic SEO strategy.
Firstly, although inorganic SEO is more costly than organic SEO, it also provides results much more quickly. Organic SEO is a slow procedure and it can take months before your keywords start ranking. With inorganic SEO, you can create and execute a campaign in a matter of days.
Another benefit of SEO has to do with the placement of the advertisements. Even though many people are ignoring them in favor of organic results, they're still seeing your company name, which helps to increase brand awareness.
Finally, companies who are selling products can take advantage of the Product Listing Ads (PLAs). This is a feature in the Google Display Network where companies can set up ads that show pictures and prices of a relevant product. Not only that, but a user who clicks on one of these PLAs is brought directly to a page where they can purchase the item
On Page and Off Page Optimisation
Search engine optimization refers to the employment of several strategies that make it easier for search engines like Google to index your website and serve it up to people looking for the information it offers. The result of SEO is organic traffic—visitors who come to your website by clicking on it in search results. There are two types of SEO that help to improve your website's ranking: on-page SEO and off-page SEO
On-page SEO describes the manipulations you make directly to a web page to facilitate higher ranking. It involves optimizing the HTML code, content quality, and content structure.

Off-page SEO refers to all of the SEO practices that take place outside of your website such as backlinks, link relevancy, social signals, and others.
Differences Between On-Page and Off-Page SEO
With on-page SEO you have full control, but with off-page SEO you do not. This is because backlinks, social signals, reviews and its other factors rely on the behavior of others. On-page and off-page both play their own unique role in improving your website's ranking. A website with poor on-page SEO but perfect off-page SEO won't rank as well as a website that is fully optimized for both.
Therefore, it is crucial to understand the key differences between the two SEO types that will help you improve your website ranking.
I may be wrong but On Page is your mehenat or you being independent, and Off Page is Log Kya kahenge Factor.

What is On-Page SEO?
On-page SEO (also known as "on-site" SEO) is the act of optimizing different parts of your website that affect your search engine rankings. It's stuff that you have control over and can change on your own website. Here are the biggest factors included.
On-page SEO involves all the on-site techniques you can employ to ensure a webpage will rank on a SERP, and it can also help determine how well that page ranks. It uses both content and technical elements to improve the quality of a page, so the more on-page SEO you do, the more traffic you'll get to a website and the more relevant that traffic will be.        
There are many different technical aspects of a webpage that can be optimized with on-page SEO, and they include:
Title tags

Headings

URL structure

Alt text for images

Site speed

Internal links

Meta descriptions

Responsiveness
Title Tags
Put your targeted keywords in the title tag of each page on your site. There are many best practices that go into writing an effective title tag.
Headings (H1)
Headings are usually the largest words on the page, and for that reason, search engines give them a little more weight than your other page copy.  It is a good idea to work your target keywords into the headings of each web page but make sure you accurately reflect your page content.
URL structure
Put keywords into your URLs if possible. However, do not go changing all of your current URLs just so they have keywords in them. You shouldn't change old URLs unless you plan on redirecting your old ones to your new ones. Consult a professional before doing this.
Alt text for images
Any content management system should allow you to add something called "alt text" to all images on your website.  This text isn't visible to the average visitor – alt text is in fact used by screen reader software to help blind internet users understand the content of your images. Search engines crawl images in a similar way, so inserting some relevant keywords while accurately describing the image will help search engines understand your page's content.
Fast-loading pages, or page load speed
Google wants to help its users find what they're looking for as quickly as possible to provide the best user experience. Therefore, optimizing your pages to load faster helps your site rank higher in the search results.
Page content
The content on your pages needs to be useful to people. If they search for something too specific to find your page, they need to be able to find what they're looking for.  It needs to be easy to read and provide value to the end user. Google has various ways to measure if your content is useful.
Internal Linking
Linking internally to other pages on your website is useful to visitors and it is also useful to search engines. Here's an internal link to another blog post on our site that talks more about internal linking. Very meta.
On-page SEO ensures that your site can be read by both potential customers and search engine robots. With good on-page SEO, search engines can easily index your web pages, understand what your site is about, and easily navigate the structure and content of your website, thus ranking your site accordingly.
What is Off-Page SEO?
Off-page SEO focuses on increasing the authority of your domain through the act of getting links from other websites.  A good analogy for how authority works is this. If you have a bathtub with rubber duckies in it (the ducks are your pages), and you start filling the tub with water (links), your duckies are all going to rise to the top.  This is how a site like Wikipedia ranks for pretty much everything under the sun.  It has so much water in its bathtub that if you throw another rubber duck in it, it's going to float to the top without any other effort.
"Off-Page SEO" refers to all of the activities that you and others do away from your website to raise the ranking of a page with search engines.
Though many people associate off-page SEO with link building, it goes beyond that. Many activities that don't result in a standard link on other sites are important for off-page optimization.
On-page search engine optimization happens within the site, while off-page SEO happens outside the site.
Off-page SEO simply tells Google what others think about your site. For example, if you've got a lot of valuable links pointing to your pages, search engines will assume that you've got great content – the type that provides value for users.
Off-page SEO factors:
Backlinks
The number and quality of backlinks you have to your site is undoubtedly the biggest factor of off-page SEO. The more sites linking to your content, the more domain authority Google grants your site, boosting your ranking. This has led marketers to try questionable paid link-building tactics, but there are several organic approaches you can take that produce effective results, such as guest blogging, being featured in industry trade publications, and seeking out contacts in the industry who'd be happy to share your content.
Domain Authority
Measured on a scale from 1-100, your domain authority is a number given to you by search engines to determine the strength of your website. Think of it as a grade, essentially. Websites with a higher domain authority receive preference in the search results, while websites with a lower domain authority are more likely to rank near the bottom. Domain authority is measured by a few different factors, including how long you've had your domain name (the longer the better), the history of the domain name, the number of backlinks, and the number of 404 pages. By ensuring you have a technically sound website that follows the SEO best practices, you can maximize your domain authority and improve your ranking.
Social Promotion
While page ranking isn't tied directly to the interactions on a social media post, social posts that generate a lot of clicks will certainly help boost traffic to the site and generate a ton of link shares. Content that's shared on Google+ is also indexed immediately, helping in that regard.
Different formats of Multimedia including graphics, sound, video and animation that can be used on a web page? Can "avi" and "wav" files be a direct part of a web page?
Types of Multimedia on Webpage
If theres a better answer, send it to me
Multimedia Formats Supported on Webpages
The word multimedia comes from two Latin roots, multi and media: multi-, meaning several or many, and media-, meaning in the middle. This multimedia definition tells us that materials on the internet, or in your business presentations, involve several forms of communication to connect (that is, to be in the middle of) the sender and receiver. As any multimedia developer knows, a multimedia system consists of at least two, and perhaps all, of the following types of communication.
1. Text Materials
Text takes us back to how the internet started, as a means of sending written messages back and forth between researchers. Actually, it takes us back quite a bit further, as pretty much every office memo ever written has mostly consisted of text with perhaps a smidgen of other media types thrown in. Text is still a primary way to transmit information, although nowadays, it is also used to augment other forms of communication, such as a text description of a photograph.
Common file types include:
Text Only: TXT

Text with other elements: DOC, DOCX, PDF
2. Photographs and Other Still Images
Illustrations are perhaps the oldest form of media, harking back at least as far as the prehistoric paintings on cave walls found in various locations around the world. Gutenberg's printing press in the 1400's enabled mass distribution of multimedia works containing both text and images. The growth of electronic communications has meant that older text-only forms of communication could be enhanced with photographs and images as well. Small images such as thumbnails or icons are often used as a visual "entry point" to larger images or more detailed information.
Text and images sometimes combine in a single form, as many software programs make it easy to create text art, a form of lettering that combines a strong visual element as well.
Common file types include:
Images: JPG, PNG, TIF, BMP
3. Audio Files
Your website or presentation can add sound, from a musical background to a spoken explanation, by including audio files. Even digital cameras, a quintessentially image-based technology, have been engineered these days to record sound as well. Many sound files are compressed, which reduces the file size without greatly sacrificing sound quality. Compressed files require less storage space and stream faster when sent over the internet or transmitted to local systems.
Common file types include:
4. Video Presentations
Video presents moving pictures and typically combines images and sound for a compelling multimedia experience. Of course, videos can include text as well, which often appears as captioning for spoken words or as text in an image, as in the case of a slide presentation. Video files are some of the most memory-intensive multimedia applications, but clever streaming methods makes their use practical in everyday use.
Common file types include:
Video: AVI, WMV, FLV, MOV, MP4
5. GIFs and Other Forms of Animation
Animated files occupy a middle ground between still images and video. GIFs, which is an abbreviation for graphic image files, in particular, are small files that present a single image or rapidly display a sequence of a few images to give the appearance of motion.
Common file types include:
*Heres a Cookie if you wanna get technical and more deep into this
Common Video Formats
MP4 is the format for internet videos.

MP4 is recommended by YouTube.

MP4 is supported by Flash Players.

MP4 is supported by HTML5.
Format

File

Description

MPEG

.mpg

.mpeg

MPEG. Developed by the Moving Pictures Expert Group. The first popular video format on the web. Used to be supported by all browsers, but it is not supported in HTML5 (See MP4).

AVI

.avi

AVI (Audio Video Interleave). Developed by Microsoft. Commonly used in video cameras and TV hardware. Plays well on Windows computers, but not in web browsers.

WMV

.wmv

WMV (Windows Media Video). Developed by Microsoft. Commonly used in video cameras and TV hardware. Plays well on Windows computers, but not in web browsers.

QuickTime

.mov

QuickTime. Developed by Apple. Commonly used in video cameras and TV hardware. Plays well on Apple computers, but not in web browsers. (See MP4)

RealVideo

.rm

.ram

RealVideo. Developed by Real Media to allow video streaming with low bandwidths. It is still used for online video and Internet TV, but does not play in web browsers.

Flash

.swf

.flv

Flash. Developed by Macromedia. Often requires an extra component (plug-in) to play in web browsers.

Ogg

.ogg

Theora Ogg. Developed by the Xiph.Org Foundation. Supported by HTML5.

WebM

.webm

WebM. Developed by the web giants, Mozilla, Opera, Adobe, and Google. Supported by HTML5.

MPEG-4

or MP4

.mp4

MP4. Developed by the Moving Pictures Expert Group. Based on QuickTime. Commonly used in newer video cameras and TV hardware. Supported by all HTML5 browsers. Recommended by YouTube.
Only MP4, WebM, and Ogg video are supported by the HTML5 standard.
Audio Formats
MP3 is the newest format for compressed recorded music. The term MP3 has become synonymous with digital music.
If your website is about recorded music, MP3 is the choice.
Format

File

Description

MIDI

.mid

.midi

MIDI (Musical Instrument Digital Interface). Main format for all electronic music devices like synthesizers and PC sound cards. MIDI files do not contain sound, but digital notes that can be played by electronics. Plays well on all computers and music hardware, but not in web browsers.

RealAudio

.rm

.ram

RealAudio. Developed by Real Media to allow streaming of audio with low bandwidths. Does not play in web browsers.

WMA

.wma

WMA (Windows Media Audio). Developed by Microsoft. Commonly used in music players. Plays well on Windows computers, but not in web browsers.

AAC

.aac

AAC (Advanced Audio Coding). Developed by Apple as the default format for iTunes. Plays well on Apple computers, but not in web browsers.

WAV

.wav

WAV. Developed by IBM and Microsoft. Plays well on Windows, Macintosh, and Linux operating systems. Supported by HTML5.

Ogg

.ogg

Ogg. Developed by the Xiph.Org Foundation. Supported by HTML5.

MP3

.mp3

MP3 files are actually the sound part of MPEG files. MP3 is the most popular format for music players. Combines good compression (small files) with high quality. Supported by all browsers.

MP4

.mp4

MP4 is a video format, but can also be used for audio. MP4 video is the upcoming video format on the internet. This leads to automatic support for MP4 audio by all browsers.
Only MP3, WAV, and Ogg audio are supported by the HTML5 standard.
Image, Graphics and Animation, and Video Formats
Added only because some questions ask to define certain formats
JPG / JPEG
JPG (Joint Photographic Experts Group) was created in 1986. This image format takes up very little storage space, and is quick to upload or download.
JPGs can support millions of colors, so this file type is ideal for real-life images, like photographs. They work well on websites, and are the best choice when posting on social media channels. In fact, most digital cameras and smartphones save your pictures as JPGs.
The JPG is "lossy" – which means that when the data is compressed, unnecessary information is deleted from the file permanently. That means that some quality will be lost or compromised when any file is converted to a JPG.
Think of JPG as the default file format for uploading pictures to the web, unless they need transparency, have text in them, are animated, or would benefit from color changes (like logos or icons).
GIF
GIF (aka, Graphics Interchange Format) came on the scene in 1987 specifically to take the pain out of sending images to or from slow connections, or low bandwidth.
GIFs are "lossless" – meaning that a GIF retains all the data contained in the file, but they are smaller than JPGs, specifically because they only accommodate up to 256 indexed colors.
GIF was intended for small, simple graphic icons, but with one important caveat – they can be animated! There is no audio associated with a GIF, but they are still a powerful way to bring motion to your online channels.
Transparent GIF
The gif format allows you to pick colors from the color lookup table of the gif to be transparent. You can use image-editing software such as Photoshop (and many shareware utility programs) to select colors in a gif graphic's color palette to become transparent. Usually the color selected for transparency is the background color in the graphic. Unfortunately, the transparent property is not selective; if you make a color transparent, every pixel in the graphic that shares that color will also become transparent, which can cause unexpected results.
TIF
TIF is known as the highest quality image format, is best used for commercial print work and shouldn't be used on the web. Keep a TIF copy for original photographs, as it offers lossless compression. However, if using on the web, make sure to export as a JPG.
FLIF Free Lossless Image Format
FLIF is a new and innovative image format featuring animation support with alpha transparency, progressive loading (allowing to display image in lower quality while it's still downloading) and some impressive statistics in comparison to different formats. It's not supported by any browsers natively, but there is a javascript browser polifill, making it possible to use FLIF in any browser (although currently not fully supporting animated FLIFs).
BMP Images
BMP images are another example of an unsuitable image format for use on the web. BMP images do not compress graphical data. While a primitive form of RLE compression is defined in the specification, this is not widely supported and rarely used. Even if it was, RLE achieves poor compression ratios compared to a more modern scheme such as DEFLATE. Images that, when saved as a BMP images will be hundreds of kilobytes are only tens of kilobytes when saved as a PNG or JPEG. With such huge sizes, BMP is definitely not a suitable image format for the web.
PNG
PNG (Portable Network Graphics) was invented in 1995 to replace the GIF and to get around some pesky patent issues. If the size of your file is not a pain point, and you're working with a more complex image, PNG is probably the best choice.
PNG-8 is similar to GIF in that it supports 256 indexed colors, as well as transparency. PNG-24, like JPGs, can support up to 16 million colors. PNGs are most often used for static images, like a JPG would, however they can support animation.
Like the GIF, PNG is lossless, so you do not lose any data during compression, and they're ideal for detailed graphics, or when you're working with files that are still being edited. It's the only raster format of the four that supports transparency!
SVG
The latest of all the file types, SVG (Scalable Vector Graphics) is a vector image file format released in 2001, and is more powerful than other file formats suitable for the web. Unlike raster formats seen in JPG, GIF, and PNG, an SVG image remains crisp and clear at any resolution or size.
That's because an SVG is drawn from mathematically declared shapes and curves, not pixels. SVG's can be animated, support transparency, and any combinations of colors or gradients.
SVG is a lossless file format like GIF and PNG, and they tend to be fairly large files when compared with other formats for the web.
WEBP
WEBP (pronounced as "Weppy") is an image format developed by Google. This format was designed to be used specifically on the web. WebP uses features of both lossy and lossless compression algorithms which greatly reduces the file size while retaining the quality of the original image.
WebP lossless images are 26% smaller in size compared to PNGs. WebP lossy images are 25–34% smaller than comparable JPEG images at equivalent SSIMquality index.
WebP takes the best parts of both the lossy JPG format and the lossless PNG format and makes them available in a compact file! It can be used on a number of graphical and translucent images and allows the user to adjust the degree of compression to make a trade-off between file size and picture quality. It is currently supported in Chrome and Opera browser.
---
MP4
MPEG-4 is the HTML5 supported file format that has been around longest. Version 1 debuted in 2001 as one of the earliest digital video file formats. In a time when digital data was beginning to replace mechanical video tapes in mass, MPEG-4 became a wildly popular file format. However, its span means that it was not designed with today, and tomorrow's, internet in mind. The smartest phone available in 2001 was Palm's Kyocera 6035, and one of its strongest selling points was (limited) web browsing.
OGV
OGG was originally designed as an audio compression package in the early '90s but matured over the next two decades. What started as a workaround led OGG to give birth to OGV, a digital multimedia file format redesigned for efficient streaming over the internet. However, the format's longevity does not guarantee success in an ever-changing future. The format does not (currently) work with any version of Internet Explorer nor Safari – not to mention today's most popular mobile devices.
AVI
Audio Video Interleave (also Audio Video Interleaved), known by its initials AVI, is a multimedia container format introduced by Microsoft in November 1992 as part of its Video for Windows software. AVI files can contain both audio and video data in a file container that allows synchronous audio-with-video playback. Like the DVD video format, AVI files support multiple streaming audio and video, although these features are seldom used. Most AVI files also use the file format extensions developed by the Matrox OpenDML group in February 1996. These files are supported by Microsoft, and are unofficially called "AVI 2.0".
AVI is a subformat of the Resource Interchange File Format (RIFF), which divides a file's data into blocks, or "chunks." Each "chunk" is identified by a FourCC tag. An AVI file takes the form of a single "chunk" in a RIFF formatted file, which is then subdivided into two mandatory "chunks" and one optional "chunk".
MP4
MPEG-4 Part 14 or MP4 is a digital multimedia container format most commonly used to store video and audio, but it can also be used to store other data such as subtitles and still images.  Like most modern container formats, it allows streaming over the Internet. The only official filename extension for MPEG-4 Part 14 files is .mp4. MPEG-4 Part 14 (formally ISO/IEC 14496-14:2003) is a standard specified as a part of MPEG-4.
Portable media players are sometimes advertised as "MP4 Players", although some are simply MP3 Players that also play AMV video or some other video format, and do not necessarily play the MPEG-4 Part 14 format.
.MP4 versus .M4A
M4A stands for MPEG 4 Audio and is a filename extension used to represent audio files.
Some file managers, such as Windows Explorer, look up the media type and associated applications of a file based on its filename extension. But because MPEG-4 Part 14 is a container format, MPEG-4 files may contain any number of audio, video, and even subtitle streams, therefore it is impossible to determine the type of streams in an MPEG-4 file based on its filename extension alone.
In response, Apple Inc. started using the .m4a filename extension for MP4 containers with audio data in the lossy Advanced Audio Coding (AAC) or its own Apple Lossless (ALAC) formats. Software capable of audio/video playback should recognize files with either .m4a or .mp4 filename extensions, as would be expected, because there are no file format differences between the two. Most software capable of creating MPEG-4 audio will allow the user to choose the filename extension of the created MPEG-4 files.
MKV
The Matroska Multimedia Container is a free, open-standard container format, a file format that can hold an unlimited number of video, audio, picture, or subtitle tracks in one file. It is a universal format for storing common multimedia content, like movies or TV shows. Matroska is similar in concept to other containers like AVI, MP4, or Advanced Systems Format (ASF), but is entirely open in specification, with implementations consisting mostly of open source software. Matroska file extensions are .MKV for video (which may or may not include subtitles and audio), .MK3D for stereoscopic video, .MKA for audio-only files, and .MKS for subtitles only.
MP3
MP3 (formally MPEG-1 Audio Layer III or MPEG-2 Audio Layer III)[4] is a coding format for digital audio. Originally defined as the third audio format of the MPEG-1 standard, it was retained and further extended—defining additional bit-rates and support for more audio channels—as the third audio format of the subsequent MPEG-2 standard. A third version, known as MPEG 2.5—extended to better support lower bit rates—is commonly implemented, but is not a recognized standard.
MP3 (or mp3) as a file format commonly designates files containing an elementary stream of MPEG-1 audio and video encoded data, without other complexities of the MP3 standard.
WebM
WebM is a completely open source video format, which meshes well with the current and future state of the internet. It debuted in 2010 and was designed and developed with widespread web use and sharing in mind. Many of WebM's features were created with an eye towards the future, including the file format's low computational footprint. It delivers the highest quality video it can in real time, adjusting file weight depending on connection and processing power. Despite its recent development and release, however, WebM (currently) has the same HTML5 browser incompatibilities as OGV (WebM's one advantage being its compatibility with Chrome on Android devices).
WebVTT
Similar to the WebM format, WebVTT was released in 2010 with the hope of overtaking all other video formats used on the web. WebVTT's greatest advantage over its competitors is that WebVTT was developed by W3C (the World Wide Web Consortium). WebVTT was created directly from W3C's own HTML standard, making it the most compatible video tag format (currently) available. The cross operating system and cross browser support that WebVTT offers makes it the logical choice for videos on any website.
The Advantages of Using Multimedia in Web Design
Enrich your Web design project with multimedia elements to captivate and inform Web page visitors, regardless of which browser they are using. Sound files, pictures, animations and video footage are considered forms of multimedia that you can combine to enhance a website if you take steps to overcome accessibility challenges that threaten the inherent advantages of using multimedia elements. Be sure that these objects are accessible to a broad range of website visitors to maximize their advantages.
Embedded Video Footage
Embedded video is an advantage of using multimedia in a Web design. Such videos can contain an array of footage to serve not only a website's mission but also its visitors. Multimedia of this variety is useful to site visitors who have literacy challenges and those with visual, audio or cognitive disabilities. Provide links to a narration transcript to reach the broadest audience should accessibility issues occur.
Informative Images
The advantage of using photos in a multimedia Web design goes beyond the use of images as decoration. Images in a multimedia context consist of slide shows or galleries that a website visitor can view. In situations where you use photos as multimedia objects, embed them with descriptive HTML code such as a title — because if a browser fails to load the images, your website visitor will at least know what should be there.
Animated Information
Flash objects are multimedia elements that you can use in your Web design as well. The advantages of adding Flash animations to your design include featuring scalable, dynamic and media-rich content that stays within one container on a Web page. This content can illustrate how things work or present information in entertaining ways. Consider including an alternative animation file type that a visitor can view in the event that your Flash animation fails to load in the browser they are using.
Sound
Sound can enhance your Web design project. The sound clips you incorporate can be short or long. You may use them to deliver website visitors information in the form of recorded speech. If you incorporate multimedia of this type into your design, embed descriptions within your HTML code and consider linking to a transcript. These extra steps enable site visitors to review the contents of featured sound files in the event that an accessibility issue arises.
What are backlinks? How to get them? Why are they important
When one website links to your website.
What are backlinks?
Backlinks are links that connect an external website to your site. These links are crucial because they tell search engines that your website matters. Google considers links as votes, so getting new links is like generating votes in a never-ending popularity contest on the Internet. Note, however, that if you want those links to boost your SEO (and not harm you!) they MUST be from sites related to what you do. More votes for your site means more credibility and, in all likelihood, a higher ranking in relevant searches.
Unlike in a democracy, however, not all links are viewed as equal in the eyes of search engine robots. Google, Bing and others give far greater weight to links coming from websites that are reliable and popular. A link from Wikipedia or The New York Times, for example, will do far more for your site's credibility than a link from your best friend's blog.
When a website links to you, they are saying that your content is interesting and relevant to their readers. Furthermore, search engines use links to help understand what your website is about. Google assumes that when one site links to another, there is some relationship between the content on the two pages. As a website owner, that means you should try to get links from known websites in your industry.
Why Backlinks Are Important?
When Google's founders, Larry Page and Sergey Brin, created the platform they recognized a weakness in the search engines of the time, they were not using links as a valued metric to rank results. This meant it was difficult to not only find matching content, search engines were not returning results based on human valuation.
So, the two founders decided a good way to 'rank' results should lean on the votes being cast around the web by external pages. These votes are backlinks.
When a page links to another page it is saying the target is a qualified, authoritative reference.
Links are not only a signal Google uses to rank web pages, they are a source of traffic. Face it, links on popular pages get clicked. Because they have lots of traffic some of it will pass on to your page as well.
You can consider these links as votes for your page that signal authority and drive traffic.
Advantages of Backlinks
Higher ranking on Google – When the Google Crawler sees that your site is getting relevant, contextual backlinks, it associates your website's value or domain authority with the value of the website the link is on. This ultimately results in a higher ranking on Google.

Increased traffic – Even before the aspect of ranking comes into the picture, the advantage of getting clicks and visitors by direct clicking on the link results in an increased traffic.

Faster indexing – When there are various relevant backlinks leading back to your website, it becomes easier for the Google bots to discover your website and crawl through it effectively.
Common Terms Related to Backlinks
Link Juice
The value passed from one web page or site to another with the help of a hyperlink is called as 'Link Juice' in non-technical SEO terms.
Internal Links
Links that link different pages within the same domain are called as internal links and the process is called as internal linking.
No-Follow Link
No-follow links are the ones which consist of an HTML attribute value that instructs search engines bots that this link should not influence the link target's ranking in the search engine's index.
Linking Root Domains
Are the number of backlinks coming into your website from a particular unique domain.
Anchor Text
Anchor text is the text that is used for hyperlinking.
Factors to keep in mind while Backlinking
Relevance
While trying to figure out which is the best website to build a link from, relevancy is the key. Instead of going after all the websites with a good domain authority, you should identify the ones which can drive more traffic to your website because they present you with an opportunity to publish content relevant to your site.
Original and useful content
Publishing content that is useful for the reader is the best way to make the visitors want to click on your link. When you publish an informative and an original article, then when you reach out to people to link to it, they'll be more likely to do so because of how useful the content is.
Do-follow links
Do-follow links are like a vote of confidence. When you get a Do-follow backlink from a reputed website, it is like the website vouching for your content.
Crucial Backlinking Factors
The number of backlinks you have is crucial, but that is not the only factor that is important. Here are some other factors you want to consider:
1. Relevance. Let's say your website is all about selling car parts and offering car repair services. But if you get backlinks coming from websites that are not connected in any way to your business (such as vegetarian diet websites), then this won't boost your SEO at all. In fact, it may trigger suspicion that you didn't earn your backlinks the proper way.
Google may think that you bought those backlinks, and this may earn you a penalty.
2. Quality. Not only should the websites linking to your site be relevant to your niche, but they should also be popular with Google and other search engines as well. Let's put it this way: you're a basketball player and you need a recommendation—it's better to have a recommendation from a famous coach like Phil Jackson than from a high school coach in some unknown town. So going back to our previous example, if you have a car parts and repair website, you should endeavor to get backlinks from well-established websites connected to the car industry.
3. Different types of websites. There are many types of websites connected to the car industry. Some are blogs and review websites, there are forums and online directories, and others are commercial websites. You need backlinks from all of them, and not just from a particular type of website.
4. Speed of acquisition. You can't suddenly have a thousand backlinks appearing overnight. It will make search engines suspicious. Getting a thousand backlinks is only possible if you bought them and Google will penalize you for trying to trick them.
Difference Websites and Blogs
Blogs are a type of website. The only real difference between a blog and other types of website is that blogs are regularly updated with new content, which is displayed in reverse chronological order (newer posts first).
Typical websites are static in nature where content is organized in pages, and they are not updated frequently. Whereas a blog is dynamic, and it is usually updated more frequently. Some bloggers publish multiple new articles a day.
Blogs can be part of a larger website. Often businesses have a blog section where they regularly create content to inform and educate their customers.
You can use WordPress to create both, a website and blog, that's why a lot of business owners use WordPress to build their small business website.
In simple terms, all blogs can be a website or part of a website. However, not all websites can be called blogs.
Blogs will be filled with posts in a chronoligical manner with a varied comment section and creator-audience relationship. But a Website will be something which can be a tool or a page you can view, which will have certain attributes or pages under it. You can say Google will be a Website, and sites like ScoopWhoop or Buzzfeed can be categorized as Blogs.
What Is A Blog?
A blog is simply a site where you can add posts, and the new posts will appear on top of the older post(s), and so on. The post could contain anything from an image to video or text.
Usually, the post has a headline that shows the people what the post is about, and then they write and use images or video to discuss the topic.
It is usually educational in nature, and the topics may vary from news to entertainment, etc.
A blog can be used in many ways for many purposes. You can use it to:
Earn revenue from advertising & affiliate marketing.

Build a brand, grow an audience and then selling products.

Grow your business by using blog posts to increase awareness about your company and showcase how they can benefit from it.

Share updates about you, your company or your program.

Just for fame or to help others.

As a journal to log info about your day that can be viewed by other people whom you don't mind reading your blog
What Is A Website?
A website is a general term used to refer to a site with a set of pages under one domain that you can access using the Internet.
Usually, there are a bunch of static pages that are created once and not changed periodically. They can be created by coding using a simple HTML and CSS, or you can enhance the page and add JavaScript and jQuery.
It could also be a dynamic site that changes as you use it — something like Facebook.
A website can be used in many ways.
As an eCommerce website.

As an online presence of a company.

As a Search Engine.

As a Social Networking Site.

As a video sharing platform and many more.
Importance of Blogs in Digital Promotion
If you want to grow your online business and want to promote your business among more and more online audience then you must enhance the visibility and ranking of the website on leading search engine like Google, Bing etc. Visibility of the website is the most crucial, because if people don't find your website for certain keywords then there is no chance for the things like lead, sale and profits. Now online marketing is competitive and challenging, so if you want to remain in competition then with cool website design and engaging content you have to leverage the power of blogging. Yes, blogging, here we are not saying about any types of blog; rather we are talking about marketing blogs. Marketing blogs are purposeful and works to grow your business. A relevant, in depth and informative blogs really do a wonder for the business.
The Power of Blogging in Digital Marketing:
It drives massive organic traffic to the website
This is the first and foremost advantage of blogging. A well informative and in- depth blogs not only please visitors but also drive massive organic traffic to the website. By blogging it becomes very easy to target the long tail keywords. If we talk about SEO purpose, then long tail keywords have lower competition, which mean it will be easier to rank high on the search engine result pages for them.
Boost your authority
A high quality, well researched and in depth blog not only boost authority of the website but also establish website as a brand. People follow, comments share the informative blogs on different social media platform like Facebook, Twitter and LinkedIn. Apart from that a high quality blog get quality back links from premium websites which proves helpful to get massive organic traffic.
Gives your company a character
When your blog appears on the first page of search engine result page then people start relying on the given information in this way a blog gives your company a character.
Generate leads
A major benefit to blogging is the lead generating potential it creates. The more posts you have out there, the more likely it is that people will navigate to your site. And once they're on your site, you've got a million ways to convert them to a lead. Your landing pages should ask their contact information, and your calls-to-action should help you with that too. The fact is, the more people that are on your site, the more conversions you'll get. And the way to get people to your site is to blog.
It's free
Blogging is completely free. It proves an effective for small business. If you want to leverage the power of blogging then post high quality blog on the website frequently. Definitely writing high quality blogs are not easy, it takes time and practice but when you become habitual of writing blogs then everything becomes easy and benefits are immeasurable. You will observe an increase in traffic and leads.
Drive traffic to your website:
Your blog gives you the opportunity to create relevant content for your customers. Use this as a marketing tactic to drive traffic back to your website.
Make the blog on your website the foundation for all of your social media platforms.
Your business might be on Facebook, Twitter, Pinterest, LinkedIn, or anywhere else. Post links  – with relevant visuals – of your blog articles to your social sites. Give your social followers a reason to click through to your website.
Additionally, post inbound links directly in your blog articles, to drive traffic to specific landing pages of your website.
Increase your SEO/SERP:
Blogs increase your SEO. Fresh content is still a key to beating out your competitors in the search engine results page.
Use keywords in your articles. List out the keywords, topics, and categories you want your business to be found with. Use these words, and related expressions when writing your posts.
Of course, whether you actively seek these out or not, blogging regularly about your business, industry, product or customer lifestyle will naturally increase your search keywords. Being intent about your words will only increase results.
Keywords and topics on your website are a significant way in which Google (and other search engines) find your site for these searched words.
Position your brand as an industry leader:
Well written articles demonstrate your company as an industry leader. By posting topics which resonate with your market and show your knowledge, you are marketing your skills for your business, service or product too.
If you are a retailer, for example, write blog posts about your products. Your customers will get to know you as the knowledge source for the products they want.
If you are in B2B, post articulate, well researched articles about your service. Become the hub, or the place to be, for your industry.
You are building trust, too. The more you can show that you are well-versed in your field, the more likely your consumer will trust you to supply what they need.
Your customers additionally benefit from the learning you provide them.
Develop better customer relationships:
Blogs provide another source to deepen the connection with your customer. By connecting directly on your website, your clients are able to get to know your business or product from the comfort of your online home base.
Use this. Again, build trust by being a source of information. Consumers like to be informed, and appreciate that you are the one teaching them.
Copyright? Copyright Laws in India?
Copyright Piracy is a worldwide phenomenon which is defined as the unauthorized or illegal means of reproduction, distributing or importing the original work protected by copyright. Copyright piracy is a phenomenon prevalent worldwide. The author of a copyrighted work, has the ownership of the work and enjoys certain exclusive rights.
The rights include;
To reproduce the piece of work.

To publish the copyrighted work.

To adopt, license and perform the work in public.
In case a third party who is not the copyright owner or is the authorized party, undertakes any of the above rights & carries on activities related to the work, it amounts to infringement of the copyright. It is a theft to the owner which leads to the loss of the rights and properties.
India has emerged as one of the biggest hubs of online piracy, with Delhi, Bangalore and Mumbai accounting for the major share of the illegal downloads. According to studies commissioned by the Motion Picture Distributors' Association (MPDA), the local office of the Hollywood Motion Picture Association (MPA), India accounts for maximum film piracy in any English-speaking country if one goes by the number of broadband subscribers.
The Copyright (Amendment) Act 2012 which has in ways revolutionised the Copyright laws in India has also made certain changes with regards to laws against piracy.
The new section 65A protects the Technological Protections Measures (TPM) used by copyright owners against circumvention.
TPM is used by a copyright owner to protect his rights on the work.
In case a person circumvents it with the intention of infringing such rights, then that person would be punishable with imprisonment upto 2 years and shall also be liable for fine.
Further with the insertion of Section 65B the Act intents to make removal of right management information without authority and distribution thereafter a criminal offence. Information Rights Management (IRM) is a term that applies to a technology which protects sensitive information from unauthorised access. So any unauthorised and intentional removal or alteration of any rights management information is a criminal offence punishable with imprisonment.
The introduction of Sections 65A and 65B is expected to help the film, music and publishing industry in fighting piracy.
There are different ways through which piracy takes place:
1) Book piracy takes place when a book is reproduced by someone other than the real publisher and sold in the market.
2) A performer's right is violated when a live performance of an artist is recorded or telecasted live without his/her permission.
3)  In a cinematographic work piracy generally takes place through unauthorised reproduction of the film in video forms and/or displaying the video through cable networks without taking proper authorisation from the film producer (the right holder).
4) In case of Computer Software ,copying and distribution of computer programmes without the copyright holders permission. The software industry, generally, consists of creation and distribution of computer programmes. Creation of computer programme is similar to writing a novel or other literary works and it requires intellectual skill and training in software programming.
Punishment Under The Indian Copyright Act:
Under the Indian Copyright Act 1957 , a software pirate can be tried under both civil and criminal law. The minimum jail term for software copyright infringement is seven days, and the maximum jail term is three years. Statutory fines range from a minimum of 50,000 to a maximum of 200,000 rupees.
Piracy of Literary Works
The illegal reproduction of printed material in form of Print media which includes books, magazines etc is termed as Piracy of literary works. It is reproduced for distribution and selling of the same for profit illegally. There are three principal ways in which the piracy of literature is worked out in India:
Reprinting of Text & Trade books by wholesalers.

Illegal translations

Photocopying of books/ journals for commercial use.
Piracy of Sound Recordings
This Industry is victim of three types of piracy;
The songs from different Cassettes/CDs are collected and combined in one single CD/cassette, which thereafter is given a different look and sold under original product category.

Counterfeiting is another form of piracy of sound recordings wherein songs are copied & produced in such a way that it looks near to original. These products are misleading for the buyers as they think it's the original song.

Bootlegging is the third form of piracy where illegal recordings of performance by artists are produced & reproduced to be sold in the market. These are carried on without the knowledge of the performers, composer or the recording company.
Piracy of Cinematographic Works
However it is not easy pirating a Cinematographic work as it is more complex in nature and includes a variety of copyrights in a single work and many a times the rights overlap each other. The 'theatrical right' i.e. the right to exhibit films in theatres is the initial copyright of a Film where the producer is the copyright holder. In order to exhibit in theatres the distributors buy theatrical rights from producers. These rights are limited by territory and time.
Piracy of Computer Software
The practice of copying and distributing computer programs without the permission of the copyright holder leads to piracy of computer programs. The rights lie with the software industry, for creation and distribution of computer programs. It is similar to writing a novel or other literary works and requires technological skills and training in software programming. A software can be created individually but it is generally a group effort where a team spends months to develop the complete program.
Exclusive Rights provided by

Copyright Act to the Copyright Owner
In India matters related to copyright are governed by the Copyright Act in 1957, which was subsequently amended in the year 1994 and 2002. Copyright cannot be granted in some cases like:
Copyright cannot be said to be violated if the idea or concept of any person is used in a different manner.

Copyright is not granted for ideas.

Copyright is not granted in live events.
So, basically for granting the copyright, the work which is being sought to be protected by copyright must be original. However, this standard of originality to be determined varies in countries. In countries which follow common law jurisdictions like United Kingdom and India, the standard of originality that is needed to be proven is low, while in countries which follow civil law jurisdictions like France and Germany, the standard of originality to be proven is high as certain minimum amount of creativity and author's intellectual expression is required to be shown to acquire a copyright protection.
Indian perspective on copyright protection:
The Copyright Act, 1957 provides copyright protection in India. It confers copyright protection in the following two forms:
(A) Economic rights of the author, and
(B) Moral Rights of the author.
Rights of the copyright owner
Right of Reproduction
This is the most prominent right which is acquired after the copyright protection. This right authorizes the person having such copyright to make copies of the protected work in any form. In the modern context copying, a song on a Compact Device or any sound and visual recording can be considered as a reproduction of the content. Prior to copying the permission of the author is required unless it can be shown that such copying is not intended to make any commercial benefits out of it.
Right to Distribute
Right to distribute is an off-shoot of the right of reproduction. The person who owns the copyright owner may distribute his work in any manner he deems fit. The owner is also entitled to transfer the whole or some rights in favor of any other person while retaining others. For example, he can entitle any person to translate his work.
Right to make Derivative Works
The copyright has the right to use his work in various ways, for instance making adaptations or translations. One example of adaptation is making a movie based on a novel, so here to make any derivative work the consent of the owner is mandatorily required. In these situations, certain other rights of the owner also come into play, like the right to integrity which protects the owner against deformation, defacement or modification of his work in a way that it is harmful for his reputation.
Right to Publicly Perform
The owner of the copyright has the right to publicly perform his works. Example, he may perform dramas based on his work or may perform at concerts, etc. This also includes the right of the owner to broadcast his work. This includes the right of the owner to make his work accessible to the public on the internet. This empowers the owner to decide the terms and conditions to access his work.
Right to Follow
This right is granted generally only to the authors and artists. This empowers the authors to obtain a percentage of the subsequent sales of his work and is called Droit de Suite or Right to Follow. The right is also available to artists on resale of their work.
Right of Paternity
The Right of Paternity or Attribution gives the copyright owner a right to claim authorship of the work. Under the Right of Paternity a copyright owner can claim due credit for any of his works. Thus, if a movie is produced based on a book by an author, and he hasn't been given due credit in it, he can sue the makers to acknowledge his work.
Sui Generis Rights
The ordinary copyright law often fails to protect the computer software and databases since the essential element of creativity is not present in such databases. Therefore, there was a need for new law to protect such software and databases. The law of sui generis was introduced to resolve the problem of resolving databases on the whole. A database is a compilation or arrangement of information which may not be creative; it may still require protection from unauthorized copying. However, this may require certain modifications such as the making of copies has to be excluded from such copyright protection. Such database right exists for a fifteen year period.
Private Copying
This is an exception to the reproduction rights which are attained by the owner. According to this right, any person can make copies of the copyright protected work if it is proved that such copying is for educational purpose and that there is no commercial motive behind such copies being made.
Web Analytics
Web analytics is the measurement and analysis of data to inform an understanding of user behavior across web pages.
Analytics platforms measure activity and behavior on a website, for example: how many users visit, how long they stay, how many pages they visit, which pages they visit, and whether they arrive by following a link or not.
Businesses use web analytics platforms to measure and benchmark site performance and to look at key performance indicators that drive their business, such as purchase conversion rate.
Why Web Analytics Are Important
There's an old business adage that whatever is worth doing is worth measuring.
Website analytics provide insights and data that can be used to create a better user experience for website visitors.

Understanding customer behavior is also key to optimizing a website for key conversion metrics.

For example, web analytics will show you the most popular pages on your website, and the most popular paths to purchase.

With website analytics, you can also accurately track the effectiveness of your online marketing campaigns to help inform future efforts.
How Web Analytics Work
(basically like telling someone like your friend to look after something you want/need/have)
Most analytics tools 'tag' their web pages by inserting a snippet of JavaScript in the web page's code.
Using this tag, the analytics tool counts each time the page gets a visitor or a click on a link. The tag can also gather other information like device, browser and geographic location (via IP address).
Web analytics services may also use cookies to track individual sessions and to determine repeat visits from the same browser.
Since some users delete cookies, and browsers have various restrictions around code snippets, no analytics platform can claim full accuracy of their data and different tools sometimes produce slightly different results.
Sample Web Analytics Data
Web analytics data is typically presented in dashboards that can be customized by user persona, date range, and other attributes. Data is broken down into categories, such as:
Audience Data
number of visits, number of unique visitors

new vs. returning visitor ratio

what country they are from

what browser or device they are on (desktop vs. mobile)
Audience Behavior
common landing pages

common exit page

frequently visited pages

length of time spent per visit

number of pages per visit
Campaign Data
which campaigns drove the most traffic

which websites referred the most traffic

which keyword searches resulted in a visit

campaign medium breakdown, such as email vs. social media
Web Analytics Examples
The most popular web analytics tool is Google Analytics, although there are many others on the market offering specialized information such as real-time activity or heat mapping.
The following are some of the most commonly used tools:
Google Analytics

 – the 'standard' website analytics tool, free and widely used

Piwik – an open-source solution similar in functionality to Google and a popular alternative, allowing companies full ownership and control of their data

Adobe Analytics

 – highly customizable analytics platform (Adobe bought analytics leader Omniture in 2009)

Kissmetrics – can zero in on individual behavior, i.e. cohort analysis, conversion and retention at the segment or individual level

Mixpanel

 – advanced mobile and web analytics that measure actions rather than pageviews

Parse.ly – offers detailed real-time analytics, specifically for publishers

CrazyEgg

 – measures which parts of the page are getting the most attention using 'heat mapping'

Clicktale

 – uses 'heat mapping,' keystrokes and mouse movement
With a wide variety of analytics tools on the market, the right vendors for your company's needs will depend on your specific requirements. Luckily, Optimizely integrates with most of the leading platforms to simplify your data analysis.
Web Analytics Tools
Trying to understand your Web visitors can be a bit, well, confusing. Each individual visitor brings his own set of data that has to be collected, measured, analyzed and reported. If you don't know what you're looking at, it can feel a bit like being handed a Rubik's Cube.
Luckily, there are plenty of tools out there that can turn all of that collected information into an easy-to-understand report that gives you much-needed insight into your unique Web visitors. When you are armed with this knowledge, you get to see how effective your website is and what changes you need to make in order to make it even better.
Here are some of the top 10 tools that you can use to gain more understanding about your website traffic.
1. Google Analytics.
Google Analytics is one of the best free tools that any website owner can use to track and analyze data about Web traffic. You get to see what keywords are bringing the most visitors to your pages and what aspects of your designs are turning them off. This tool will generate a report for your website that includes information about visitors, traffic sources, goals, content and e-commerce. There are other tools that offer real-time updates of your data now.
2. Spring Metrics.
Spring Metrics has taken the analytics tool and made it simpler. You don't have to be a professional data-miner to get the answers to your questions. You get real-time conversion analytics, top converting sources, keyword analytics, landing-page analysis, e-mail performance reports and simple point-and-click configuration.
3. Woopra.
Woopra is another tool that offers real-time analytics tracking. It is a desktop application that feeds you live visitor stats, including where they live, what pages they are on now, where they've been on your site and their Web browser. You also have the ability to chat live with individual site visitors. This can be a great feature for your e-commerce site to interact with customers. Woopra offers a limited freebie plan as well as several paid options.
4. Clicky.
Clicky also offers a free service if you have only one website and a Pro account for a monthly fee. You get real-time analytics, including Spy View, which lets you observe what current visitors are doing on your site. Clicky's dashboard is simple to use and presents all the information you want to see clearly. They also have a mobile version that makes it easy for you to check your stats anywhere.
5. Mint.
Mint is an analytics tool that is self-hosted. You can track site visitors, where they are coming from and what pages they are viewing. And Peppermill, a part of Mint, lets you make any adjustments to make it more compatible for your use with tons of free add-ons.
6. Chartbeat.
Chartbeat lets users get the most from their data with instant information. They keep constant watch on your visitors and what they are doing on your website. This gives you the information you need in order to make the adjustments necessary to your content or design.
7. Kissmetrics.
Kissmetrics is another analytics tool that allows clients to track the movements of individual visitors throughout their websites. You can see how behaviors change over time, identify patterns and see the most typical and recent referrers, among other stats. It offers a "Timeline View" of visitor activity in an easy-to-understand visual format.
8. UserTesting.
UserTesting.com is a unique way to gather information about site users. You are paying for a group of participants of your choosing to perform a set of tasks on your site. The user and his activity will be recorded on video. In about an hour, you will have your feedback. You get to hear the actual thoughts of users in your target demographic.
9. Crazy Egg.
Crazy Egg uses the power of Heatmap technology to give you a visual picture of what site visitors are doing on your Web pages. It shows you where people are moving their mouse on the page and where they click. There is a link between where people put the mouse and where they are moving their eyes. So, this kind of tracking helps you see what areas are catching the most attention and interaction from users.
10. Mouseflow.
Mouseflow is somewhat of a combination of UserTesting and Crazy Egg. You can see video of users interacting with your website, including every mouse click and movement, scrolling and keystrokes. You also get to view heat maps from different time periods so that you can see the effect of changes that you make on your page. Pricing varies depending on how many sites you want to cover and how many sessions you want.
Image Optimisation
What is image optimization?
Image optimization is about reducing the file size of your images as much as possible without sacrificing quality so that your page load times remain low. It's also about image SEO. That is, getting your product images and decorative images to rank on Google and other image search engines.
Image Optimization deals with optimizing not only your page but also your iamges on the internet. So that when someone is searching for images they will be able to see your images.
Suppose you are a Photographer and keep on adding tons of Photos. What worth are they if they have no description, or tag, or alt text which will make it easier to search and rank on Image Search.
Jaake dekh Google Search mai, kalingad_dynasty search karne pe mai aata hu ki nahi
1. Use unique images that are page-relevant
Users are far more likely to react to an image before they begin reading your post.
It's human nature to focus our attention on images. An appealing image that connects with your topic in a novel way can inspire users to share your content, and will certainly leave an impression.
Take the time to source out images that illustrate the subject of your article with humor, drama, or romance to appeal to your audience on an emotional level, and you'll engage them more than a glossy commercial shot of your new product. Better yet? If you're able to add your own, original image, that's even better for SEO purposes.
"If you use an image just to use an image and get a green bullet in our SEO plugin, you are doing it wrong. The image should reflect the topic of the post, or have illustrative purposes within the article, of course" – Yoast
2. Use the highest quality format possible
Search engines prefer high resolution images and high-quality content.
Web pages with images that are poor in resolution or formatted incorrectly can appear distorted on a tablet or mobile screen. Don't sell your content short by utilizing low-quality images.
(You guys ever bought books which DEFINITELY need Good Pictures or Coloured Images. But they are either in Black and White or the equivalent of having Pennywise the Clown on Speed Dial.)
Here are some tips to remember when choosing file formats:
For most ecommerce situations JPEGs will be your best bet. They provide the best quality and the smallest file size.

Never use GIFs for large product images. The file size will be very large and there is no good way to reduce it. Use GIFs for thumbnails and decorative images.

PNGs can be a good alternative to both JPEGs and GIFS. If you are only able to get product photos in PNG format, try using PNG-8 over PNG-24. PNGs excel at simple decorative images because of their extremely small file size.
3. Reduce the size of your image file
Google is pretty big on mobile, going as far as to create a mobile-first index.
This means you need to account for mobile with your images. By scaling down large image files, you can increase page speed, which is crucial for mobile viewing.
Pages that take long to spool often suffer a high bounce rate due to the swift departure of eager visitors seeking an immediate solution. Use a smaller, high resolution image of your product and offer visitors the option to view an enlarged image.
There are many great tools for optimizing images, including:
Regardless of what tool you use, it's important to optimize your images as this will benefit both user experience and technical SEO on your site.
4. Organize multiple images for optimum viewing
How you organize your images is just as important as which images you choose.
Organize your images in a way that makes sense in the context of the user's journey. For example, if you are showcasing an apartment for rent using a series of images, index them in the logical order by which a prospect would travel through the home.
Also, you need to make sure there aren't any gaps in your imagery. For example, providing viewers with interesting angles of your car for sale but neglecting the important details such as the interior, engine, lights, etc. will drive traffic away from your site. Images can communicate in ways text cannot, and you want your visitors to have a complete picture.
However, a word of caution: it's important to always test the effectiveness of the number of images you're using per page. It can be a bit of a balancing act as reducing the number of images will improve loading time and can lead to more click-throughs. But at the same time, providing more images (such as different angles of a product) can improve user experience and lead to more conversions.
You should always test multiple options to find the right balance for your audience.
5. Include a concise caption with your image
Captions, like URLs, can be crawled by search engines.
Anyone using keywords associated with your caption will find your page listed in the search results. The key is maintaining both page relevance and image relevance.
Images with misleading captions will only drive your bounce rate rapidly higher, sending poor signals to Google's search engine that your content is not a suitable match.
Furthermore, captions help make your content more engaging and easier to understand for readers. According to KissMetrics, captions under images are read, on average, 300% more than the body copy itself.
Leaving captions blank is a missed opportunity in terms of SEO and user experience.
6. Utilize the "Alt Text" to maximize accessibility
Often ignored, the alternative text field provides users unable to access the image a description of the content of your image.
Rendering your images in text facilitates use by interpreters for the blind, health care attendants, and others performing valuable service roles to the physically challenged. Accurately filling out your alt text provides another way to help users digest and understand your content.
These descriptions also serve to enrich the relevance of your content and can raise your profile with search engines by helping web crawlers better understand your images.
Similar to captions, alternative text provides an opportunity to boost your content in regards to user experience and search optimization.
Hypertextuality
Hypertext [I feel it's the same as above. Above was asked in exam]
Hypertext is text which contains links to other texts. The term was coined by Ted Nelson around 1965.
HyperMedia is a term used for hypertext which is not constrained to be text: it can include graphics, video and sound , for example. Apparently Ted Nelson was the first to use this term too.
Hypertext is text that links to other information. By clicking on a link in a hypertext document, a user can quickly jump to different content. Though hypertext is usually associated with Web pages, the technology has been around since the 1960s. Software programs that include dictionaries and encyclopedias have long used hypertext in their definitions so that readers can quickly find out more about specific words or topics. Apple Computer's HyperCard program also used hypertext, which allowed users to create multi-linked databases. Today, the Web is where hypertext reigns, where nearly every page includes links to other pages and both text and images can be used as links to more content.
Wait. We touch something and jump to something else?
Do you guys mean..
This?
Hypertext is the organization of information units into connected associations that a user can choose to make. An instance of such an association is called a link or hypertext link. (And the highlighted word "link" in the previous sentence is an example of a hypertext link.)
Hypertext was the main concept that led to the invention of the World Wide Web, which is, after all, nothing more (or less) than an enormous amount of information content connected by an enormous number of hypertext links.
The term was first used by Ted Nelson in describing his Xanadu system.
Heres a really nice hypertext link. Go ahead click it. NSFW btw.
Conversion Metrics
As a digital marketer, you can't prove your marketing or advertising campaigns are successful without analyzing conversion metrics. Then, using those metrics to tweak and improve them going forward.
Too often, marketers are overly focused on improving their conversion rates, leaving them with other advertising pain points to address. While ad conversion rate is certainly a priority, it's only a small piece of the overall web analytics puzzle.
16 conversion metrics you should be tracking
1. Website sessions
This metric is one of the most well-known and important of all data points — the total number of website visits. Google Analytics offers a graph to spot traffic trends:
Ideally, this graph should show a steady increase in the number of visits and sessions from each referral source. If you notice the number of sessions declining, you can revisit referral sources to identify any issues. This metric can help you determine what percentage of visitors convert, since it's part of the formula that calculates conversion rate.
2. Users
This data point may seem similar to website sessions, but the difference here is users visiting your site, not total visits. When somebody visits your site multiple times, only one user is counted. This is critical because it indicates how many people return to your site — your most highly-interested prospects or loyal customers.
3. Pageviews
The pageviews metric (aka average page depth) shows how many individual pages people visited during their website session. Keep in mind that a single visitor can generate many pageviews, so a high count doesn't necessarily mean many individual visitors.
4. Click-through rate (CTR)
Click-through rate is the percentage of people who have visited your post-click landing page or website by clicking your ad. CTR is calculated by dividing the number of link clicks by impressions and is a great way to gauge how well your audience responds to your ad creative. A low CTR indicates that your ads don't appeal to them and that you should A/B testyour ads to make them more appealing to click.
5. Mobile vs. desktop visitors
With mobile usage continuing to rise, you must pay attention to the number of people visiting your site on mobile devices. So, if most of your visitors come from mobile, a fast-loading, mobile-friendly site is important than ever so they stick around and don't bounce.
6. Traffic sources
In addition to knowing the devices people use, recognizing which sources referred them to your site is equally important.
Google Analytics categorizes traffic sources into several categories:
Direct

 – from a bookmark or directly typing the URL into the address bar

Social

 – from a link on any social media platform

Referral

 – from a link from another site

Email

 – from an email link

Organic search

 – from a link in search engine results

Paid search

 – from a paid search ad

Other

 – from anywhere else not mentioned above
You should aim for a variety of sources for incoming traffic and then analyze each one separately to make improvements and focus your efforts more appropriately. For example, if you find that your Facebook traffic is generating higher bounce rates, it could mean that traffic is irrelevant to your brand or offer. Conversely, if paid search visitors generate more sign ups and paid upgrades, focus more on that channel.
7. Page load time
Providing a great user experience is mandatory with everything in digital marketing, and page load time plays a huge role in that. The faster, the better. This is especially true when you consider Google includes this metric in its organic rankings.
For faster page load speeds on mobile devices — i.e., a better user experience — marketers and advertisers should utilize the AMP framework. Then test the page speed with tools like Google PageSpeed Insights:
Not only is page speed part of Google's search algorithm, but it also impacts bounce rate. If your page loads too slowly, people will bounce. So to improve your chances of ranking high and ensuring people see your page, make it load lightning fast with AMP and monitoring it using page speed tools.
8. Time on site
Time on site (TOS), or average session duration, refers to how long a visitor spends on your site per visit. It is calculated by dividing the total duration of all sessions (in seconds) by the number of sessions. The higher the number, the better your conversion chances are:
The equation can be used in two ways: a visitors' time spent on your entire website or individual pages. If you notice that visitors are spending double the time on your pricing page, but half the time on your signup page, your signup page should be revised to generate more conversions.
9. Bounce rate
This is the percentage of users who land on your website, perform no action, and bail immediately. Google calculates bounce rate by dividing the number of single-page sessions by all sessions:
A high bounce rate means your website isn't appealing enough to make people want to stick around and browse. Broken down, it can mean several different things. There's a good chance your page isn't optimized for conversions (poor design, high load times, low usability, etc.), or traffic is coming from irrelevant sources. Either way, be sure to revisit those pages and make the necessary changes to reduce the bounce rate.
10. Interactions per visit
Even if your visitors aren't converting on your desired action, pay attention to what actions they take on your site (e.g., commenting on a blog post). Every interaction can help you better understand visitor behavior and their path to purchase. And the more insights you collect, the easier it is to identify ways to improve conversion rates.
11. Value per visit
The primary goal here is to understand the value you're getting from your site traffic. Value per visit is tied directly to interactions per visit and is calculated as the number of visits divided by total value created. However, calculating value per visit can be difficult because many intangibles are involved. For example, visitors on ecommerce sites create value by completing a transaction, but they also create a somewhat incalculable value by leaving a product review.
12. Cost per acquisition (CPA)
Cost per acquisition measures what it costs to acquire one customer. To find this number, divide all of the marketing expenses generated during the customer acquisition period, by the number of customers acquired during that period:
From there, ask yourself some basic questions: Is the customer bringing in more revenue than the CPA? If so, how much? Meaning, is there a healthy enough margin given all of the other business expenses? The answers to these questions should indicate whether your business is on a path to profitability or loss.
Facebook ad metrics
13. Frequency
Frequency tells you the total number of times an ad served to a target user, calculated as impressions divided by reach. Track this metric is necessary because if you keep showing the same ad set to someone, they'll likely experience banner blindness and ignore the ad altogether.
AdEspresso found that with increased ad frequency, also comes increased negative comments and feedback, decreased click-through rates, and increased cost per clicks. When their ad hit a frequency of 9, they were paying 161% more per click than when they first launched the campaign:
The maximum frequency for Facebook ads depends on your industry and margins. AdEspresso starts making changes to their campaigns when the frequency approaches 5, while other companies have better margins and can wait for higher frequencies. Either way, it's recommended to never go above 10.
It's a delicate balance between showing ads too many times and showing them just enough to make the user take action. Which leads to the next point…
14. Return on ad spend (ROAS)
You want to make sure your ads are generating more money than you put in — or at least breaking even to acquire new customers. The best way to know this is to track the return on ad spend:
(Note: ROAS refers to the return on ad spend from specific ad campaigns, instead of the whole marketing picture which is what ROI does.)
By knowing your most and least financially effective ad campaigns, you can reallocate your budget to different campaigns accordingly.
15. Cost per action
Whether or not visitors are fulfilling your primary conversion goal, you still want them to take some action. Depending on your business, desired actions include:
Sharing, liking, or commenting on your posts

Subscribing to a blog

Watching a video

Downloading a report

Adding a product to a cart
Total actions alone may not provide sufficient insight, but the cost of those actions gives a more accurate overview of your ad campaigns. And if you can lower your cost per action, you'll likely see higher conversion rates and revenue for the same spend.
16. Cost per thousand impressions (CPM)
Cost per thousand impressions is the average cost to show your ad 1,000 times. CPM is the perfect conversion metric for getting an overall view of an ad set's performance and varies depending on the demand for your targeted audience.
It's the ideal benchmark to compare different campaigns and ad sets against each other. More importantly, it can help you decide where to spend your budget to maximize your ad impressions and reach.
Facebook
Watch the social network  its based on how the facebook happened
Facebook, Inc. is an American online social media and social networking service company. It is based in Menlo Park, California. It was founded by Mark Zuckerberg, along with fellow Harvard College students and roommates Eduardo Saverin, Andrew McCollum, Dustin Moskovitz and Chris Hughes. It is considered one of the Big Four technology companies along with Amazon, Apple, and Google.
The founders initially limited the website's membership to Harvard students and subsequently Columbia, Stanford, and Yale students. Membership was eventually expanded to the remaining Ivy League schools, MIT, and higher education institutions in the Boston area. Facebook gradually added support for students at various other universities, and eventually to high school students. Since 2006, anyone who claims to be at least 13 years old has been allowed to become a registered user of Facebook, though variations exist in this requirement, depending on local laws. The name comes from the face book directories often given to American university students. Facebook held its initial public offering (IPO) in February 2012, valuing the company at $104 billion, the largest valuation to date for a newly listed public company. It began selling stock to the public three months later. Facebook makes most of its revenue from advertisements that appear on screen.
The Facebook service can be accessed from devices with Internet connectivity, such as personal computers, tablets and smartphones. After registering, users can create a customized profile revealing information about themselves. Users can post text, photos and multimedia of their own devising and share it with other users as "friends". Users can use various embedded apps, and receive notifications of their friends' activities. Users may join common-interest groups.
Facebook had more than 2.3 billion monthly active users  as of December 2018. It receives prominent media coverage, including many controversies such as user privacy  and psychological effects. The company has faced intense pressure over censorship and over content that some users find objectionable.
Facebook offers other products and services. It acquired Instagram, WhatsApp, Oculus Rift, and GrokStyle  and independently developed Facebook Messenger.
The website's primary color is blue as Zuckerberg is red–green colorblind, a realization that occurred after a test undertaken around 2007. Facebook is built in PHP, compiled with HipHop for PHP, a "source code transformer" built by Facebook engineers that turns PHP into C++. The deployment of HipHop reportedly reduced average CPU consumption on Facebook servers by 50%
Heres the oldest facebook screenshot
How to make Facebook Event
How to create an event tied to a Facebook page
There are two main ways to start creating a Facebook event for a specific page.
Option #1: Creating an event directly from the relevant Facebook page
1. Open your Facebook page.
2. Click "Event, Product +" in the status bar at the top.
3. Select "Create an event" from the list that opens.
4. Fill in the event details (see below for more info).
Option #2: Creating an event from the main Facebook view
1. Click on "Events" to the left of the News Feed.
2. Click on "Create Event" button on the left side of the page that loads.
3. Select "Create Public Event" from the dropdown (you want people to discover it).
4. In the "Event Host" dropdown, pick the Facebook page you want to associate with this event ("Billetto Organisers" in our example).
Whichever of the above paths you follow, you'll then be asked to fill in your event details. For a hypothetical yoga event, it may look something like this:
Tips to Follow while making Facebook Event
1. Use a Facebook page to create your event and add your personal profile as a host.
Invitees have a link to see all of the other events you have created.

Invitees have a link to like your page.

Your personal profile can directly message all of the invitees (however, abuse of this feature can be seen as spam.)
2. Don't make someone search for information on your event.
Make sure the important stuff is at the top of the details section and can be seen without hitting "See More."
If there is a separate registration website, put that first!

At the end of the details section, list all of the links someone would be interested in: main event link, tickets, audio, video, Facebook page, Twitter, Instagram, and all other event links.

Third party Facebook event aggregators such as HUGECITY

 recognize these links and highlight them for their audience.
3. Use Facebook-recognized venues, not addresses for the location.
Type the venue name into the location bar slowly. Facebook will autocomplete the name of the venue and then you can click on one of the suggestions. If your venue is not listed, create a venue.
VERY IMPORTANT: If you do not have a map on your event, Facebook will not recommend it to friends of your attendees or people in the area.
4. If your event lasts longer than 5 days, create multiple events.
Calendars automatically import Facebook events and you will create more friends than enemies if you squat on someone's calendar for days. Additionally, if you don't add an end time, Facebook defaults your event to 3 hours long.
5. Never check "Only admins can post to the event wall."
The wall is the best place to engage your invitees. Allow them to communicate with you.
6. Add a cover photo that fits the event and fits the rectangle (714 x 264 pixels).
This is just like a magazine cover or flyer for an event. Don't use the flyer for the event unless you can see all of the information you need in the rectangle.
7. Have one official Facebook event.
If you can, make everyone involved in the event a host to your event.
Invitees can see all of their friends who are attending without having to look at lots of events.

Those hosts can help spread the word about your event

The true attendee number can be seen a lot easier
8. Use your invites wisely.
Create groups of friends by location, interest, work and more.
Use Facebook hacks like "invite all of your friends

" to invite the groups of your friends to your event. (Abuse of this feature can be seen as spam.)
9. Keep people excited about coming.
50 percent of tickets are sold when you first publish the event. The next 50 percent are sold the week of the event. Someone saying that they are attending does not mean that they will remember to be there.
A post into your event wall notifies everyone who has been invited.

Post pictures, past videos, reviews and articles written about the event (remember to tag all of the pages involved with the @ function).

As your page, send an update for your event.

As your personal profile send a direct message to all attendees.
10. Promote your event outside of your circle.
Facebook only allows you to invite your friends. Facebook ads give lots of impressions but very few attendees. (It's not worth the cost.)
Share your event on Twitter and your Facebook page.

Share your Facebook event with all of the people involved with your event.

Share your Facebook event with bloggers and tastemakers that would care about your event.
Facebook Page for your business
Step 1: Sign up
Go to facebook.com/business and click Create a Page in the top right hand corner. You'll be greeted with several business type options including local business or place, brand or product, and cause or community. Select the type of business you're creating the Facebook Page for. If your business type falls into more than one of the category options, choose the one your customers are most likely to think of when they think about your business.

When you click on a business type, a box will open asking for a few further details, like the name of your business, your address, and your Page category. Categories are basically sub-types within the larger business category you've already chosen. When you start typing in the category field, you'll see a list of potential category options to choose from.

When you're ready, click Get Started. Note that doing so indicates your acceptance of Facebook's terms and conditions for Business Pages, so you might want to check those out before you proceed.
Step 2. Add Pictures
Next, you'll upload profile and cover images for your Facebook Page. It's important to create a good visual first impression, so choose wisely here. Make sure the photos you choose align with your brand and are easily identifiable with your business.
You'll upload your profile image first. This image accompanies your business name in search results and when you interact with users, and also appears on the top left of your Facebook Page.
If you're a big brand, using your logo is probably a safe way to go. If you're a celebrity or public figure, a picture of your face will work like a charm. And if you're a local business, maybe a well-shot image of your signature offering is what will allow a potential follower or customer to make the connection immediately.
Your profile picture will appear as a square on your Facebook Page, but will be cropped to a circle in ads and posts, so don't put any critical details in the corners. Once you've chosen a great one, click Upload Profile Picture.
Now it's time to choose your cover image, the most prominent image on your Facebook Business Page. This image should capture the essence of your brand and convey your brand personality. It will display at 820 x 312 pixels on desktop or 640 x 360 pixels on mobile. The image must be at least 400 pixels wide and 150 tall.
Once you've selected an appropriate image, click Upload a Cover Photo.
Step 3: Explore your new Page
Ta-da! Your page is alive, albeit it extremely sparse. At this point, you'll be prompted to take a quick walk-through of a few features. Unless you're already well aware of how Facebook Business Pages operate, we recommend clicking through the prompts, just so you know where everything is. It only takes a few seconds.
Step 4: Add a short description
This is your opportunity to tell people about your business. It should be just a couple of sentences (maximum 155 characters), so there's no need to get too elaborate here.
Click Add a Short Description, then just share what your customers need to know as clearly and concisely as possible. You can add a longer description later on.
Click Save when you're done.
Step 5: Create your username
Your username, also called your vanity URL, is how you'll tell people where to find you on Facebook. Your username can be up to 50 characters long, but don't use extra characters just because you can. You want it to be easy to type and easy to remember. Your business name or some obvious variation of it is a safe bet.
Click Create a Username for Your Page to set up your vanity URL.
Click Create Username when you're done. A box will pop up showing you the links people can use to connect with your business on Facebook and Facebook Messenger.
Click OK to continue filling in your Facebook for business Page details.
Step 6: Complete your about section
While you might be tempted to leave the details for later, it's important to fill out all of the fields in your Facebook Page's About section right from the start.
As Facebook is often the very first place a customer goes to get information about you, having it all there is extremely important. If someone is looking for a business that's open till 9 and can't find this information on your Page, they'll surely keep looking until they find another place that's more forthcoming.
To specify your business location and hours, click Edit Page Info on the top right of the screen.
When you're finished, click Save Changes.
Step 7. Create your first post
Before you start inviting people to like the Facebook Page for your business, you'll want to make sure you share some valuable content. You can create some of your own posts, or share relevant content from thought leaders in your industry.
You could also create a more specific type of post, like an event or product offer—just click through the tabs at the top of the status box to bring up all the options.
Make sure that whatever you post offers value for your visitors when they arrive at your Facebook Page, so they'll be inclined to stick around.
Your Facebook Business Page now represents a robust online presence that will make potential customers and fans feel comfortable interacting with you.
Step 8: Start engaging
Now you're ready to give your Facebook Business Page a bit of a nudge. Invite family and friends to like the Page. Use your other channels, like your website and Twitter, to promote it. Add "follow us" logos on your promotional materials and/or email signature. If you're comfortable with it, you can even ask your customers review you on Facebook, too.
Twitter
How many have a twitter account for the sake of fests and contests?
Twitter is an American online news and social networking service on which users post and interact with messages known as "tweets". Tweets were originally restricted to 140 characters, but on November 7, 2017, this limit was doubled for all languages except Chinese, Japanese, and Korean. Registered users can post, like, and retweet tweets, but unregistered users can only read them.
Users access Twitter through its website interface, through Short Message Service (SMS) or its mobile-device application software ("app"). Twitter, Inc. is based in San Francisco, California, and has more than 25 offices around the world.
Twitter was created in March 2006 by Jack Dorsey, Noah Glass, Biz Stone, and Evan Williams and launched in July of that year. The service rapidly gained worldwide popularity. In 2012, more than 100 million users posted 340 million tweets a day, and the service handled an average of 1.6 billion search queries per day. In 2013, it was one of the ten most-visited websites and has been described as "the SMS of the Internet". As of 2018, Twitter had more than 321 million monthly active users.
Since 2015 Twitter has been a hotbed of debates and news covering politics of the United States. During the 2016 U.S. presidential election, Twitter was the largest source of breaking news on the day, with 40 million election-related tweets sent by 10:00 p.m. (Eastern Time) that day. It was also a source of information on Brett Kavanaugh Supreme Court nomination and the 2018 United States midterm elections.
YouTube
YouTube is an American video-sharing website headquartered in San Bruno, California. Three former PayPal employees—Chad Hurley, Steve Chen, and Jawed Karim—created the service in February 2005. Google bought the site in November 2006 for US$1.65 billion; YouTube now operates as one of Google's subsidiaries.
YouTube allows users to upload, view, rate, share, add to playlists, report, comment on videos, and subscribe to other users. It offers a wide variety of user-generated and corporate media videos. Available content includes video clips, TV show clips, music videos, short and documentary films, audio recordings, movie trailers, live streams, and other content such as video blogging, short original videos, and educational videos.
Most of the content on YouTube is uploaded by individuals, but media corporations including TSERIES, CBS, the BBC, Vevo, and Hulu offer some of their material via YouTube as part of the YouTube partnership program. Unregistered users can only watch videos on the site, while registered users are permitted to upload an unlimited number of videos and add comments to videos. Videos deemed potentially inappropriate are available only to registered users affirming themselves to be at least 18 years old.
YouTube and its creators earn advertising revenue from Google AdSense, a program which targets ads according to site content and audience. The vast majority of its videos are free to view, but there are exceptions, including subscription-based premium channels, film rentals, as well as YouTube Music and YouTube Premium, subscription services respectively offering premium and ad-free music streaming, and ad-free access to all content , including exclusive content commissioned from notable personalities.
As of February 2017, there were more than 400 hours of content uploaded to YouTube each minute, and one billion hours of content being watched on YouTube every day. As of August 2018, the website is ranked as the second-most popular site in the world, according to Alexa Internet.
YouTube has faced criticism over aspects of its operations, including its handling of copyrighted content contained within uploaded videos, its recommendation algorithms perpetuating videos that promote conspiracy theories and falsehoods, hosting videos ostensibly targeting children but containing violent and/or sexually suggestive content involving popular characters, videos of minors attracting pedophilic activities in their comment sections, and fluctuating policies on the types of content that is eligible to be monetized with advertising.
LinkedIn
LinkedIn  is a business and employment-oriented service that operates via websites and mobile apps. Founded on December 28, 2002,  and launched on May 5, 2003,  it is mainly used for professional networking, including employers posting jobs and job seekers posting their CVs.
As of 2015, most of the company's revenue came from selling access to information about its members to recruiters and sales professionals.  As of March 2019, LinkedIn had 610 million registered members in 200 countries.
LinkedIn allows members (both workers and employers) to create profiles and "connections" to each other in an online social network which may represent real-world professional relationships. Members can invite anyone (whether an existing member or not) to become a connection.
Since December 2016 it has been a wholly owned subsidiary of Microsoft. LinkedIn participated in the EU's International Safe Harbor Privacy Principles
As of 2015, LinkedIn had more than 400 million members in over 200 countries and territories. It is significantly ahead of its competitors Viadeo (50 million as of 2013) and XING (11 million as of 2016). In 2011, its membership grew by approximately two new members every second. As of 2018, there are over half a billion LinkedIn members.
User profile network
The basic functionality of LinkedIn allows users (workers and employers) to create profiles, which for employees typically consist of a curriculum vitae describing their work experience, education and training, skills, and a personal photo. The site also enables members to make "connections" to each other in an online social network which may represent real-world professional relationships. Members can invite anyone (whether a site member or not) to become a connection. However, if the invitee selects "I don't know" or "Spam", this counts against the inviter. If the inviter gets too many of such responses, the member's account may be restricted or closed.
A member's list of connections can then be used in a number of ways:
Users can obtain introductions to the connections of connections (termed second-degree connections) and connections of second-degree connections (termed third-degree connections)

Users can search for second-degree connections who work at a specific company they are interested in, and then ask a specific first-degree connection in common for an introduction

Users can find jobs, people and business opportunities recommended by someone in one's contact network.

Employers can list jobs and search for potential candidates.

Job seekers can review the profile of hiring managers and discover which of their existing contacts can introduce them.

Users can post their own photos and view photos of others to aid in identification.

Users can follow different companies.

Users can save (i.e. bookmark) jobs that they would like to apply for.

Users can "like" and "congratulate" each other's updates and new employments.

Users can wish each other a happy birthday.

Users can see who has visited their profile page.

Users can share video with text and filters with the introduction of LinkedIn Video.

Users can write posts and articles  within the LinkedIn platform to share with their network.
Q. Lead Generation LinkedIN
1. Participate in LinkedIn Answers:
This is one of the more useful (and under-utilized) tools on LinkedIn. It's a section where people can ask industry-specific questions and get advice. And guess who's giving the advice? You are, because you're an industry insider with a lot of helpful knowledge, right? Answering questions related to your industry on a regular basis can help you establish yourself as a thought leader. If you have blog posts or other content that provides helpful information about another user's question, make sure it's optimized for lead gen (with a call-to-action), and link to it in your answer.
2. Add LinkedIn Applications:
One of the more interesting places to visit on LinkedIn is the Applications section. This is where you can find and add new and interesting apps that can improve the experience people have on your LinkedIn page. Let people know what business books you're reading with Amazon's ReadingList app. You can even set up simple polls to find out what's on the minds of your customers and prospects. For lead gen, and an app that pulls your recent blog posts onto your Page.
3. Join LinkedIn Groups:
You should definitely join several groups on LinkedIn. The trick here isn't just joining the obvious groups in your industry, it's joining groups that are outside your industry that might help you grow your business. By stretching out a little bit, you're expanding your reach, which is always good for business and helpful in lead generation. So, for example, if you're an accountant, you don't want to just join accounting groups — you'll want to join groups for entrepreneurs, small business owners, restaurateurs and other groups outside of your immediate circle.
4. Conduct a LinkedIn People Search:
This is a terrific tool for sales people, people looking for jobs, or business-to-business owners who want to get their foot in the door at a large corporation. Just do a people search for your target company using the upper right-hand search box. When you generate results, use the refining options on the left to view your first connections (also known as direct connections and your second connections. Assuming you have no first or direct connections, filter by checking off the "2nd connections" box. This will return a list of names of people at your target company. On their individual profiles, you'll see a list of your shared connections. From that point on, it's a cakewalk. Just ask your friends to introduce you via LinkedIn to the people at that target company with which you want to connect. Bingo, you're in.
5. Experiment With LinkedIn Direct Ads:
LinkedIn has an advertising program that can be used to drive new prospects to your landing pages, LinkedIn groups, or other destinations. The ads work the same way Google paid search ads work. You simply write a headline, add some copy, and create a destination link. Then you bid on how much you'll pay LinkedIn every time someone clicks on the ad. If you pay $1 to LinkedIn for a click-through and it takes 50 clicks before you convert a customer, then you've just spent $50 for 1 customer. If your product sells for $500 each, investing $50 to generate $500 is not a bad return on investment.
6. Try LinkedIn Mobile:
Yes, LinkedIn has a mobile application. If you haven't already downloaded it to your smartphone, just go to your app store and download it for free. The LinkedIn mobile app is best used when you're at a trade show or an event where you're making one-on-one contacts, and it's best used on the iPhone. During a conversation with a prospect, ask them to turn on LinkedIn on their smartphone. Then, bump your phones together lightly. If they have an iPhone and their settings are correct, then LinkedIn will transfer contact information between phones using Bluetooth. No typing, no misspelled words, just instant transfer of information … and a lead!
Q. How to increase Page Rank or SEO Rank
Search engines reward sites that are user friendly, which means they have high usability. Google favors sites that are not only rich in keywords, but also demonstrate user engagement.
SEO ranking improves when visitors stay on your site longer, view more pages, and repeat their visits. The more user-friendly your site is, the more likely this is going to happen.
Let's have a look at 13 elements that not only increase usability on your site, but also help improve SEO ranking:
1. Useful, high quality, relevant content
"Dwell time" is the amount of time visitors spend on your website and it can affect SEO ranking.
When you provide useful content, visitors tend to stay longer on your website to consume the information and therefore increase the dwell time.
Based on this research, content between 2,000 – 2,500 words seems to rank the highest in search engine results.
Although word count doesn't rule the SEO world – nobody will read your stuff if it's not helpful to them – longer content does give you the opportunity to provide more value, include more keywords, incorporate more outbound links, and of course, get people to spend more time reading to increase dwell time.
Another reason to create highly useful content is that when visitors bookmark your content on Chrome, it will improve SEO ranking of your website in Google.
Content around 2,500 words gets the most Google juice.
2. Page load speed
Both Google and Bing take page-loading speed into account in their website ranking algorithm.
Users may leave your site if they have to wait even just an extra few seconds for each page to load. That would hurt your dwell time, increase your bounce rate and reduce the number of pages viewed – all of which could hurt your SEO ranking.
There are many ways to increase page load speed, some of which include using a caching plug-ins, making sure the code is clean and streamlined, optimizing image sizes, reducing the number of plug-ins, and minimizing redirects.
Properly optimizing images can help reduce file size and improve load speed.
Research has shown that using good quality images can increase conversion rate. Properly optimizing your images can help you take advantage of using photos to generate empathy, increase trust, and improve a visitor's experience without hampering load time which could affect your SEO ranking.
3. Image optimization
Besides image file format and sizing, there are other ways to make sure your images are working hard for you on the SEO front.
You can signal relevancy of your content to search engines by using keywords for your image file name, alt tag, title, description and caption.
4. Header tags
Nobody likes running into a wall of text.
Good formatting of your content helps improve the user experience of your website tremendously. It makes readers more willing to spend time to read your content and come back for more, which will ultimately signal your relevancy to search engines.
Proper use of header tags can help break up your content into sections that are easier to read and utilize.
It's easy to insert header tags in WordPress to improve user experience and improve SEO ranking of your website.
Search engines also rate keywords in header tags more heavily. By including relevant terms in your header tags, you are also boosting your SEO ranking against those keywords.
5. Outbound links
To make your content more useful and relevant, you can link out to authority sites for more in-depth information your readers can use.
Linking out to well-respected authority sites will not only increase the relevancy of your content and time readers spend on your site, but it is also believed to send trust signals to Google and improve SEO ranking.
However, more is not necessarily better. Too many outbound links can be distracting and make the content hard to get through.
6. Different multimedia
Images, videos, slideshows and audio can help enrich the user experience and allow you to deliver information in a way that is most suited to your ideal site visitors.
They also act as a signal of quality content to search engines… after all, you have put in the work to make your content look good and interactive!
Video marketing has become an increasingly integral element in driving user engagement and conversion. It's found that websites using videos can achieve a 4.8% higher conversion rate, compared to a 2.9% average on websites that don't use videos.
Videos get visitors to spend more time on a website and retain more information.
7. Broken links
Who wants to get a 404 page after clicking on a link? Broken links make for bad usability.
Not only that, search engines consider a large number of broken links as a signal of an old, neglected site and this can impact your SEO ranking.
Thankfully, you don't have to go through every single page on your website and test the links manually. There are many tools and apps to help ensure that your site is free of broken links, such as:
 8. Readability
Even if you have a well-educated audience, they probably don't want to be deciphering a PhD dissertation every time they visit your website and read your content. You don't want them to give up reading your content and click away because it's too difficult to digest.
Making your content easy to read and understand helps make it useful to your readers. Some experts also believe that Google takes readability into account when ranking webpages.
You can use a variety of tools to test your content's readability, including:
9. Layout and formatting
Proper formatting and a user-friendly layout can help improve user experience and make your content easy to scan and digest, so your readers will stay on your site longer and consume your website's information.
Formatting can help dramatically improve a webpage's usability by making the content easy to read:
Use font size and typography that are easy to read.
Use bold type and colors – sparingly and strategically – to call out important information and make the content easy to scan.
Use short paragraphs and ample line spacing in between – nobody likes a wall of text.
Use bulleted or numbered lists for clarity.
Use techniques such as sliders, tabs, progressive layouts, structured grids, modal windows, rollover elements, accordions and mega drop-down-menus to organize content and add interactivity.
Break up content into sections with subheads. Proper use of header tags that include keywords also helps improve SEO ranking.
10. Contact us page
According to this Google document (p.98), websites that have sufficient contact information are considered to be more trust-worthy and therefore may rank higher by search engines.
Including a Contact Us page on your website and putting the link in the navigation not only makes for good user experience (especially if you have an ecommerce site) but can also potentially earn you some Google juice.
It's found that a well-designed contact form increases user participation in a company's online presence. It also helps generate new business opportunities, capture new leads, improve customer service, and more.
Example of a Contact Us page.
11. Site architecture and navigation
When visitors can't find what they need on a website right away, they most likely leave the site and this contributes to high bounce rate, low dwell time and low number of pages viewed.
A well-thought-out site architecture reflected in clear navigation is critical in helping visitors find what they want on your site, accomplish their goals and come back repeatedly (repeated visits can improve SEO ranking.)
A "flat" site architecture not only makes content easier to find, it can also help improve SEO ranking as it surfaces links of all critical pages making it easier for search engines to crawl the entire site.
Example of a clear concise website navigation.
12. Mobile optimization
As of April 2015, Google has started to penalize sites that are not mobile optimized by bumping down their search engine ranking.
More and more users are consuming content on mobile devices, and not being mobile optimized is going to affect user experience and conversion.
It is particularly important for B2B marketers. Research has shown that 77 percent of executives use their smartphone to research a product or service for their business.
Business executives use mobile devices to research products and services for their businesses.
It's not just for B2B websites either. Companies like Yelp that act as search directories connecting consumers to businesses found that 55% of all searches comes from mobile devices.
If your website has been around for a while, it's time to test it to make sure it's compliant.
Number of users accessing the Internet via mobile devices has surpassed the number using desktop.
13. Social sharing
The number of Facebook shares, Tweets, Pinterest pins and other social media mentions can influence SEO rank.
Installing social sharing buttons on your website not only makes it easy for users to share your content, and thereby improve user experience, it can also help you rank higher on searches.
Social sharing also helps drive purchasing behavior: Nearly 4 in 10 Facebook users report they have gone from liking, sharing or commenting on an item to actually buying it, while 43% of social media users have purchased a product after sharing or liking it on Pinterest, Facebook or Twitter.
Page Tagging vs Log Analysis
There are different ways you can collect data about your website visitors. One way is to analyze the log files your web server creates. The other way is often called page tagging. This involves placing javascript tags in your website code. This javascript sends the tracking data back to some analytics tool.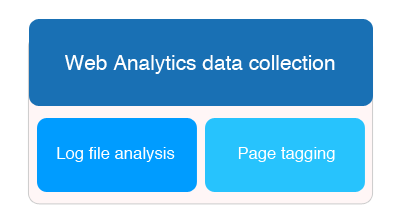 But first, let's take a look at the differences.

 
The differences
Your website is hosted on a webserver that creates log files, these accurately store any kind of visitor movement on your site. This 'Big Data', is difficult to read, complicated to transport to a central server, and impossible to digest in raw format.
Users can setup using log files as main data source to report valuable visitor behavior in a understandable format. It then imports (this process is called "Parsing") visitor data into a local database that accurately stores traffic history on the visitors to a Web Site.
Most other analytics programs like Google analytics use a different (source) data collection method: Javascript based tracking (also Page Tagging). Through an invisible snippet of java code in a web page the "Javascript Tracker" tags a visitor with a cookie and sends data back to a central server.
Which method is best for you is hard to determine without knowing your situation. Both methods have their merrits, despite the fact both methods will show significant different traffic numbers there is not a good or bad method, actually they compliment each other.
You might already know that a large part of your website traffic comes from non-human visitors (bots). This could be search engines crawling your site, bots with darker intentions or maybe a mailfunctioning script in your own site.
It's good to monitor all traffic, pages should be sufficiently crawled by search engines or from a security point of view it's good to know if your site isn't being compromised. Javascript based tracking relies on the client when this client does not support java this method fails to report in that case traffic is invisible. Web Server Log files record human and non-human traffic information.
Javascript tracking is not as accurate as we would like it to be because of:
Visitors that use browsers with Javascript disabled.
Visitors that Block/Delete Cookies.
Cookies that time-out.
Impatient visitors that click away before the tagged page loads completely.
Above mentioned bots of which the majority does not support Javascript.
An Important reason for using webserver logs could be site errors. Nothing more frustrating than to discover visitors are lost because of broken links, missing pages or other errors. Although it is possible to track customized 404 pages, Javascript based tracking is not really suited for error reports. Log Analyzers do provide tracking of every site error (e.g. 301, 302, 305, etc.).
Q. Mobile Marketing
Mobile marketing is a multi-channel, digital marketing strategy aimed at reaching a target audience on their smartphones, tablets, and/or other mobile devices, via websites, email, SMS and MMS, social media, and apps.
Mobile is disrupting the way people engage with brands. Everything that can be done on a desktop computer is now available on a mobile device. From opening an email to visiting your website to reading your content, it's all accessible through a small mobile screen.
Effective mobile advertising means understanding your mobile audience, designing content with mobile platforms in mind, and making strategic use of SMS/MMS marketing and mobile apps.
Best Practices Mobile Marketing
Be Clear and Concise:

 Mobile devices have small screens, which means words should be used sparingly. Cluttered and crowded ads will just drive users to scroll past. When it comes to mobile, it's best to keep things simple.

Optimize for Local:

Be sure to remember that 1 in 3 mobile searches have local intent. Users often use mobile devices to complement their immediate worldly interactions – Is there any good place to nearby? Is there a nearby coffee shop that has wi-fi? Optimize for local mobile marketing to make sure you are aligning with users' queries.

Consider Your Audience:

The type of audience you're hoping to reach should influence the kind of mobile ads you use. Are they gamers? Then try taking advantage of in-game ads. Are they young and tech-savvy? Mobile Facebook Promoted Posts might be more likely to get their attention.

Experiment with Different Strategies:

There's a lot of room for experimentation when it comes to mobile marketing. Don't be afraid to test out some ad extensions with your Google Ads Enhanced Campaigns – try the Google Offers ad extension, or the click-to-call extension, and see how they work for you.

Benchmark Your Results:

Experimenting is great, but there's no point in trying new techniques if you're not tracking your results to see what works and what doesn't. Try the AdWords to see how your mobile PPC ads

 are performing.
Q. Digital Security
Digital Security refers to various ways of protecting computer's internet account and files from intrusion by an outside user.
Digital technology is changing the way in which society is operating and the ways we live our lives. Everyday, there is new ways to work and to play, new methods of interacting with one another. As our digital footprint grows exponentially, we are forming our own online identities.
Digital security is the protection of this online identity. Criminals are finding new ways to operate and steal information from digital users for their own personal gain. Digital security is an all-encompassing term which includes the tools you can use to secure your identity, assets and technology in the online and mobile world.
These tools you can use to protect your identity include anti-virus software, web services, biometrics and secure personal devices you carry with you everyday. Devices such as a smart card-based USB token, the SIM card in your cell phone, the secure chip in your contactless payment card or an ePassport are digital security devices because they give you the freedom to communicate, travel, shop and work using your digital identity in a way that is convenient, enjoyable and secure.
Internet security involves the protection of a computer's internet account and files from intrusion by an outside user. Internet users today are familiar with companies like Symantec (Norton Anti-Virus) and McAfee that provide them with internet security products to guard against computer viruses, as well as to provide secure firewalls and protection against spyware. Organizations like the Center for Internet Security (CIS) provide enterprises with resources for measuring information security status and making rational security investment decisions.
An example of secure smart card technology usage is the Microsoft .NET card framework. This is a software framework that is available with several Microsoft Windows operating systems. It includes a library of coded solutions to prevent common programming problems and a virtual machine that manages the execution of programs written specifically for the framework.        
Q. What is content marketing
The Content Marketing Institute defines content marketing as:
… a strategic marketing approach focused on creating and distributing valuable, relevant and consistent content to attract and retain a clearly-defined audience — and, ultimately, to drive profitable customer action.
Their definition is solid in my opinion. But it could use some clarity.
It means that content marketing is a long-term strategy that focuses on building a strong relationship with your target audience by giving them high-quality content that is very relevant to them on a consistent basis.
Eventually, when customers make a purchase decision, their loyalty already lies with you. They will purchase your product and prefer it over competitors' options.
In contrast to one-off advertising, content marketing shows that you actually care about your customers.
Today, more than ever before, people want to feel like you care about them. The world is louder and noisier than ever before, and attention is our most valuable resource.
Content marketing is a form of marketing focused on creating, publishing, and distributing content for a targeted audience online. It is often used by businesses in order to:
Attract attention and generate leads

Expand their customer base

Generate or increase online sales

Increase brand awareness or credibility

Engage an online community of users
Content marketing attracts prospects and transforms prospects into customers by creating and sharing valuable free content. Content marketing helps companies create sustainable brand loyalty, provides valuable information to consumers, and creates a willingness to purchase products from the company in the future. This relatively new form of marketing does not involve direct sales. Instead, it builds trust and rapport with the audience.
Unlike other forms of online marketing, content marketing relies on anticipating and meeting an existing customer need for information, as opposed to creating demand for a new need. As James O'Brien of Contently wrote on Mashable, "The idea central to content marketing is that a brand must give something valuable to get something valuable in return. Instead of the commercial, be the show. Instead of the banner ad, be the feature story." Content marketing requires continuous delivery of large amounts of content, preferably within a content marketing strategy.
When businesses pursue content marketing, the main focus should be the needs of the prospect or customer. Once a business has identified the customer's need, information can be presented in a variety of formats, including news, video, white papers, e-books, infographics, email newsletters, case studies, podcasts, how-to guides, question and answer articles, photos, blogs, etc. Most of these formats belong to the digital channel.
Digital content marketing is a management process that uses electronic channels to identify, forecast, and satisfy the content requirements of a particular audience. It must be consistently updated and added to in order to influence the behavior of customers.
Example Time
You are somewhere out. You are at a store. OMG that was quick. Hmm? What is this? There are books and stuff here. Oh hey a Marvel Comic! You look at it.. You open it a little and see that edge of Tony Starks Beard, Spideys Jumps, Caps Sincerity, you are sold. … just like that? You are sold? I bet some of you actually thought you are actually in a comic store or maybe want to buy one come. Thats because Marvel has been Marketing their content through comics!
Even the Lego Movie is a content marketing stunt.
Why do businesses do this kind of content marketing, though?
After all, they aren't outright selling their products. They are generating attention, sure. But does that really matter?
The short answer is yes. In today's world, attention is as good as dollar bills.
However, that's only true if it's the right attention.
And content marketing often does a remarkable job of drawing the eyes of people who care about your product and are willing to buy it.
Even Harry Potter Movie Saga was Marketing out the Books. I mean lets be honest, all these HP Book fans Potterheads which exist in the air dont appear out of nowhere. They have all been fed the movies and its attention.
Same goes for Anime as well. Animes are made to sell Manga. Most of these Writers get a Fair Percentage of the Series or Movie, their main profit lies in how many copies of books get sold after watching the movie or series.
If I singlehandedly got hate from HP Fans, or DC Readers, or Manga Readers. Then hey I love your community and I am a part of it as well. Forgive me UwU just and example OwO.
Q. Content Writing
Since inception Google, a search engine was clear with his vision that in order to make search engine a success content would be most imperative and integral of it, as it creates faith amongst searchers, and more relevant content would propel more people to search their query on Google.
As a result today about 85% people make use of Google so as to seek out any information or clear their doubt on any subject. in other words Google has become alike god which help you acquire correct wisdom.
In this world where every company is striving to promote themselves on distinct platforms, Google remained constant and stated explicitly that content is like an emperor and will always rule on Google. Whether it is social media marketing, search engine optimization and blog marketing, content is the foremost prerequisite.
Why Content Marketing is Imperative?
As we all know that with use of digital media platforms every company wishes to see their company site on Google or any other search engine so that get leads to grow up their business. And site can only be optimized when you have put relevant and informative content. In other words the main objective of content marketing is to take up website ahead of competitors through informative content.
Unlike traditional media, majority of digital platforms function as two way communication therefore considered most effectual yet. Informative, high quality and newsworthy content makes it effective. Or a content that add on some knowledge to readers.
Q. Content Writing for Blogging
One of the most key aspects of any successful blog is the ability to create content that keeps drawing people back to your blog. You can schedule your post and post regularly, but that's another fish in the sea. You need to be able to stand out. Writing a blog or an exam paper, both are not always about the knowledge or content you put in. It's about the presentation.
A Paper or a Blog won't be memorable or something someone might want to visit back if it is not segregated, if its filled with bunch of boring and dry paragraphs, and many more things.
The Power of Titles
A Title will be your most important way to catch a reader's attention. It can either get a reader to your blog, or they might just ignore it like all the thousands of posts they have ignored. It impacts how (and if) it's found in search engines and social bookmarking sites, it influences whether people visit your blog in News Readers, it affects whether people leave a comment and is vital in whether people actually read what you have to say.
The Lists
A single well written list post can launch a blog to great heights in the Feeds. While the prolific nature of lists in the blogosphere can also mean your lists get ignored. Many write Lists as if they are writing paragraphs. Lists need to be comprehensive. They are well pleasing to the eyes, and are easily scannable through eyes
The Importance of Being Original
People will always prefer someone who writes something fresh and original rather that someone who has copied everything from the net, or not even spent time to add their own insight into it. Having something unique to say in a creative and fresh way. If you copy or say what everyone else is speaking of, then there's a high probability that you will be ignored or not that necessary.
The Value of Well Formatted Content
People don't read content on line in the same way that they read content in other mediums. Online readers tend to scan content. It will be much more preferred if your content can be seen in a glance and the reader can understand it in a glance. (Skimming. Heres some Sem 1 Nostalgia) If you are able to divide your content into well formatted points and headers, add relevant gifs or images to match the content, a reader will love to not just scan but read the full content as well as recommend it to others.
The Impact of a Good Image
Something which a reader and you as yourself a reader for other blog posts will love to have, will be visuals. It is much more better to link a video, or a gif or an image so that the reader can be connected to you. Select relevant and often colourful visuals which will bring all the senses of your reader to your post
Q. How to write for Twitter
Twitter is the platform that intersects with all of the various directions of technology and content. Designed to offer rapid-fire updates and live streaming news and videos, Twitter is a social platform designed to cater to mobile users (an estimated 80% of Twitter's users are mobile), and enjoy the maximum level of reach. Today, there are 500 million tweets sent each day, and Twitter is doing things each day to adjust its upward mobility and cater even more effectively to changing markets.
Changes to the 140 Character Limit
While some Twitter users have always loved the 140-character limit, others view it as impossibly restrictive and frustrating, Fortunately, Twitter took the bull by the horns and made the 140-character limit a little more flexible for its users.
Under the new Twitter limit increases, things like the @name that's commonly used in replying to a tweet, all media attachments, and the retweet button on your own Tweets will no longer count toward the character limit. What's more, users will no longer have to implement the @name to reach a specific followers. Instead, all Tweets that begin with the @name convention will reach all followers.
How to Write Content for Twitter:

To write content for Twitter that your readers actually want to engage with, follow these simple rules:
1. Be engaging.
Twitter doesn't allow a bunch of room for chatter, so it's important to be engaging and let your content rest on that. Since tweets are only 140 characters (not counting the recent updates to that limit), you'll need to pack all of your efforts into a small space.
The best bet to be engaging in this type of climate is to speak directly to your target audience. When your Tweets are highly customized and personalized, they'll have an easier time capturing your readers' attention and will survive Twitter's inherently short content lifespan (which is only 18 minutes) a bit more effectively.
2. Add a shortened URL.
While a typical URL will eat up all of your Tweet space, a shortened URL is a great way to drive twitter followers back to your site. With this in mind, use a site like Bitly or Buffer to shorten URLs and add them to your tweets. This will allow you to enjoy a traffic boost without sacrificing much room in your tweet in the process.
3. Use trending hashtags.
Hashtags are the skeletal structure of Twitter. To be sure your tweet performs as well as possible add a hashtag. Bonus points if it is a trending hashtag. In addition to branding your tweet, hashtags can dramatically enhance your visibility on the network and can easily make it so that other Twitter users can find you and interact with your posted material.
4. Add an image.
There are not many places in the world wide web that images don't help content, and Twitter is no exception. In fact, Buffer reports that simply adding an image to a Tweet boosts retweets by 35% To help your tweet perform well, add an image, video, or GIF to the content you post.
In addition to grabbing reader attention, this simple addition will also go a long way toward boosting your post's engagement and helping it make its way around the web more efficiently.
5. Talk to people rather than at them.
Twitter is a highly personal platform, and your tone will go a long way toward defining whether your Tweets welcome your readers or alienate them. To keep your tone helpful and friendly, be sure to talk with people rather than talking at them. While it's easy to feel like the people on Twitter are some distant crowd you'll never meet, thinking of them as your friends and relatives can help you craft a voice that's welcoming and exciting.
Struggling with how, exactly to do this? Don't fear. Think about conducting your Twitter engagement just like you would a conversation with a friend. Focus on fostering a back-and-froth and developing topics, ideas, and conversational directions that are interesting to your readers. While this is a tiny step, making your Tweets more conversational and personal can truly have a massive impact on how effective your Twitter presence is at generating leads and promoting engagement.
6. Add your sense of humor to Tweets.
Humor is a powerful tool on Twitter, and it's great for drawing people in from various parts of the web. As a general rule, though, you'll just need to be sure that your humor is appropriate and professional enough that it can be passed along the web without harming your company or your brand.
For an example of a company that does this well, and always has, will be Wendys. The most fresh and snark Social Media Handle run by their Social Media Manager Amy Brown. Another example can be Innocent Drinks. The UK-based juice brand has virtually built its identity on a sly sense of humor, and Tweets like this one abound on the company's Twitter profile:
7. Incorporate viral words.
Twitter relies heavily on viral words and phrases that tell people what to do and when to do it. To use these in your Tweets, check out a list of the most-used viral words and phrases and incorporate them into your Tweets. While it may seem like a simple step, this can go a long way toward making your Twitter presence more engaging and compelling for your readers.
Q. Writing for Mobile and Mobile Marketing
In a world where over 62% of consumers are now using mobile devices to view websites (2018)(and growing to 70%+ by end of 2019), it's more important than ever to focus on how your website looks on mobile devices as well as its responsibility.
Whenever a mobile user reads anything on the mobile they dont have the time or patience to read a wall of text. They want to quickly read the content with engaging headlines and bulleted points. The proper way of writing engaging content for mobile has still not been perfected yet, but it is important to write it without losing the essence.
Consumers using smartphones report being far more likely to use their devices for local shopping while out in the world. Nearly 68% reported using their smartphones for local shopping while in store. Nearly 82% of consumers reported using their smartphones at home for local shopping, while 49% use their devices at work. And more than 40% of smartphone users reported using their devices at least once a day for local shopping.
Heres a Quick GIF to understand what khichadi is going on in this answer
When creating mobile-friendly content, you will have to consider a few factors
that define mobile users:
Pocket Fillers
Many people use their mobile devices to fill up some time while they're waiting to complete something else. The time they dedicate on mobile is just filling up the spare time – it's not really there for too much purpose.
Distracted Users
These individuals are looking at a website while doing something else. They're easily distracted away from your mobile content; therefore, they need to find something entertaining in a very short period of time.
The Mini Screen
Mobile screens aren't very big, especially when compared to traditional computer screens. They don't have the space to fill up content and marketers need to consider the size of the screen when they start writing up content. Can the user read everything without scrolling? How many times do they need to scroll?
How to create perfect content for Mobile
Mobile users constitute to almost 62% of the world. There are many users who use mobile primarily for their work. Nowadays many jobs require a mobile to be a necessity. And as we move further step into the future, mobiles are soon to replace Computers. Content Writers need to not only provide good content but also need to be able to design it properly so that it might fit on a responsive screen
(before we begin. What the hell is a responsive design or stuff?
Well I am glad you asked.  [No I dont care if you didnt.]
Responsive design is when my site, or any doc adjusts to a mobile screen and increases font and stuff. You see how my site has these 3 logos, but on mobile it displays one at a time. Because its adjusted for mobile displays]
Quick and Precise
The best type of mobile content is when it's to the Some of the best mobile content is the type that cuts to the point in a matter of seconds. You only discuss the necessities to get the information to the user. You Don't fluff, you don't add thousands of words and you don't use in-depth research to create mobile content. Remove all superfluous words and write tight factual sentences. You should break up the paragraphs. Use easy words for writing content for your mobile website.
Catchy Headlines
Boring headlines won't get you far with web users and they certainly won't do much for mobile users. The typical mobile reader looks for something that stops them and catches their otherwise easily diverted interest. You need something catchy, compelling, interesting, and an instantly attention grabbing thing. You should get to the point through the headline and then back it up with the content itself.
An inverted pyramid plays an important part while writing for mobile. Your header should be clear and tell readers exactly what they're going to get from reading further. Avoid jargons while writing titles for the content for a website. A punchy summary just below the title would also help you to attract and grab the attention of the potential customers of your website.
Varying Screen types
Mobile devices don't have a one size which works for all displays. Mobile Phones come in varying Screen Resolution and Aspect Ratios. And there are always new additions to the Mobile or Handheld Industry with advent of Devices like SmartWatch, Foldable Phones, etc. There is no industry standard so when you're writing for mobile users, you have to remember that there are dozens of screen types out there. Including resolution and viewing capabilities. When it comes to writing your mobile work, you need to be direct, succinct and just get to it.
Responsive Designs
A responsive design is one that has a great user experience regardless of how the user is accessing your site. You only need one source code and no matter what the user is looking at, it automatically optimizes for that device and screen. A site built on  responsive system pays attention to things like screen size and resolution. Automatically adjusts based on the needs of the user to give them the optimal experience. Text, media and even videos are changed so that everything operates flawlessly on your site.
Mobile Content Marketing
With mobile marketing, the better you understand your audience's information discovery and consumption habits, the more compelling your content will be. Specifically, understanding the makeup of their mobile universe will help you create content that feels native – rather than retroactively shoehorned to fit in.
Content marketers recognize that web site design forms an integral part of content marketing. With smartphones, that may require implementing responsive web design and creating a web portal that works well across all devices. Customers expect a congruent experience across devices and channels, so it pays for your brand to give them what they want.
According to Greg Hickman's statements on TopRank's live blog coverage, 74% of consumers will leave a mobile site after just five seconds and 46% are unlikely to return if the site didn't work the first time. It's essential for the mobile content experience to meet and exceed customer expectations in the first few seconds.
Examples of Effective and Responsive Mobile Content
Shutterfly
Shutterfly is an online service that allows users to create photo books, personalized cards and stationary, and more. Because more and more people are taking photos and then accessing them using their smartphones, Shutterfly recognized the need to create a great mobile experience for their customers — and they delivered.
Shutterfly accomplishes two key goals on their mobile website:
It's easy for users to find out information about their offerings.

They're selling that information by way of beautiful imagery.
Google Maps
Everyone has their favorite map or directions application. Mine is Google Maps, which I use whether I'm walking, driving, biking, or taking public transportation. What's special about their mobile website is that it's virtually indistinguishable from their downloadable mobile app.
The screenshots below are taken of their mobile website, but if you're familiar at all with the app, you'll notice they look exactly the same. Not only is the appearance identical, but the mobile website has the speed and functionality of the app.
Amazon
Amazon researched its Market and the Markets it was entering, especially India. It realised the issues of having low or average internet internet speed. And if a user visits any website or application which will take a lot of time to load its content, then a user may not stay on the website for too long.
Amazon designed its mobile site with images which are great in quality but of the least file size possible. It even has font which wont take a lot of time to load.
Mountain Dew
Mountain Dew's mobile website uses interactivity and customization to great effect. While their page may seem busy to some, it matches the high-energy, counter culture feel that matches the Mountain Dew brand. Each image on the home page opens up a larger area directly on the homepage that provides information and links for deeper reading. This allows users to see more of the content that may interest them, from sports teams to promotions, without ever needing to use the back button. Design fits the context of a mobile device using bold colors and minimal text. The content is tailored to fit their audience demographics and psychographics perfectly.
Navigation allows users to customize the home page in real time, providing a hyper- relevant personalized experience. Deselecting any option will remove the content that users do not find interesting. It provides an exceptional user experience that drives users toward a desired action with the creative use of motion and video.
Create Pilates
Create Pilates offers Pilates as its foundation, but has brought together experts in complementary fields too, such as yoga, nutrition, massage and anatomy, giving birth to Pilates. It makes great use of bold dynamic visuals, clean simple fonts and minimalist text. Each category block opens to more information where users can view pricing, book a class or access a schedule. The navigation is accessible on both the left, as a drop down menu with clickable links, or on the right with interactive buttons you can tap.
Pizza Hut
You can't get simpler than Pizza Hut's mobile content, which incorporates a marketing message and call to action front and center. They make ordering a pizza from your mobile so enticing, that a visitor doesn't have a chance to reconsider.
Colors are consistent with their "piping hot" branding. Focusing on the bare essentials increases the chance of the user completing an action. For location-based search, placing the "Find Store" at the top of the screen is essential for a good customer experience, leading to higher conversions. By including GPS features and localizing deals for individual restaurants, Pizza Hut is making it even easier for consumers to complete their orders.
Q. Pornography
Alright I am going to find answer for this on the net. Wish me luck guys.
Q. Hybrid Website
A hybrid website includes both static and dynamic elements to create a single uniform design while taking advantage of strengths of both form. They can include static HTML pages and multiple dynamic elements to produce a complete web experience for the end user.
        Will update if I find more
1. Divide the Categories
Your navigation system probably has several categories, sections and sub-sections. These should be named with good, SEO-friendly titles, but that is not enough. Your categories should also be visually and clearly presented on the site, and also visibly separated from sub-categories.
2. Limit the Number of Menu Selections
In most cases, the recommended number of menu selections is no more than 7 or 8. People do not have a lot of time to spend on your site, and they will appreciate it if you organise your content into several categories in the navigation menu. Too many categories can be very time-consuming and lead to some serious indecision. This could easily cost you a conversion because, as soon you make them confused, your visitors will leave.
3. Create Various Clickable Links
Every navigation element on your site needs to be a clickable link. Don't forget about drop-down menus – visitors may click on a sub-category to see if there is more information or a page about it. If there is, make sure to create clickable links wherever possible. However, dropdowns are not a very mobile- or touch-friendly solution. So keeping a balance here is also important.
4. Keep It Organised the Way Your Users Expect It to Be
You shouldn't see navigation as an opportunity to place links to everything, no matter what they are. Mind how your navigation appears on the site, and whether it makes it easier or harder for the visitor to find pages. If your navigation strategies keep losing the visitor from page to page and they constantly have to reorient themselves to find something, you are doing a bad job.
5. Remove Misleading Navigation Titles and Text
Look for misleading and inaccurate navigation titles and links that may confuse the visitor or annoy him. This is one common reason for site abandonment. Visitors should have real information about what they will find if they click on a navigational link, and misleading them is never good for user experience. Ensure that all verbiage is an accurate portrayal of the page it corresponds to – this applies to images as well.
6. Quick to Access and Find
The Navigation should be easy to find and in an easily locateable location. Many people use a fancy button for their Navigation which are not popularly known by people.
The Navigation should not be filled with unnecessary content and should help the user to switch from pages under seconds.

7. Consistency
Consistency is the most important principles in navigation menu design. If your site has different mode of the navigation menu, users might think themselves on another site rather than your site. Be sure to use the same navigation mode so that users can easily access your site without losing it.
8.Keep it simple
You can add more items to the vertical navigation, but can't have too many items in the main menu, or it will distract the user's attention. Generally, don't go beyond the limit of more than 8 items.
Q. Google Analytic
Google Analytics is a web analytics service offered by Google that tracks and reports website traffic, currently as a platform inside the Google Marketing Platform brand. Google launched the service in November 2005 after acquiring developer Urchin.
Google Analytics is the most widely used web analytics service on the web. Google Analytics provides an SDK that allows gathering usage data from iOS and Android app, known as Google Analytics for Mobile Apps.
The service is available to anyone with a Google account. Google bought Urchin Software Corporation in April 2005 and used that company's Urchin on Demand product as the basis for its current service.
Google Analytics features include:
• Data visualization tools including a dashboard, scorecards and motion charts, which display changes in data over time.
• Segmentation for analysis of subsets, such as conversions.
• Custom reports.
• Email-based sharing and communication.
• Integration with other Google products, such as AdWords, Public Data Explorer and Website Optimizer.
Google Analytics is geared toward small and medium-sized retail websites. The service has limitations that make it less suited to more complex websites and larger enterprises. For example, the system collects data through a JavaScript page tag inserted in the code of pages the user wants to collect data on. The page tag functions as a Web bug to gather visitor information. However, because it's reliant on cookies, the system can't collect data for users who have disabled them. Google also uses sampling in its reports rather than analyzing all available data.
Furthermore, some security experts have raised concerns about privacy issues in Google Analytics. Through the Google Analytics Dashboard, users can collect information on people whose websites link to social networking sites such as Facebook and Twitter.
There are a number of commercial products for enterprises that require more advanced Web analytics, including those from Omniture, Webtrends, IBM's Cognos product line and OracleWebCenter.
Q. What can you do with Google Analytic?
Am I allowed to write "well I am glad you asked ?" in absolutely any exam of BMM?
1. See your most important analytics data first.
If there is one (or more) pieces of data you want to see at a glance every time you login to your analytics, be sure to set it up in the Dashboards area.
You can create multiple dashboards, each of which can contain multiple widgets. To create a new dashboard, simply go under Dashboards in the menu bar of your analytics and then select New Dashboard. Then add your widgets. You can choose from widgets that show you one particular metric, a pie chart comparing metrics, a timeline of one to two metrics, or a table showing a dimension with two specific metrics. Each type of widget can also be filtered.
The best part of the dashboards is you can change the date range and see all of your widgets update with that date range's data. This is great if you want to see an overview of your stats for traffic, goal completions, and other metrics of your choosing all in one place.
2. Find out which online campaigns bring the most traffic and conversions.
Have you been curious which of your online marketing campaigns (anything from local search to social media marketing) are the most successful in terms of bringing traffic and conversions to your website? Then it's time to look at your advanced segments.
To create an advanced segment, click on the Advanced Segments dropdown and then the New Custom Segment. If you wanted to track traffic from local search directories, then call your custom segment Local Search Profiles and start entering the sites you have profiles on such as maps.google.com/maps/ for Google Places and yelp.com for your Yelp listing.
Once you have entered all of the domains you want to track, you can preview the segment to ensure it is pulling the right data and then save the segment. To view it, click on the Advanced Segments, check the custom segment you want to view and click apply. Now you can see all of your traffic and goal conversion data that arrives from those sources which will give you a good idea of what is working the best for your website. With the right custom segments, you can find out the ROI of your social media campaign as well as your other online marketing strategies.
3. Determine where your best visitors are located.
Have you considered using advertising via Google, Facebook, StumbleUpon, or other services? If not, it might be a daunting task to determine who you should target during your ad setups. Many of them will ask if you want to focus on a specific country or target your ad worldwide.
Thanks to Google Analytics, you don't have fret any longer. Simply look under your Visitors menu to see the Location demographics of your visitors.
Here, you can see your worldwide stats, including the average time on site and bounce rate of visitors from particular countries. You can also drill down to particular countries and see these stats as well as your goal conversion rates in particular regions.
Now you will know the specific locations whose visitors bring you the most conversions. Targeting visitors in these locations with your ads will result in even more goal completions for your site.
4. Learn what people are searching for on your site.
Most people know how to find the keywords that bring visitors to their sites from search engines. But how would you like to go beyond that to find out what visitors are searching once they are on your site?
If your website has a search box, go ahead and perform a search to see the URL of the search results. As an example, my blog's search results URL is http://kikolani.com/?s=blogging. Once you have this for your site, click on the settings wheel icon in the top right corner of your Analytics menu bar and find your Profile Settings. Under Site Search Settings, select the option to Do track Site Search and enter s as the query parameter (or the one that fits your site's URL structure).
To see the results of this setup, go to the Content menu and the Site Search area. Under Usage, you can see what terms are being searched for, if visitors refined their search, continued browsing your site, or exited which will let you know if they are finding what they want. Under Pages, you can see which pages people are upon when they decide to use the search feature. When you click on each page, you can see what terms they searched for.
Site Search can help you determine if people are finding what they are looking for on your site. It can also give you ideas of which pages of your content need more specific information as well as the new content you can create on your site to further engage your visitors.
5. Visualize what people click on the most.
Curious where people are making the most clicks on your site? In-Page Analytics Under the Content menu will pull up your website in the Analytics browser with information on the percentage of clicks that have happened on each internal link on your site.
You can hover over each link to see additional details and click through to more pages on your site to see more details. This can help you visually see what areas of your site are the most popular, and help you identify where people are clicking on your site. So if you have a particular link you want visitors to see, you should be sure to place it in the areas of your website that receive the most clicks.
6. Uncover your top content.
Want to know which pages keep your visitors on your website the longest, or have the lowest bounce rate? You can see this quickly by going under the Content menu and selecting Pages under Site Content.
This section can help you identify which pieces of content keep visitors on your site the longest and lead to them wanting to continue onto more pages on your site. This can help you produce more content that people will like in the future.
7. Identify your worst performing pages.
A few items down in the content menu from your top pages are your top exit pages. This will tell you how many people are arriving and exiting on a particular page.
This is somewhat common for blogs as people are coming to find a particular piece of information and then leave (hopefully) satisfied. But for other websites, it may signify that people are not finding what they are looking for on that page and then leaving. This may mean that you need to evaluate your site's content to ensure that visitors are finding what they want and getting a call to action so they get where you want them to be before they leave, such as subscribing to a mailing list or purchasing a product.
8. Determine where people abandon the shopping cart.
Does your website have a multiple step checkout process? If so, you should setup a goal for your website using a Goal Funnel. To do so, click on the settings wheel icon and click on Goals. Create a new goal with the Goal Type of URL Destination. After you enter the basic goal details, including the final URL of the checkout process (usually a thank you for your order page), then check the Use funnel box to enter each of the URLs that correspond to the steps a visitor must take when purchasing an item.
By using this setup, you will then be able to view reports showing you when people abandon their shopping cart during their purchasing process.
If you note a particularly high amount of people who exit on the payment page, you'll know that you need to do some work in order to make that page more shopping friendly. Or if people exit before confirming their order, you'll know that there is something missing that is making people not want to click that final button. Fixing these issues can lead to more sales in the long run!
9. Discover if you need a mobile site.
Have you been wondering if you need a mobile version of your website? Find out by looking under the Visitors menu. There you will find a Mobile option where you can see all the way down to a specific device and the percentage of your total visits that are from a mobile device.
The key on this screen is looking at the average time on site and the bounce rate. If your average time on site is lower and the bounce rate is higher than your overall numbers, then you'll know that you're losing that much of your mobile traffic.
Q. Micro blogging
Microblogging is an online broadcast medium that exists as a specific form of blogging. A microblog differs from a traditional blog in that its content is typically smaller in both actual and aggregated file size. Microblogs "allow users to exchange small elements of content such as short sentences, individual images, or video links", which may be the major reason for their popularity. These small messages are sometimes called microposts.
As with traditional blogging, microbloggers post about topics ranging from the simple, such as "what I'm doing right now," to the thematic, such as "sports cars." Commercial microblogs also exist to promote websites, services and products, and to promote collaboration within an organization.
Some microblogging services offer features such as privacy settings, which allow users to control who can read their microblogs, or alternative ways of publishing entries besides the web-based interface. These may include text messaging, instant messaging, E-mail, digital audio or digital video.
Microblogging is a combination of blogging and instant messaging that allows users to create short messages to be posted and shared with an audience online. Social platforms like Twitter have become extremely popular forms of this new type of blogging, especially on the mobile web — making it much more convenient to communicate with people compared to the days when desktop web browsing and interaction was the norm.
These short messages can come in the form of a variety of content formats including text, images, video, audio, and hyperlinks. The trend evolved around the later end of the Web 2.0 era after social media and traditional blogging merged to create a way that was easier and faster to communicate with people online and keep them informed about relevant, shareable information at the same time.
Popular Examples of Microblogging Platforms
You may be using a microblogging website already without even knowing it. As it turns out, short but frequent social posting online is exactly what most people want, given that so many of us browse the web from our mobile devices when we're out on the go and our attention spans are shorter than ever.
Twitter
Twitter is one of the oldest and most well-known social platforms to be put under the "microblogging" category. While the 280-character limit still exists today, you can now also share videos, articles links, photos, GIFs, sound clips, and more through Twitter Cards in addition to regular text.
Tumblr
Tumblr takes inspiration from Twitter but has fewer limitations and more features. You can certainly post a lengthy blog post if you want, but most users enjoy posting lots and lots of individual posts of visual content like photosets and GIFs.
Instagram
Instagram is like a photo journal for wherever you go. Rather than uploading multiple photos to an album the way we used to do via the desktop web on Facebook or Flickr, Instagram lets you post one photo at a time to show where you are and what you're doing.
Vine (Now Defunct)
YouTube made video blogging or "vlogging" popular back when people began uploading regular videos of themselves living their lives or talking about what interested in them. Vine was the mobile equivalent to YouTube – a microblogging video platform where people could share anything they wanted in six seconds or less. It was discontinued in early 2017.
Q. Google's AdWords
Google Ads (previously Google AdWords, before July 24, 2018) is an online advertising platform developed by Google, where advertisers pay to display brief advertisements, service offerings, product listings, video content, and generate mobile application installs within the Google ad network to web users.
Google Ads has evolved into Google's main source of revenue, contributing to Google's total advertising revenues of US$95.4 billion in 2017. AdWords offers services under a pay-per-click (PPC) pricing model. Although an advanced bidding strategy can be used to automatically reach a predefined cost-per-acquisition (CPA), this should not be confused with a true CPA pricing model.
Sales and support for Google's AdWords division in the United States is based in Mountain View, California, with major secondary offices in Hyderabad, Dublin, Singapore, Ann Arbor[6] and New York City. The third-largest US facility is the Googleplex, Google's headquarters, which is located in Mountain View, California. Google AdWords engineering is based at the Googleplex, with major secondary offices in Los Angeles and New York.
As of June 2018, Google derives 86% of its total revenues through trading advertising inventory through AdWords, DoubleClick AdExchange, and DoubleClick Bid Manager, among others.
How AdWord works
Google Ads' system is based partly on cookies and partly on keywords determined by advertisers. Google uses these characteristics to place advertising copy on pages where they think it might be relevant. Advertisers pay when users divert their browsing to click on the advertising copy. Partner websites receive a portion of the generated income.
The Google Ads program includes local, national, and international distribution. Google's text advertisements are short, consisting of three headlines with a maximum of 30 characters each, 2 descriptions with a maximum of 90 characters, and a display two URLs of 15 characters each.
These are called AdWords expanded text Ads. These mimic what the average search result looks like on Google. Image ads can be one of the several different standardized sizes as designated by the Interactive Advertising Bureau (IAB).
In May 2016, Google announced its reformatting of ads to help consumers and advertisers succeed in a mobile-first world. The new format, called Expanded Text Ads, allows 23% more text. This new format is available on both the Google Search Network and the Google Display network. It features two headlines with 30 characters each, replacing the standard of a single headline with 30 characters. The display URL has been replaced with two 15 character paths, not including the root domain.
Social media refers to websites and applications that are designed to allow people to share content quickly, efficiently, and in real-time. Many people define social media as apps on their smartphone or tablet, but the truth is, this communication tool started with computers. This misconception stems from the fact that most social media users access their tools via apps.
The ability to share photos, opinions, events, etc in real-time has transformed the way we live and, also, the way we do business. Retailers who use social media as an integral part of their marketing strategy usually see measurable results. But the key to successful social media is to not treat it as an extra appendage but to treat it with the same care, respect, and attention you do all of your marketing efforts.
Social media is interactive and Web 2.0 based

Features user-generated profiles

Content is generated by users

An estimated 69 percent of Americans used social media as of 2018

Over one-fifth of an individual's online time is spent on social media

China and India lead the list of social media usage.
Social media are interactive computer-mediated technologies that facilitate the creation and sharing of information, ideas, career interests and other forms of expression via virtual communities and networks.
The following list of the leading social networks shows the number of active users as of July 2018.
#

Network Name

Number of Users

(in millions)

1

2,270

2

1,900

3

1,500

4

1,300

5

1,040

6

1,000

7

806

8

563

9

500

10

411

11

336

12

330

13

300

14

300

15

294

16

260

17

255

18

203

19

200

20

200

21

200

22

100
General people are only aware of Facebook, Twitter, Snapchat, and Instagram sorts of social channels.
However there are many other types of Social Media channels are there to explore which are much more significant and also important for Marketers, as they play a significant role in targeting and converting prospects.
Lets deep dive into all the different types of Social Media Marketing networks that can optimize your reach and brand awareness on the web.
Different Types of Social Media Networks
Social Networks
Example : Facebook, Twitter, LinkedIn
Such types of Social Media are used to associate with individuals (and brands) on the web. They help your business via branding, social awareness, relationship building, customer service, lead generation, and conversion. You can channelize different types of Social Media campaigns on these networks that will help you widen your reach. Some of the benefits of these Social Networks are-
They encourage individuals and businesses to interact online and share data and thoughts for ensuring mutually productive relationships

In case you are searching for the best ways to optimize current marketing campaigns then you will discover a variety of organic and paid ways to do this on Facebook, Twitter, and LinkedIn sorts of social networks.
2. Media Sharing Networks:
Example : Instagram, Snapchat, YouTube
Media sharing types of Social Media are used to find and share photographs, live video, video and other kinds of media on the web. They are also going to help you in brand building, lead generation, targeting and so on. They give individuals and brands a place to discover and share media so the target audiences can be targeted and converted into a convincing and result driven way possible. Social networks nowadays also offer these features, however, for Media Sharing Networks, sharing of media is their basic role.
Starting with image or video on Instagram, YouTube and Snapchat types of media sharing networks would be more beneficial for you

To decide whether you should use these networks for your business or not, you should consider your resources and target audiences. These channels will help you run well-planned campaigns to generate leads and widen your audience base
3. Discussion Forums
Example : Reddit, Quora, Digg
Such types of Social Media channels are used for finding, sharing and discussing different kinds of information, opinions, and news. They help businesses by being top notch resource for doing immaculate market research. These forums are the oldest ways of running Social Media Marketing campaigns.
Before the entry of popular Social Media players like Facebook, these forums were the places where professionals, experts and enthusiasts used to do different kinds of discussions concerning a variety of fields.
These discussion forums have a massive number of users and it ensures unprecedented reach for your business. These are the places that provide the answers to different queries of any domain

In case your business needs deep customer research then these places would the most befitting one for your business

Along with sharing information and knowing answers, these places are very impactful in advertising as well
Reddit also known as the "front page of the Internet" is home to over a million niche communities in the form of subreddits. Anything from personal finance to cat memes is fair game for debate and discussion. Representing the number one hub of discussion online today, Reddit essentially picks up the slack from old-school niche forums of the past, all in one place.
4. Bookmarking and Content Curation Networks
Example : Pinterest, Flipboard
Opting for such types of Social Media will help you find out, share, discuss and save a variety of latest content and media that are trending as well.  They are very helpful in channelizing brand awareness for your business, plus, choosing this one to run different types of Social Media Marketing campaigns will help you generate website traffic and customer engagement.
In case you want to run some out of the box highly creative campaigns that can not only inform your audience and but also attract them then this one is best fit.
To run Social Media campaign on Pinterest, you need to have a site that is bookmark-friendly. You should optimize headlines and images for the feeds that Bookmarking and Content Curation Networks use for accessing and sharing your content

Flipboard lets you create your own Flipboard magazine by using most engaging content and the you can showcase that to your audiences
5. Consumer Review Networks
Example : Yelp, Zomato, TripAdvisor
Using Customer Review networks will help you find out, share and review different information about a variety of products, services or brands. When a business has positive reviews on these networks, their claims turn more credible because reviews on these networks act as Social Proof.
For running a successful Social Media Marketing Campaigns, it is very important for today's businesses to have positive reviews on these sites. In addition, resolving all the issues that your customers are posting on these Review platforms is another thing that is going to be very important for the positive and productive outcomes for your business.
These networks offer a place to users for reviewing different kinds of products and services that they have used

Review content adds great value to any brand because it will influence more and number of new buyers to attempt your services

Yelp and Zomato sorts of platforms offer location-based review services that will help you run location-based social campaigns
6. Blogging and Publishing Networks
Example : WordPress, Tumblr, Medium
These types of Social Media networks are for publishing, discovering and commenting on articles, social media blogs and other content on the web. Content marketing is one of the most powerful ways to target, attract, engage and convert a target audience. It is going to be the base of successful online marketing campaigns that play the most important role in conversion funnels of Digital Marketing campaigns.
WordPress and Blogger are the traditional blogging platforms while Tumblr (micro-blogging service) and Medium (Social Publishing Platform) is the latest blogging and publishing networks.
These networks are must for the businesses that want to effectively use Content Marketing, plus, you can share this content on a variety of Social Networks like Facebook, Twitter, LinkedIn, etc.

Content that you use on these networks will also help you create a niche for your business and audiences who are in search of information concerning that niche will for sure visit your blog or site
6.1 Micro Blogging
Example : Twitter
Microblogging is a web service that allows the subscriber to broadcast short messages to other subscribers of the service. Microposts can be made public on a Web site and/or distributed to a private group of subscribers. Subscribers can read microblog posts online or request that updates be delivered in real time to their desktop as an instant message or sent to a mobile device as an SMS text message.
The appeal of microblogging is both its immediacy and portability. Posts are brief (typically 140 – 200 characters) and can be written or received with a variety of computing devices, including cell phones. Although most microblog broadcasts are posted as text, some microblogging services allow video or audio posts.
7. Social Shopping Networks: Polyvore, Etsy, Fancy
Want to find out all the latest trends in the marketing or crave to know the shopping tips then such types of Social Media channels are for you. In addition, they help you follow different brands, share interesting things and make a purchase on these Social Shopping networks. Businesses can use such types of Social Media Platforms for creating brand awareness, boosting engagement and selling products on some new and effective platforms. These channels transform e-commerce by making them more engaging via some interesting social elements.
To use these networks effectively you should create a site that integrates shopping experience with social experience

These networks are very result driven for small businesses and startups as they can sell their products without any land based office or store
8. Interest-based Networks
Example : Goodreads, Houzz, Last.fm
You can use such types of Social Media networks for connecting with other people who have same sorts of hobbies or interests. You can easily find the audiences who are interested in knowing more and more about the kinds of products and services that you offer. This makes it one of the best networks for engaging with your audience and creating exclusive brand awareness online. Compared to big social networks, using Interest-based networks would help you run a more targeted campaign.
Choosing these networks will help you focus solely on a single product or service related to any particular subject, for instance, home décor, Digital Marketing Training, Music, Books, etc.

These networks are best places to engage with the audiences of a particular niche
Q. Pornography
Its the sixth semester and its getting worse to explain that all we do on internet is directly/indirectly related to syllabus. So after being nuked by the house I got the answer
Pornography (often abbreviated porn) is the portrayal of sexual subject matter for the exclusive purpose of sexual arousal. Pornography may be presented in a variety of media, including books, magazines, postcards, photographs, sculpture, drawing, painting, animation, sound recording, writing, film, video, and video games.
The term applies to the depiction of the act rather than the act itself, and so does not include live exhibitions like sex shows and striptease. The primary subjects of present-day pornographic depictions are pornographic models, who pose for still photographs, and pornographic actors or "porn stars", who perform in pornographic films. If dramatic skills are not involved, a performer in pornographic media may also be called a model.
Various groups within society have considered depictions of a sexual nature immoral, addictive, and noxious, labeling them pornographic, and at
Pornography in India
In India, watching or possessing pornographic material is legal. However, the production, publication, or distribution of such materials is illegal. Pornography is available in print magazines, but is mainly consumed using the internet. This consumption is increasing with the increased prevalence of smartphones and the internet. Despite the increased access, public discourse and attitudes on pornography remain muted and a taboo in many parts of India.
So wait. Viewing Pornography in India is Legal? The heck?
Cyber pornography is banned in many countries and legalized in some. In India, under the Information Technology Act, 2000, this is a grey area of the law, where it is not prohibited but not legalized either.
Under Section 67 of the Information Technology Act, 2000 makes the following acts punishable with imprisonment upto 3 years and fine upto 5 lakhs:
Publication-

which would include uploading on a website, whats app group or any other digital portal where third parties can have access to such content.

Transmission-

 this includes sending obscene photos or images to any person via email, messaging, whats app or any other form of digital media.

Causing to be published or transmitted-

this is a very wide terminology which would end up making the intermediary portal liable, using which the offender has published or transmitted such obscene content. The Intermediary Guidelines under the Information Technology Act put an onus on the Intermediary/Service Provider to exercise due diligence to ensure their portal is not being misused.
Section 67A of the Information Technology Act makes publication, transmission and causing to be transmitted and published in electronic form any material containing sexually explicit act or conduct , punishable with imprisonment upto 5 years and fine upto 10 lakhs.
An understanding of these provisions makes the following conclusions about the law of cyber pornography in India extremely clear:
Viewing Cyber pornography is legal in India. Merely downloading and viewing such content does not amount to an offence.

Publication of pornographic content online is illegal.

Storing Cyber pornographic content is not an offence.

Transmitting cyber pornography via instant messaging, emails or any other mode of digital transmission is an offence.
There have been cases, one such case includes a 21 year old Engineering student was arrested for sending obscene pictures by WhatsApp to a woman.
In the infamous Bazee.com case, the CEO Avinash Bajaj was arrested for an advertisement by a user to sell the DPS sex scandal video. The video was not uploaded on the portal, despite that Avinash was arrested under Section 67 of the Information Technology Act. It was subsequent to this case that the Intermediary guidelines were passed in 2011 whereby an Intermediary's liability would be absolved if they exercised due diligence to ensure obscene content is not displayed on their portal.
However, there is one case in which viewing Cyber pornography is punishable with imprisonment upto 5 years and fine upto 10 lakhs. Where the content contains children engaging with one another or with adults in sexually explicit acts.
Browsing or downloading Child pornography online is also a punishable offence under the Information Technology Act. The creation of child pornography is also punishable under the Act.
The act of collecting and storing cyber pornography is not an offence, but if the content involves minors, then it is punishable with imprisonment upto 5 years and fine upto 10 lakhs.
World over online child pornography is illegal. One of the biggest publicized catches of child pornography perpetrators was launched in May 2002 and called Operation Ore. After the FBI accessed the credit card details, email addresses, and home addresses of thousands of pornographers accessing a British child pornography site, the particulars were given to the British police for investigation. The arrest of a computer consultant in Texas led to an international investigation that jailed Thomas Reedy for 1,335 years for running the pornography ring. About 1,300 other perpetrators were also arrested, including teachers, child-care workers, social workers, soldiers, surgeons, and 50 police officers. As a result, 40 children, 28 of them in London, were placed under protective care.
Q. Information Act 2000
Q. Cyber Laws in India
Cyber law is important because it touches almost all aspects of transactions and activities and on involving the internet, World Wide Web and cyberspace. Every action and reaction in cyberspace has some legal and cyber legal angles.
Cyber Crime is not defined in Information Technology Act 2000 nor in the National Cyber Security Policy 2013 nor in any other regulation in India. In fact, it cannot be too. Crime or offence has been dealt with elaborately listing various acts and the punishments for each, under the Indian Penal Code, 1860 and quite a few other legislations too. Hence, to define cyber-crime, one can say, it is just a combination of crime and computer. To put it in simple terms 'any offence or crime in which a computer is used is a cyber-crime'. Interestingly even a petty offence like stealing or pick pocket can be brought within the broader purview of cybercrime if the basic data or aid to such an offence is a computer or an information stored in a computer used (or misused) by the fraudster. The I.T. Act defines a computer, computer network, data, information and all other necessary ingredients that form part of a cybercrime.
In a cyber-crime, computer or the data itself the target or the object of offence or a tool in committing some other offence, providing the necessary inputs for that offence. All such acts of crime will come under the broader definition of cyber-crime.
Cyber law encompasses laws relating to:
Cyber crimes

Electronic and digital signatures

Intellectual property

Data protection and privacy
Need for Cyber Law
In today's techno-savvy environment, the world is becoming more and more digitally sophisticated and so are the crimes. Internet was initially developed as a research and information sharing tool and was in an unregulated manner. As the time passed by it became more transactional with e-business, e-commerce, e-governance and e-procurement etc. All legal issues related to internet crime are dealt with through cyber laws. As the number of internet users is on the rise, the need for cyber laws and their application has also gathered great momentum.
In today's highly digitalized world, almost everyone is affected by cyber law. For example:
Almost all transactions in shares are in demat form.

Almost all companies extensively depend upon their computer networks and keep their valuable data in electronic form.

Government forms including income tax returns, company law forms etc. are now filled in electronic form.

Consumers are increasingly using credit/debit cards for shopping.

Most people are using email, phones and SMS messages for communication.

Even in "non-cyber crime" cases, important evidence is found in computers/cell phones eg: in cases of murder, divorce, kidnapping, tax evasion, organized crime, terrorist operations, counterfeit currency etc.

Cybercrime cases such as online banking frauds, online share trading fraud, source code theft, credit card fraud, tax evasion, virus attacks, cyber sabotage, phishing attacks, email hijacking, denial of service, hacking, pornography etc. are becoming common.

Digital signatures and e-contracts are fast replacing conventional method of transacting business.
Technology per se is never a disputed issue but for whom and at what cost has been the issue in the ambit of governance. The cyber revolution holds the promise of quickly reaching the masses as opposed to the earlier technologies, which had a trickle-down effect. Such a promise and potential can only be realized with an appropriate legal regime based on a given socio-economic matrix.
Q. Provisions of Information Act 2000
Section 43
It deals with penalties and compensation for damage to computer, computer system etc. This Section addresses the civil offence of theft of data.
If any person without permission of the owner or any other person who is in charge of a computer, accesses or downloads, copies or extracts any data or introduces any computer contaminant like virus or damages or disrupts any computer or denies access to a computer to an authorised user or tampers etc. Then they shall be liable to pay damages to the person so affected.
Thus the new Section 43-A dealing with compensation for failure to protect data was introduced in the ITAA -2008
Section 65:  
Concealing, destroying, altering any computer source code when the same is required to be kept or maintained by law and  Fabrication of an electronic record or committing forgery by way of interpolations in CD produced as evidence in a court is an offence punishable with three years imprisonment or two lakh rupees or with both.
Section 66:
Computer related offences are dealt with under this Section. Data theft stated in Section 43 is referred to in this Section. Whereas it was a plain and simple civil offence with the remedy of compensation and damages only, in that Section, here it is the same act but with a criminal intention thus making it a criminal offence. The act of data theft or the offence stated in Section 43 if done dishonestly or fraudulently becomes a punishable offence under this Section and attracts imprisonment upto three years or a fine of five lakh rupees or both. Earlier hacking was defined in Sec 66 and it was an offence.
Hacking is the unauthorized access to a computer system, programs, data and network resources.  If crime is proved under IT Act, accused shall be punished for imprisonment, which may extend to three years or with fine, which may extend to five lakh rupees or both.
According to wikipedia, e-mail spoofing is e-mail activity in which the sender addresses and other parts of the e-mail header are altered to appear as though the e-mail originated from  a different source. E-mail spoofing is sending an e-mail to another person in such a way that it appears that the e-mail was sent by someone else. Spoofing is the act of electronically disguising one computer as another for gaining as the password system.
Information Technology (Amendment) Act, 2008, crime of identity theft under Section 66-C, whoever, fraudulently or dishonestly make use of the electronic signature, password or any other unique identification feature of any other person known as identity theft.
66A
Sending offensive messages through communication service, causing annoyance etc
Dishonestly receiving stolen computer resource or communication device, through an electronic communication or sending an email to mislead or deceive the recipient about the origin of such messages (commonly known as IP or email spoofing) are all covered here. Punishment for these acts is imprisonment upto three years one lakh rupees as fine or both.
66C
Electronic signature or other identity theft like using others' password or electronic signature etc. Punishment is three years imprisonment or fine of one lakh rupees or both.
66D
Cheating by personation using computer resource or a communication device shall be punished with imprisonment of either description for a term which extend to three years and shall also be liable to fine which may extend to one lakh rupee.
66E
Privacy violation – Publishing or transmitting private area of any person without his or her consent etc. Punishment is three years imprisonment or two lakh rupees fine or both.
66F
Cyber terrorism – Intent to threaten the unity, integrity, security or sovereignty of the nation and denying access to any person authorized to access the computer resource or attempting to penetrate or access a computer resource without authorization.
Section 67
deals with publishing or transmitting obscene material in electronic form. The earlier  Section in ITA was later widened as per ITAA 2008 in which child pornography and retention of records by intermediaries were all included.
Section 67-A
deals with publishing or transmitting of material containing sexually explicit act in electronic form.  
Section 67B
dealt  Child Pornography . Depicting children engaged in sexually explicit act, creating text or digital images or advertising or promoting such material depicting children in obscene or indecent manner etc or facilitating abusing children online or inducing children to online relationship with one or more children etc come under this Section. 'Children' means persons who have not completed 18 years of age, for the purpose of this Section.  
Section 67C
fixes the responsibility to intermediaries that they shall preserve and retain such information as may be specified for such duration and in such manner as the Central Government may prescribe .
Section 69
It empowers the Government or agencies as stipulated in the Section, to intercept, monitor or decrypt any information generated, transmitted, received or stored in any computer resource, subject to compliance of procedure as laid down here.
Section 69A
inserted in the ITAA, vests with the Central Government or any of its officers with the powers to issue directions for blocking for public access of any information through any computer resource, under the same circumstances as mentioned above.
Section 69B
discusses the power to authorise to monitor and collect traffic data or information through any computer resource.
Q. Cyber Crimes and Applicable Provisions
Let us look into some common cyber-crime scenarios which can attract prosecution as per the penalties and offences prescribed in IT Act 2000 (amended via 2008) Act.
Harassment via fake public profile on social networking site
A fake profile of a person is created on a social networking site with the correct address, residential information or contact details but he/she is labelled as 'prostitute' or a person of 'loose character'. This leads to harassment of the victim.
Provisions Applicable:- Sections 66A, 67 of IT Act and Section 509 of the Indian Penal Code.
Online Hate Community
Online hate community is created inciting a religious group to act or pass objectionable remarks against a country, national figures etc.Provisions Applicable: Section 66A of IT Act and 153A & 153B of the Indian Penal Code.
Email Account Hacking
If victim's email account is hacked and obscene emails are sent to people in victim's address book.Provisions Applicable:- Sections 43, 66, 66A, 66C, 67, 67A and 67B of IT Act.
Credit Card Fraud
Unsuspecting victims would use infected computers to make online transactions.Provisions Applicable:- Sections 43, 66, 66C, 66D of IT Act and section 420 of the IPC.
Web Defacement
The homepage of a website is replaced with a pornographic or defamatory page. Government sites generally face the wrath of hackers on symbolic days.Provisions Applicable:- Sections 43 and 66 of IT Act and Sections 66F, 67 and 70 of IT Act also apply in some cases.
Introducing Viruses, Worms, Backdoors, Rootkits, Trojans, Bugs
All of the above are some sort of malicious programs which are used to destroy or gain access to some electronic information.
Provisions Applicable:- Sections 43, 66, 66A of IT Act and Section 426 of Indian Penal Code.
Cyber Terrorism
Many terrorists are use virtual(GDrive, FTP sites) and physical storage media(USB's, hard drives) for hiding information and records of their illicit business.
Provisions Applicable: Conventional terrorism laws may apply along with Section 69 of IT Act.
Online sale of illegal Articles
Where sale of narcotics, drugs weapons and wildlife is facilitated by the Internet
Provisions Applicable:- Generally conventional laws apply in these cases.
Cyber Pornography
Among the largest businesses on Internet. Pornography may not be illegal in many countries, but child pornography is.
Provisions Applicable:- Sections 67, 67A and 67B of the IT Act.
Phishing and Email Scams
Phishing involves fraudulently acquiring sensitive information through masquerading a site as a trusted entity. (E.g. Passwords, credit card information)
Provisions Applicable:- Section 66, 66A and 66D of IT Act and Section 420 of IPC
Theft of Confidential Information
Many business organizations store their confidential information in computer systems. This information is targeted by rivals, criminals and disgruntled employees.
Provisions Applicable:- Sections 43, 66, 66B of IT Act and Section 426 of Indian Penal Code.
Source Code Theft
A Source code generally is the most coveted and important "crown jewel" asset of a company.
Provisions applicable:- Sections 43, 66, 66B of IT Act and Section 63 of Copyright Act.
Tax Evasion and Money Laundering
Money launderers and people doing illegal business activities hide their information in virtual as well as physical activities.
Provisions Applicable: Income Tax Act and Prevention of Money Laundering Act. IT Act may apply case-wise.
Online Share Trading Fraud
It has become mandatory for investors to have their demat accounts linked with their online banking accounts which are generally accessed unauthorized, thereby leading to share trading frauds.
Provisions Applicable: Sections 43, 66, 66C, 66D of IT Act and Section 420 of IPC
Q. Cases Studies as per selected IT Act Sections
The Answer is huge, you may read it only if you want. This is something for extra gain.
Here are the case studies for selected IT Act sections.
Section 43 – Penalty and Compensation for damage to computer, computer system, etc
Related Case: Mphasis BPO Fraud: 2005In December 2004, four call centre employees, working at an outsourcing facility operated by MphasiS in India, obtained PIN codes from four customers of MphasiS' client, Citi Group. These employees were not authorized to obtain the PINs. In association with others, the call centre employees opened new accounts at Indian banks using false identities. Within two months, they used the PINs and account information gleaned during their employment at MphasiS to transfer money from the bank accounts of CitiGroup customers to the new accounts at Indian banks.
By April 2005, the Indian police had tipped off to the scam by a U.S. bank, and quickly identified the individuals involved in the scam. Arrests were made when those individuals attempted to withdraw cash from the falsified accounts, $426,000 was stolen; the amount recovered was $230,000.
Verdict: Court held that Section 43(a) was applicable here due to the nature of unauthorized access involved to commit transactions.
Section 65 – Tampering with Computer Source Documents
Related Case: Syed Asifuddin and Ors. Vs. The State of Andhra PradeshIn this case, Tata Indicom employees were arrested for manipulation of the electronic 32- bit number (ESN) programmed into cell phones theft were exclusively franchised to Reliance Infocomm.
Verdict: Court held that tampering with source code invokes Section 65 of the Information Technology Act.
Section 66 – Computer Related offenses
Related Case: Kumar v/s Whiteley In this case the accused gained unauthorized access to the Joint Academic Network (JANET) and deleted, added files and changed the passwords to deny access to the authorized users.Investigations had revealed that Kumar was logging on to the BSNL broadband Internet connection as if he was the authorized genuine user and 'made alteration in the computer database pertaining to broadband Internet user accounts' of the subscribers.The CBI had registered a cyber crime case against Kumar and carried out investigations on the basis of a complaint by the Press Information Bureau, Chennai, which detected the unauthorised use of broadband Internet. The complaint also stated that the subscribers had incurred a loss of Rs 38,248 due to Kumar's wrongful act. He used to 'hack' sites from Bangalore, Chennai and other cities too, they said.
Verdict: The Additional Chief Metropolitan Magistrate, Egmore, Chennai, sentenced N G Arun Kumar, the techie from Bangalore to undergo a rigorous imprisonment for one year with a fine of Rs 5,000 under section 420 IPC (cheating) and Section 66 of IT Act (Computer related Offense).
Section 66A – Punishment for sending offensive messages through communication service
Relevant Case #1: Fake profile of President posted by imposter On September 9, 2010, the imposter made a fake profile in the name of the Hon'ble President Pratibha Devi Patil. A complaint was made from Additional Controller, President Household, President Secretariat regarding the four fake profiles created in the name of Hon'ble President on social networking website, Facebook.The said complaint stated that president house has nothing to do with the facebook and the fake profile is misleading the general public. The First Information Report Under Sections 469 IPC and 66A Information Technology Act, 2000 was registered based on the said complaint at the police station, Economic Offences Wing, the elite wing of Delhi Police which specializes in investigating economic crimes including cyber offences.
Relevant Case #2: Bomb Hoax mail In 2009, a 15-year-old Bangalore teenager was arrested by the cyber crime investigation cell (CCIC) of the city crime branch for allegedly sending a hoax e-mail to a private news channel. In the e-mail, he claimed to have planted five bombs in Mumbai, challenging the police to find them before it was too late. At around 1p.m. on May 25, the news channel received an e-mail that read: "I have planted five bombs in Mumbai; you have two hours to find it." The police, who were alerted immediately, traced the Internet Protocol (IP) address to Vijay Nagar in Bangalore. The Internet service provider for the account was BSNL, said officials.
Section 66C – Punishment for identity theft
Relevant Cases:
The CEO of an identity theft protection company, Lifelock, Todd Davis's social security number was exposed by Matt Lauer on NBC's Today Show. Davis' identity was used to obtain a $500 cash advance loan.
Li Ming, a graduate student at West Chester University of Pennsylvania faked his own death, complete with a forged obituary in his local paper. Nine months later, Li attempted to obtain a new driver's license with the intention of applying for new credit cards eventually.
Section 66D – Punishment for cheating by impersonation by using computer resource
Relevant Case: Sandeep Vaghese v/s State of Kerala
A complaint filed by the representative of a Company, which was engaged in the business of trading and distribution of petrochemicals in India and overseas, a crime was registered against nine persons, alleging offenses under Sections 65, 66, 66A, C and D of the Information Technology Act along with Sections 419 and 420 of the Indian Penal Code.
The company has a web-site in the name and and style www.jaypolychem.com' but, another web site www.jayplychem.org' was set up in the internet by first accused Samdeep Varghese @ Sam, (who was dismissed from the company) in conspiracy with other accused, including Preeti and Charanjeet Singh, who are the sister and brother-in-law of `Sam'
Defamatory and malicious matters about the company and its directors were made available in that website. The accused sister and brother-in-law were based in Cochin and they had been acting in collusion known and unknown persons, who have collectively cheated the company and committed acts of forgery, impersonation etc.
Two of the accused, Amardeep Singh and Rahul had visited Delhi and Cochin. The first accused and others sent e-mails from fake e-mail accounts of many of the customers, suppliers, Bank etc. to malign the name and image of the Company and its Directors. The defamation campaign run by all the said persons named above has caused immense damage to the name and reputation of the Company.
The Company suffered losses of several crores of Rupees from producers, suppliers and customers and were unable to do business.
Section 66E – Punishment for violation of privacy
Relevant Cases:
Jawaharlal Nehru University MMS scandal In a severe shock to the prestigious and renowned institute – Jawaharlal Nehru University, a pornographic MMS clip was apparently made in the campus and transmitted outside the university.Some media reports claimed that the two accused students initially tried to extort money from the girl in the video but when they failed the culprits put the video out on mobile phones, on the internet and even sold it as a CD in the blue film market.
Nagpur Congress leader's son MMS scandal On January 05, 2012 Nagpur Police arrested two engineering students, one of them a son of a Congress leader, for harassing a 16-year-old girl by circulating an MMS clip of their sexual acts. According to the Nagpur (rural) police, the girl was in a relationship with Mithilesh Gajbhiye, 19, son of Yashodha Dhanraj Gajbhiye, a zila parishad member and an influential Congress leader of Saoner region in Nagpur district.
Section-66F Cyber Terrorism
Relevant Case: The Mumbai police have registered a case of 'cyber terrorism'—the first in the state since an amendment to the Information Technology Act—where a threat email was sent to the BSE and NSE on Monday. The MRA Marg police and the Cyber Crime Investigation Cell are jointly probing the case. The suspect has been detained in this case.The police said an email challenging the security agencies to prevent a terror attack was sent by one Shahab Md with an ID [email protected] to BSE's administrative email ID [email protected] at around 10.44 am on Monday.The IP address of the sender has been traced to Patna in Bihar. The ISP is Sify. The email ID was created just four minutes before the email was sent. "The sender had, while creating the new ID, given two mobile numbers in the personal details column. Both the numbers belong to a photo frame-maker in Patna,'' said an officer.
Status: The MRA Marg police have registered forgery for purpose of cheating, criminal intimidation cases under the IPC and a cyber-terrorism case under the IT Act.
Section 67 – Punishment for publishing or transmitting obscene material in electronic form
Relevant Case:This case is about posting obscene, defamatory and annoying message about a divorcee woman in the Yahoo message group. E-mails were forwarded to the victim for information by the accused through a false e- mail account opened by him in the name of the victim. These postings resulted in annoying phone calls to the lady. Based on the lady's complaint, the police nabbed the accused.Investigation revealed that he was a known family friend of the victim and was interested in marrying her. She was married to another person, but that marriage ended in divorce and the accused started contacting her once again. On her reluctance to marry him he started harassing her through internet.
Verdict: The accused was found guilty of offences under section 469, 509 IPC and 67 of IT Act 2000. He is convicted and sentenced for the offence as follows:
As per 469 of IPC he has to undergo rigorous imprisonment for 2 years and to pay fine of Rs.500/-
As per 509 of IPC he is to undergo to undergo 1 year Simple imprisonment and to pay Rs 500/-
As per Section 67 of IT Act 2000, he has to undergo for 2 years and to pay fine of Rs.4000/-
All sentences were to run concurrently.
The accused paid fine amount and he was lodged at Central Prison, Chennai. This is considered the first case convicted under section 67 of Information Technology Act 2000 in India.
Section 67B – Punishment for publishing or transmitting of material depicting children in sexually explicit act, etc. in electronic form
Relevant Case: Janhit Manch & Ors. v. The Union of India 10.03.2010 Public Interest Litigation: The petition sought a blanket ban on pornographic websites. The NGO had argued that websites displaying sexually explicit content had an adverse influence, leading youth on a delinquent path.
Section 69 – Powers to issue directions for interception or monitoring or decryption of any information through any computer resource
Relevant Case: In August 2007, Lakshmana Kailash K., a techie from Bangalore was arrested on the suspicion of having posted insulting images of Chhatrapati Shivaji, a major historical figure in the state of Maharashtra, on the social-networking site Orkut.The police identified him based on IP address details obtained from Google and Airtel -Lakshmana's ISP. He was brought to Pune and detained for 50 days before it was discovered that the IP address provided by Airtel was erroneous. The mistake was evidently due to the fact that while requesting information from Airtel, the police had not properly specified whether the suspect had posted the content at 1:15 p.m.
Verdict: Taking cognizance of his plight from newspaper accounts, the State Human Rights Commission subsequently ordered the company to pay Rs 2 lakh to Lakshmana as damages. The incident highlights how minor privacy violations by ISPs and intermediaries could have impacts that gravely undermine other basic human rights.
Short Ver
Google search helps to find information using the search engine result page. It ranks the highest viewed page first in the search engine results page. Social media affects this Google search ranking. Pages that have higher views or followers on these social media sites are ranked higher. For example, Katy Perry is the most followed artist on Twitter, so she'd often show up as one of the first results on a search engine page. Often, while searching for information related to current affairs, Google displays tweets by famous Twitter handles first on their results page.
Here are a few of the things the search engine looks at:

How many shares content created by a given brand/individual earns

How useful, informative, and valuable the content is

How relevant the content is to a specific base of readers
The reason that Google looks at these things rather than the simple existence of a social profile is because Google's entire mission in search is to provide users with relevant, high-quality search results.

While the existence of a social media profile for a brand or individual isn't necessarily indicative of quality or authority, the presence of plenty of highly-shared, liked, and talked-about content is. It helps the brand or content writer in making a mark and increase recall value.
In this way, a Google search is affected by social media.
Does social media help SEO?
The question of whether social media has any impact on SEO has been long debated. In 2010, both Google and Bing admitted to using social signals to help rank pages within their results. Four years later, that stance changed after Twitter temporarily blocked Google's access to their social network. In 2014, Google's former head of webspam, Matt Cutts, released a video explaining how Google can't rely on signals that might not be there tomorrow.
That's where the conversation stopped. Since 2014, Google has publicly denied that social has any direct affect on rankings.
But now it's 2018. A lot has changed over the past four years. One noteworthy shift is that social networks started appearing in search engines at a much larger scale.
Facebook URLs ranking within the top 100 in Google.com (U.S.)
Twitter URLs ranking within the top 100 in Google.com (U.S.)
Notice the exponential growth of Facebook and Twitter pages making their way into Google's results?
1. Sharing Can Lead to Links and Higher Rankings
Its like Shoutout, which you ask or didnt ask for. You may ask someone "Ae mera Instagram pic like kar na". Not all will. But imagine a real 10k+ Instagram Profile saying "Ae iska Instagram pic like karo" makes a difference. That being said, please like my instagram pics guys. I need followies @[email protected]
Social sharing directly increases the visibility of a page. Which directly translates to the content or post may getting noticed by a creator of content, such as a youtuber, blogger, journalist, or author. That creator may mention it in a subsequent piece of content. If they linked to it, that page is then more likely to rank.
The social activity (sharing) affects rank only if it increases visibility among content creators AND those people found it so useful they linked to it.
A convenient way to amplify this process is to actively build relationships with content creators, sharing content with them specifically. This works on similar lines of PR.
Social influencers amplify impressions, but content creators create the ranking benefit. They include:
YouTubers

Social Media Influences

Bloggers and blog editors

Journalists

Podcasters

Academic Researchers

Event producers
If rankings are important to you, relationships with creators of content should be important to you. Content creators are often hidden and out of one's reach, but they are important, and target audience for most businesses.
2. The Correlation Between Social Media and "User Interaction Signals"
Imagine this: a visitor searches for a phrase. They see some search results with 10 shiny blue links. They click one and land at a page that doesn't seem to help them. They hit the back button. That's a bounce (a one-page visit). Disappointed? Yes. Hotels? Trivago. [fun fact I know a guy called Abhinav Kumar. Me and a friend are making life worse for him.]
Then they click another link on the search results page and find a more helpful page. They stay for a few minutes. Maybe they click around…
Google was watching. @[email protected] You did not go on Bing or DuckDuckGo. You went on Google to search that. Who also own the search engine, and the most popular Browser; Google Chrome. And Analytics. They know that the searcher stayed on one page much longer than the other.
[google can estimate the amount of hours you spend on a page, where you come from, what internet browser you use, what phone you have, what mobile network you have. scary.]
Google uses information about the page, and how much time someone spent on the site for quality and relevance
The specific stats in play here are "time on site" and "bounce rate." They are both considered "user interaction signals" and show that the visitor was engaged. Which correlates with the term Social interactions.
Likes, shares, upvotes, tweets, and comments are indications that people thought the page was good. And pages that people like tend to rank higher. Social media interactions correlate with quality and quality correlates with higher rankings.
For the record, there are other ways (beyond social media) to improve the user interaction signals on a page. Naturally, they all relate to quality.
Formatting:

don't hit visitors with a wall of text and ads. Use good fonts, break up paragraphs, use bullet lists, bolding, internal linking, subheaders, etc.

Media:

add

 images, video, audio, or anything else that a visitor is likely to engage with.

Length:

 longer pages tend to rank higher

 for a good reason. They are more likely to be authoritative.

Discussions:

 ask a question, invite dissent, spark a conversation. Comments are a type of social activity that directly affect user interaction signals.
3. How Google+ Activity Directly Affects Rankings
I included this because some people have. But listen here, Google Plus Shut Down.
There are two ways in which rankings are directly affected by Google+ activity. They both rely on the searcher being logged into their Google+ account.
Google+ posts rank in Google


Actual Google+ posts rank almost instantly for phrases included in the post, for anyone who has added you to a circle. This is why smart G+ users write posts with "titles" which are usually bolded headlines at the top of the post. Text is bolded in Google by putting asterisks before and after the text.

+1'd content ranks higher in personalized search results


Google search results are personalized for people who are logged in to Google+, provided they have connected with people who have interacted with content. Rankings are directly affected. Here's how it works:

Naturally, activity in other social networks such as Facebook and Twitter do not affect Google search results, and Google+ activity does not affect Bing/Yahoo search rankings. But this has a direct impact on search rankings through social activity.
4. Rank is Driven by Links… A Link is a Social Thing
Google considers linking to be social activity. There is a report in your Analytics that shows new links to your site. You can find it under Acquisition > Social > Trackbacks.
Not only does Google consider linking to be a social action, they report on how many times the link was clicked. This is another clue (or perhaps warning) that all links should be created with humans in mind. Yes, links cause sites to rank higher. But any link created purely for SEO reasons is spam. It is an attempt to artificially manipulate rankings.
5. Driving traffic from social platforms back to your site
With 3.48 billion social media users around the globe in 2018, there's great potential for driving social traffic to your website that, in turn, can improve your Google rankings – if your content is of high quality – by spending time on your site, sharing content, and referring to it on other sites.
6. The number of likes/follows/shares are an indication of quality
These metrics are social engagement signals that tell search engines how interesting and relevant a page's content is for users.
If you add a social share widget to your content that displays sharing statistics, you can entice readers to continue reading your copy or even engage with it. And the more social media links your SEO-based content has, the more credible it is for search engines. So, positive user behavioral engagement can, in fact, affect SEO.
7. Boosting local searches with positive Yelp and Google Local reviews
If you run a small business or a service company that operates on a small scale, then include your company in local business listings and get NAP (name-address-phone number) citations to boost your chances of appearing in organic local searches. For maximum results, be sure to verify that your info is consistent and complete all across the web.
Reviews are also a huge factor in local SEO marketing and are much liked by search engines. They account for atleast 13 percent of ranking factors for local searches, and seven percent for general searches. Moreover, Google displays reviews from social media sites like Facebook and Yelp in its SERPs.
8. Enhancing authority with Tweets mentioning your brand or website link
Bing claims that it accounts for the number of tweets and retweets containing a link, as well as the Twitter authority of the user who shared the link. Moreover, Bing processes around 24% of searches in the US and looks at social likes and shares as a direct ranking factor. Additionally, social links can be considered quality backlinks and affect the page rank.
9. Attracting search engine crawlers with links in new posts
Search bots don't come to social networks alone. Once Google spots a new social post, bots from Yahoo, Bing and a pack of social bots will join the crawling efforts. On top of that, not only will they crawl the post itself, but they'll dig deep, indexing related posts and links.
10. Getting more visibility by ranking social media profiles in SERPs
Social profiles, which are more personal than corporate websites, are among the first search results people see when they browse the web for information about a company.
Short Notes which may or may not be important
AMP
AMP – Accelerated Mobile Pages – is an Open Source framework designed to speed up load times for mobile internet users. This article explains what AMP is, looks at why and how it developed, explores its benefits for different stakeholder groups and runs you through how to bring your website up to speed for AMP.
What are backlinks?
Backlinks are links from outside domains that point to pages on your domain; essentially linking back from their domain to yours. To a larger degree, your backlink profile is made up of backlinks from external sites (also known as referring domains) that contribute to the overall strength, relevance and diversity of your domain's backlink profile.
The total number of backlinks can often include many links from the same referring domain or multiple referring domains. It's common for referring domains to link back to your content if it is relevant, authoritative or useful in some way to their own domain. In an ideal world, that's how backlinks are accumulated; unique content that other websites want to be associated with.
Blockers
A so-called website blocker is something that prevents search engines from accessing the site. As a result the website cannot be included in the search engine index and will not appear in the search results. For example, if an entire website is password protected, search engines will be denied access.
Content Marketing
Content marketing is a marketing discipline with the goal of increasing awareness and scope for products and brands in the desired target group with content published on the web and offline. The content can be made up of text, images and videos, which are disseminated on your own or third-party websites, blogs or via social media. The goals of content marketing are an increase of website traffic and therefore conversion as well as – for SEO – better rankings in search engines such as Google.
Crawlers
A crawler is a program used by search engines to collect data from the internet. When a crawler visits a website, it picks over the entire website's content (i.e. the text) and stores it in a databank. It also stores all the external and internal links to the website. The crawler will visit the stored links at a later point in time, which is how it moves from one website to the next. By this process the crawler captures and indexes every website that has links to at least one other website.
Defective Links
A defective link is a link that has no object or does not lead to anything. Causes for defective links include programming errors, temporarily unavailable websites or if the address of the site connected to by a link has changed. Defective links diminish the quality of a website and make the job of the crawler more difficult. For these reasons a website with defective links will appear lower down in search results.
Duplicate Content
Duplicate content refers to several websites with the same or very similar content. Search engines aim to give the user the best search results for a particular search term and consider it to be unhelpful when exactly the same content appears in several places. For this reason search engines check for duplicate content and give less consideration to websites that have duplicate information.
Domain Popularity
Domain Popularity refers to the number of backlinks (incoming links) from other domains that refer back to a website. No more than one backlink will be counted per domain (e.g. 1and1.de ). For example, in a blog about cars there are 10 different entries that have links to the website of a car dealer. In this case only one backlink would be counted for the blog.
Blog?
A blog is a type of website where the content is presented in reverse chronological order (newer content appear first). Blog content is often referred to as entries or "blog posts".
Blogs are typically run by an individual or a small group of people to present information in a conversational style. However, now there are tons of corporate blogs that produce a lot of informational and thought-leadership style content.
What is The Difference Between Blog and Website?
Blogs are a type of website. The only real difference between a blog and other types of website is that blogs are regularly updated with new content, which is displayed in reverse chronological order (newer posts first).
Typical websites are static in nature where content is organized in pages, and they are not updated frequently. Whereas a blog is dynamic, and it is usually updated more frequently. Some bloggers publish multiple new articles a day.
Blogs can be part of a larger website. Often businesses have a blog section where they regularly create content to inform and educate their customers.
You can use WordPress to create both, a website and blog, that's why a lot of business owners use WordPress to build their small business website.
In simple terms, all blogs can be a website or part of a website. However, not all websites can be called blogs.
Micro Blogging
Microblogging is an online broadcast medium that exists as a specific form of blogging. A microblog differs from a traditional blog in that its content is typically smaller in both actual and aggregated file size. Microblogs "allow users to exchange small elements of content such as short sentences, individual images, or video links", which may be the major reason for their popularity. These small messages are sometimes called microposts.
Website Structure
A website's structure refers to how the website is set up, i.e. how the individual subpages are linked to one another. It is particularly important that crawlers can find all subpages quickly and easily when websites have a large number of subpages. For this reason, a website's homepage needs to have links to the most important subpages. Files such as sitemap.xml and robots.txt also help the crawler do its job in this regard..
Web Pages
When you enter an internet address (a URL, e.g. https://login.1und1.de/) into a web browser, a webpage will appear. A webpage is an individual page on the internet. The webpage that first appears when you go to a website is the startpage (frequently a homepage). The website's other pages are referred to as subpages.
URL
The term URL is an acronym for the designation "Uniform Resource Locator". This describes an address that provides a path to a certain file on a server. This source can be accessed via a network protocol such as http, https or ftp. Per the definition, the purpose of a URL is to allow a resource to be precisely identified and called up with the help of a special network protocol. Nowadays, in everyday use, it is mostly the internet address or web address that is spoken of when what is meant is the URL. Generally, URLs are related to websites. URLs are called up with the help of web browsers.
Sitemap.xml
The sitemap.xml file in an XML file that is saved to a website's server. It contains a list of all the subpages belonging to the website. These files help search engines to learn more about the structure of a website. This speeds up the crawl process and reduces the likelihood that the crawler will overlook subpages. In addition, the file can provide additional information about certain content, e.g.:
Search Engine
A search engine is a website through which users can search internet content. To do this, users enter the desired search term into the search field. The search engine then looks through its index for relevant websites and displays them in the form of a list. The search engine's internal evaluation algorithm determines which position a website will get in the search results. Google, Bing and Yahoo are examples of popular search engines.
Search Engine Optimization
Search engine optimization refers to measures that aim to improve a website's position in a search engine's natural search results. This requires experience and ongoing work. Even if you manage to get your website to appear at the top of search results you will likely need to continue monitoring of results and measures, especially if your competition is also making use of search engine optimization. If your competition improves its position in the search results, it could be at your expense.
Search Engine Marketing
Search engine marketing refers to measures that are designed to better position a website in the search results and in doing so to direct visitors to the website. These include search engine optimization and search engine advertising.
SSL Encryption
In a so-called "SSL encryption" (Secure Sockets Layer) a connection between a server and a client is encrypted. This means it cannot be viewed by third parties. The encryption generally takes place via the https protocol. Nowadays SSL encryption of websites is considered as Google ranking factor. An even more secure encryption is now possible by TLS (Transport Layer Security).
Search Engine Advertising
It is possible to pay a search engine for a placement in certain search results. These advertisements do not appear in natural search results. Instead, they appear in the sponsored results (usually on the right-hand side of search engine's results page) in response to a corresponding search term. The amount spent on advertising can be adjusted for a variety of factors. In addition, you can determine whether the advertisement appears regionally or nationwide. The fee for these ads is calculated using the number of clicks the advertisement attracts. The higher the advertising budget the better the position the website will get in a given search result. Search engine advertising can be particularly useful if a website is not appearing at the top of the search results because it is not yet well known or if there is a lot of competition for the search term being used.
Robots.txt
Robots.txt file is a text file that can be saved to a website's server. It determines if and when the search engine crawlers can visit a website's subpages and include them in their index. In doing this, certain subpages can be excluded from the search results.
Meta Description
The meta description is one of a web page's meta tags. With this meta information, webmasters can briefly sketch out the content and quality of a web page. The page description for a web page is usually displayed when the page for a specific query is listed as a snippet in the SERPs.
Progressive Web Apps
Progressive Web Apps, or PWAs, are hybrid websites that bear many characteristics of classic smartphone apps, but that are loaded via a browser. These cross-breeds of traditional websites and mobile apps can be indexed by Google just like any regular website. At the same time, content can be used in the same way as with a native app, and be made available across platforms. In the future, PWAs are likely to play an important role in mobile optimization. PWAs can be traced back to an initiative supported by Google.
Plagiarism Finder
The Plagiarism Finder is an instrument for quality checking in the Searchmetrics Content Experience (SCE). The Plagiarism Finder checks how unique the text created in the Content Editor is. It shows to what extent the content includes text that can also be found on other websites. To this end, the Plagiarism Finder analyzes the text and compares it with the websites that rank for the same topics on Google. It then lists the similarities to the analyzed websites in three categories.
Onpage Optimization
Onpage optimization (AKA on-page SEO) refers to all measures that can be taken directly within the website in order to improve its position in the search rankings. Examples of this include measures to optimize the content or improve the meta description and title tags. Conversely, off-page SEO refers to links and other signals.
Offpage Optimization
Offpage optimization refers to all the measures that can be taken outside of the actual website in order to improve its position in search rankings. These are measures that help create as many high-quality backlinks (incoming links) as possible.
Internal links
Hyperlinks that link to subpages within a domain are described as "internal links". With internal links the linking power of the homepage can be better distributed across directories. Also, search engines and users can find content more easily. Unlike backlinks, internal links can use single keywords as an anchor text. The analysis and improvement of the internal link structure is a part of onpage optimization within search engine optimization.
Index
An index is another name for the database used by a search engine. Indexes contain the information on all the websites that Google (or any other search engine) was able to find. If a website is not in a search engine's index, users will not be able to find it.
Google Search Console
The Google Search Console is a free web analysis tool offered by Google. With the tool both websites and apps can be analyzed and monitored. Alongside central information on on page and off page factors, users can also receive notifications about unnatural links, if their website has been hacked or the condition of the registered website or app via the Search Console.
Google Keyword Planner
The Google Keyword Planner is a tool that Alphabet Inc. makes available to advertisers as part of its Google AdWords program. With the help of the Keyword Planner advertisers can determine what level of traffic can potentially be obtained with a certain budget and a certain campaign. The tool also offers the opportunity to estimate the possible costs of an advertising group. The Keyword Planner can only be used with a valid AdWords account. Alongside use for Search Engine Advertising (or SEA) the tool also helps copywriters and SEOs with keyword research.
Google Pagerank
PageRank (PR) is an algorithm used by Google Search to rank web pages in their search engine results. PageRank was named after Larry Page, one of the founders of Google. PageRank is a way of measuring the importance of website pages.
According to Google:
PageRank works by counting the number and quality of links to a page to determine a rough estimate of how important the website is. The underlying assumption is that more important websites are likely to receive more links from other websites.
Currently, PageRank is not the only algorithm used by Google to order search results, but it is the first algorithm that was used by the company, and it is the best known.
Tools used to analyse tweets
Some may wish to track the tweets about their brand or competition, some will want to engage with leads or clients, and others may wish to track the success of their campaigns, among tons of other options. You can do plenty of this with Twitter search.
But if you're looking for a free Twitter analytics tool that can do more, this list will come in handy.
However, bear in mind that these free tools are not an alternative to enterprise tools, such as Brandwatch Analytics, aimed at helping advanced businesses discover, analyze and make sophisticated use of all their social data (not just Twitter).
They also lack the audience analysis functionality of Brandwatch Audiences, which enables you to rank followers by influence, see who their influencers are, and look at the content they share.
That being said, let's take a look at some of the best free Twitter analytics tools currently available.
Each of the free tools above provide a great start point for conducting basic Twitter analysis.
This is Twitter's very own analytics tool. It's available to all users and can be a great first step to understanding how your tweets perform.
At first you're greeted with a 28 day summary including data on your tweet count, impressions, profile visits, mentions, and followers. You can then scroll down and get a month-by-month summary.
There are other sections too. One is all about your tweets specifically so you can see the best performing ones. There are options here to set a date range and export your data.
There's also an audiences tab that, unsurprisingly, gives you data on who follows you. This includes demographics, consumer behaviour and lifestyle information. You can then compare this to some pre-built audiences such as millennials or small businesses.
If you post videos, there's also a section for that offering metrics on viewing figures, completion rate, and engagement.
Hootsuite is one of our personal favorites as far as Twitter management and reporting is concerned.
It's a freemium tool, meaning that you can use the free plan if you have fewer than five social profiles to manage. It enables teams to collaboratively execute campaigns across multiple social channels from one secure, web-based dashboard.
With a Hootsuite account, you can launch marketing campaigns, schedule posts in advance, identify and grow audiences on Twitter, create custom Twitter reports, track hashtags, mentions, Twitter lists and much more.
It also has its own analytics section where you can the performance of your Twitter posts (among content on other platforms). You can get an overview with data on things like engagement and followers, but you can also create custom reports to look at exactly what's important to you.
Brandwatch Analytics is a very powerful and versatile tool, especially when it comes to Twitter and your owned channels.
You can plug your accounts in to get metrics on followers, impressions, audience, and engagement, while also getting a navigable mentions list where you can tag and categories content.
Then there's the further analysis you can do with the platform, such as topic analysis, demographics, emoji analysis, plus sentiment and emotional data. You can even set up queries to track your competitor's accounts too so you can get the whole picture.
Buffer is mostly known as a tweet and social post scheduler. It's great for that, but you can also use it to analyse your Twitter performance too. It can be particularly useful for working out the times to tweet to get the best engagement.
There's a couple of areas to look at in Buffer. The first is just at your posts where you can list them by the most clicks or the highest levels of engagement. This an excellent way to quickly see what kind of Twitter posts work best for you.
There's also an analytics area where you can see data on clicks, followers, impressions, and similar metrics. It's not the most in-depth, but it's still incredibly handy. You can export data too.
Buffer has a more filled out option called Analyze, but this is a paid product.
Get insight no other tool can offer with Audiences.
Klear doesn't offer much in terms of data, with the free version really trying to push you to signing up for a paid plan.
Entering your Twitter handle will give you some analytics though. For example you get an influence score, info on top performing posts, and some data on your followers.
Ultimately, most of the data is hidden though, so you'll have to get your wallet out if you want more.
Twitonomy is a very robust tool that offers different methods of Twitter analysis for your account and those of your competitors.
All you have to do is sign in with your Twitter account and provide your competitors' Twitter handles.
Twitony will then show you details on Twitter lists you're both part of, your most popular Tweets, engagement statistics and much more.
Tracking conversations on Twitter based on keywords, users, or lists is a breeze with Twitonomy. It will break down any Twitter account into graphs and digestible stats.
As a bonus, you can visualize where in the world people have mentioned your Tweets, allowing you to better understand the geographical impact of your Twitter activity.
Then there's Mentionmapp. With this web service, you can map your network and the network of others.
Mentionmapp builds a visual map of hashtags and username mentions based on the people you've been engaging with in your most recent Tweets.
It will also show you with whom those people have been having conversations on Twitter, meaning you can quickly discover new relevant people in your niche.
Curious to know how far your tweets have traveled? If so, TweetReach is the tool for you. All you have to do is insert the URL of the page or article you'd like to analyze and you'll find a detailed breakdown of the last 50 Tweets you've sent.
You can also enter a topic, phrase, or Twitter account name and get the same info.
Another great use of their free version is to run Twitter reports of how far your Twitter handle, keyword or hashtag has reached. It will show you the number of accounts reached, number of impressions, number of retweets, top contributors, most retweeted Tweets, list of contributors and a timeline of your Tweets.
This tool is excellent for getting an understanding of someone's Twitter account. Completely free, you just plug in their username and you get a bunch of data.
There's quite a range. Some is really basic, such as follower counts and the date the account was created. Other information is more in-depth, with top topics, hashtags, and accounts @ mentioned.
There's also some tweet analysis too. It gives you some insight into how they use their account, such as how much they reply to people or retweet things. You can also see when the account is most active.
This can be a great tool for some basic research on influencers, or if you want to see the best way to interact with someone else on Twitter.
Followerwonk is a freemium tool. There's lots of free functionality, but if you want extra features and larger reports you'll need to pay. It's still a great tool without paying though.
Handily, you can search bios for certain words. This can be a good way to find people for influencer marketing or people to target yourself. You can then sort the list by followers, social authority, and other metrics.
You can also compare users to see how has the most followers, highest engagement rate, or average number of tweets. On top of that, there's the ability to see when your, or another account's, followers are most active (although if you have more than 25k followers this functionality won't work).
Hacking
Hacking generally refers to unauthorized intrusion into a computer or a network. The person engaged in hacking activities is known as a hacker. This hacker may alter system or security features to accomplish a goal that differs from the original purpose of the system.
Hacking can also refer to non-malicious activities, usually involving unusual or improvised alterations to equipment or processes.
Hackers employ a variety of techniques for hacking, including:
Vulnerability scanner: checks computers on networks for known weaknesses

Password cracking: the process of recovering passwords from data stored or transmitted by computer systems

Packet sniffer: applications that capture data packets in order to view data and passwords in transit over networks

Spoofing attack: involves websites which falsify data by mimicking legitimate sites, and they are therefore treated as trusted sites by users or other programs

Root kit: represents a set of programs which work to subvert control of an operating system from legitimate operators

Trojan horse: serves as a back door in a computer system to allow an intruder to gain access to the system later

Viruses: self-replicating programs that spread by inserting copies of themselves into other executable code files or documents

Keyloggers: tools designed to record every keystroke on the affected machine for later retrieval
Certain corporations employ hackers as part of their support staff. These legitimate hackers use their skills to find flaws in the company security system, thus preventing identity theft and other computer-related crimes.
Web Hijacking
Browser hijacking is a form of unwanted software that modifies a web browser's settings without a user's permission, to inject unwanted advertising into the user's browser. A browser hijacker may replace the existing home page, error page, or search engine with its own. These are generally used to force hits to a particular website, increasing its advertising revenue.
Some browser hijackers also contain spyware, for example, some install a software keylogger to gather information such as banking and e-mail authentication details. Some browser hijackers can also damage the registry on Windows systems, often permanently.
Some browser hijacking can be easily reversed, while other instances may be difficult to reverse. Various software packages exist to prevent such modification.
Many browser hijacking programs are included in software bundles that the user did not choose, and are included as "offers" in the installer for another program, often included with no uninstall instructions, or documentation on what they do, and are presented in a way that is designed to be confusing for the average user, in order to trick them into installing unwanted extra software.
There are several methods that browser hijackers use to gain entry to an operating system. Email attachments and files downloaded through suspicious websites and torrents are common tactics that browser hijackers use.
DDoS
DDoS is short for Distributed Denial of Service. DDoS is a type of DOS attack where multiple compromised systems, which are often infected with a Trojan, are used to target a single system causing aDenial of Service (DoS) attack. Victims of a DDoS attack consist of both the end targeted system and all systems maliciously used and controlled by the hacker in the distributed attack.
How DDoS Attacks Work
In a DDoS attack, the incoming traffic flooding the victim originates from many different sources – potentially hundreds of thousands or more. This effectively makes it impossible to stop the attack simply by blocking a single IP address; plus, it is very difficult to distinguish legitimate user traffic from attack traffic when spread across so many points of origin.
The Difference Between DoS and DDos Attacks
A Denial of Service (DoS) attack is different from a DDoS attack. The DoS attack typically uses one computer and one Internet connection to flood a targeted system or resource. The DDoS attack uses multiple computers and Internet connections to flood the targeted resource. DDoS attacks are often global attacks, distributed via botnets.
Types of DDoS Attacks
There are many types of DDoS attacks. Common attacks include the following:
Traffic attacks: Traffic flooding attacks send a huge volume of TCP, UDP and ICPM packets to the target. Legitimate requests get lost and these attacks may be accompanied by malware exploitation.

Bandwidth attacks: This DDos attack overloads the target with massive amounts of junk data. This results in a loss of network bandwidth and equipment resources and can lead to a complete denial of service.

Application attacks: Application-layer data messages can deplete resources in the application layer, leaving the target's system services unavailable.
Example
Cloudfare
In 2014, security provider and content delivery network CloudFlare was slammed by approximately 400 gigabits per second of traffic. The attack was directed at a single CloudFlare customer and targeted servers in Europe and was launched with the help of a vulnerability in the Network Time Protocol (NTP), a networking protocol for computer clock synchronization.
Even though the attack was directed at just one of CloudFlare customers, it was so powerful that it affected CloudFlare's own network.
This attack illustrated a technique in which attackers use spoofed source addresses to send mass amounts of NTP servers' responses to the victim. This is known as "reflection," since the attacker is able to mirror and amplify traffic.
Shortly after the attack, the U.S. Computer Emergency Readiness Team explained NTP Amplification Attacks are, "especially difficult to block" because "responses are legitimate data coming from valid servers."
WordPress
Many sites are built using WordPress. Many Popular sites like Microsoft Site, *cough* siped.org *cough cough*, probably even Mumbai University Website.
WordPress is the simplest, most popular way to create your own website or blog. In fact, WordPress powers over 33% of all the websites on the Internet. Yes – more than one in four websites that you visit are likely powered by WordPress.
On a slightly more technical level, WordPress is an open-source content management system licensed under GPLv2, which means that anyone can use or modify the WordPress software for free. A content management system is basically a tool that makes it easy to manage important aspects of your website – like content – without needing to know anything about programming.
The end result is that WordPress makes building a website accessible to anyone – even people who aren't developers.
What Kinds Of Websites Can WordPress Make?
Many years ago, WordPress was primarily a tool to create a blog, rather than more traditional websites. That hasn't been true for a long time, though. Nowadays, thanks to changes to the core code, as well as WordPress' massive ecosystem of plugins and themes, you can create any type of website with WordPress.
For example, not only does WordPress power a huge number of business sites and blogs, it's also the most popular way to create an eCommerce store as well! With WordPress, you can create:
Business websites

eCommerce stores

Blogs

Resumes

Social networks

…pretty much anything else you can dream up.
What's The Difference Between WordPress.org and WordPress.com?
The self-hosted WordPress.org homepage
We've covered the difference between WordPress.org and WordPress.com in a lot more detail, but here's the short version:
WordPress.org, often called self-hosted WordPress, is the free, open-source WordPress software that you can install on your own web host to create a website that's 100% your own.

WordPress.com is a for-profit, paid service that is powered by the WordPress.org software. It's simple to use, but you lose much of the flexibility of the self-hosted WordPress.
Most of the time, when people say "WordPress", they mean the self-hosted WordPress available at WordPress.org. If you want to truly own your website, self-hosted WordPress.org is almost always the best option.
All you need to do to get started with self-hosted WordPress is purchase web hosting and a domain name.
Who Made WordPress And How Long Has It Been Around?
WordPress was created as a standalone project all the way back in 2003, originating as an offshoot of a previous project called b2/cafelog.
WordPress is open-source software, so nowadays it's made by a huge community of contributors. But if we were to trace WordPress' origins back to its roots, its original creation was a collaboration between Matt Mullenweg and Mike Little.
Since then, Matt Mullenweg has largely become the face of WordPress. And he's also the founder of Automattic, which is the company behind the for-profit WordPress.com service.
The history of WordPress between its founding as a blog platform back in 2003 and today is a long one…
But suffice it to say, WordPress has pushed forward and, thanks to its contributors and huge community, developed into the most popular solution to create any type of website.
Who Uses WordPress?
WordPress is used by individuals, big businesses, and everyone in between! On an immediate note, we use WordPress! So the very site that you're looking at right now is powered by WordPress. Lots of other well-known entities use WordPress as well. Here are some of our favorite examples:
WYSIWYG [What you see is what you get]
WYSIWYG is an acronym for "what you see is what you get". In computing, a WYSIWYG editor is a system in which content (text and graphics) can be edited in a form closely resembling its appearance when printed or displayed as a finished product, such as a printed document, web page, or slide presentation.
WYSIWYG implies a user interface that allows the user to view something very similar to the end result while the document is being created.  In general, WYSIWYG implies the ability to directly manipulate the layout of a document without having to type or remember names of layout commands.  The actual meaning depends on the user's perspective, e.g.
In presentation programs, compound documents, and web pages, WYSIWYG means the display precisely represents the appearance of the page displayed to the end-user, but does not necessarily reflect how the page will be printed unless the printer is specifically matched to the editing program, as it was with the Xerox Starand early versions of the Apple Macintosh

.

In word processing and desktop publishing applications, WYSIWYG means that the display simulates the appearance and represents the effect of fonts and line breaks on the final pagination using a specific printer configuration, so that, for example, a citation on page 1 of a 500-page document can accurately refer to a reference three hundred pages later.

 

WYSIWYG also describes ways to manipulate 3D models in stereo-chemistry, computer-aided design, and 3D computer graphics

.
Modern software does a good job of optimizing the screen display for a particular type of output. For example, a word processor is optimized for output to a typical printer. The software often emulates the resolution of the printer in order to get as close as possible to WYSIWYG. However, that is not the main attraction of WYSIWYG, which is the ability of the user to be able to visualize what they are producing.
Websites
It a revolutionary idea that encapsulates technologies that promise to deliver web designs precisely how you see them in the intuitive design editors. You can create a website just like you'd create a content-loaded Powerpoint slide; that's the power of a WYSIWYG editor. Of course, you get to see your website preview the way it would appear to the final customer.
Here are some the best WYSIWYG website builders. If you want to choose best builder check this article.
WIX
It is a blank canvas editor that uses Artificial Design Intelligence (or ADI) to create websites. It supports more than 16 languages and can be accessed by users worldwide. The five premium plans ranging from "Connect Domain" to "VIP" combine attractive features to optimise large and small-scale businesses.
Pros
This cloud-based online editor and site builder offers users the advantage of unlimited storage and flexible connectivity.

The platform can be accessed on almost every platform and device, making it a popular choice among users worldwide.

With Wix, you can create SEO friendly, attractive webs stores that have embedded contact forms, social media extensions, and Google tools.

The built-in image editor, extensive archives of graphics and CRM solutions further boost the visibility of your content.
Cons
Steep learning curve, and expensive

It is difficult to find reliable apps in the Store
Squarespace
Squarespace is an open source, SaaS-based site builder that assists users in creating top notch blogging and e-commerce websites that appeal to customers all over the world. Users get free hosting and domain services along with seamless CMS integration, increasing the credibility of your content considerably. The services offered in Squarespace can be accessed not individually but in bundles. Some of its latest features include Cover Page Builder, Google Apps, and Getty Images. You even get the freedom to edit content as and when you are uploading it live.
Pros
Squarespace is perhaps the sleekest, swankiest site builder available in the market today.

The latest integrations include Apple Pay and free SSL support for creating user-friendly and intuitive websites.

There are over 50 free templates that users can browse through as per their requirement.

Also, you can divide the content into separate categories, giving a clean outlook to the content.
Cons
There is no phone support

Lacks advanced marketing tools

No provision for additional extensions and plug-ins
Virus Attack / Salami Attack
A salami attack is when small attacks add up to one major attack that can go undetected due to the nature of this type of cyber crime. It also known as salami slicing. Although salami slicing is often used to carry out illegal activities, it is only a strategy for gaining an advantage over time by accumulating it in small increments, so it can be used in perfectly legal ways as well .The attacker uses an online database to seize the information of customers that is bank/credit card details deducting very little amounts from every account over a period of time. The customers remain unaware of the slicing and hence no complaint is launched thus keeping the hacker away from detection.
Salami Attack Incidents
In January 1993, four executives of a rental-car franchise in Florida were charged with defrauding at least 47,000 customers using a salami technique.
In Los Angeles, in October 1998, district attorneys charged four men with fraud for allegedly installing computer chips in gasoline pumps that cheated consumers by overstating the amounts pumped.
In 2008, a man was arrested for fraudulently creating 58,000 accounts which he used to collect money through verification deposits from online brokerage firms a few cents at a time. While opening the accounts and retaining the funds may not have been illegal by themselves, the authorities charged that the individual opened the accounts using false names (including those of cartoon characters), addresses, and social security numbers, thus violating the laws against mail fraud, wire fraud, and bank fraud.
How to identify the salami attack
The only way to detect salami attack according to me is to perform rigorous white box testing by checking each and every line of code which is exhaustive but that's the only way.
a) The corporate has to update the security of the system as high as possible so that if the attacker is taking advantage of any loophole than that bug is patched and attack is avoided.
b) Also those banks should advise customers on reporting any kind of money deduction that they aren't aware that they were a part of. Whether a small or big amount, banks should encourage customers to come forward and openly tell them that this could mean that an act of fraud could very well be the scenario.
c) Most Important according to me is that Customers should ideally not store information online when it comes to bank details, but of course they can't help the fact that banks rely on a network that has all customers hooked onto a common platform of transactions that require a database. The safe thing to do is to make sure the bank/website is highly trusted and hasn't been a part of a slanderous past that involved fraud in any way.
This attack is not only on the banks but also on any entity where slicing can be performed and people are made unaware of the crime.
Software Piracy
Buying a CD of pirated software or getting it downloaded in a pen drive from a roadside vendor is a common feature among people using computer in India. An online survey revealed the extent to which pirated software is used in the country. It says that about 49 % of population using computer are using pirated software in some or other form.
Software piracy is the illegal copying, distribution, or use of software. It is such a profitable "business" that it has caught the attention of organized crime groups in a number of countries. According to the Business Software Alliance (BSA), about 36% of all software in current use is stolen. Software piracy causes significant lost revenue for publishers, which in turn results in higher prices for the consumer.
When you purchase a commercial software package, an end user license agreement ( EULA ) is included to protect that software program from copyright infringement. Typically, the license states that you can install the original copy of software you bought on one computer and that you can make a backup copy in case the original is lost or damaged. You agree to the licensing agreement when you open the software package (this is called a shrink wrap license), when you open the envelope that contains the software disks, or when you install the software.
People have also complained that high price of the original software is main reason behind this as they said that they can use the original version if prices are slashed.
According to an estimate, the unauthorized copying, distribution or the use of software without obtaining a proper licence from the software company, also termed as software piracy, costs the industry almost $3 billion every year in India, second to only China.
Many consumers on the online community platform Local Circles mentioned the use of pirated software in offices and homes and cited easy availability and cheap prices as the main catalyst which prompts their use.
Phishing
Phishing is the fraudulent attempt to obtain sensitive information such as usernames, passwords and credit card details by disguising as a trustworthy entity in an electronic communication. Typically carried out by email spoofing or instant messaging, it often directs users to enter personal information at a fake website, the look and feel of which are identical to the legitimate site.
Phishing is an example of social engineering techniques being used to deceive users. Users are often lured by communications purporting to be from trusted parties such as social web sites, auction sites, banks, online payment processors or IT administrators.
Attempts to deal with phishing incidents include legislation, user training, public awareness, and technical security measures — because phishing attacks also often exploit weaknesses in current web security.
The word itself is a neologism created as a homophone of fishing, due to the similarity of using a bait in an attempt to catch a victim.
An attack can have devastating results. For individuals, this includes unauthorized purchases, the stealing of funds, or identify theft.
Moreover, phishing is often used to gain a foothold in corporate or governmental networks as a part of a larger attack, such as an advanced persistent threat (APT) event. In this latter scenario, employees are compromised in order to bypass security perimeters, distribute malware inside a closed environment, or gain privileged access to secured data.
Phishing attack examples
The following illustrates a common phishing scam attempt:
A spoofed email ostensibly from myuniversity.edu is mass-distributed to as many faculty members as possible.

The email claims that the user's password is about to expire. Instructions are given to go to myuniversity.edu/renewal to renew their password within 24 hours.
Several things can occur by clicking the link. For example:
The user is redirected to myuniversity.edurenewal.com, a bogus page appearing exactly like the real renewal page, where both new and existing passwords are requested. The attacker, monitoring the page, hijacks the original password to gain access to secured areas on the university network.

The user is sent to the actual password renewal page. However, while being redirected, a malicious script activates in the background to hijack the user's session cookie. This results in a reflected XSS

 attack, giving the perpetrator privileged access to the university network.
Cyber Terrorism
Cyberterrorism is the use of the Internet to conduct violent acts that result in, or threaten, loss of life or significant bodily harm, in order to achieve political or ideological gains through threat or intimidation. It is also sometimes considered an act of Internet terrorism where terrorist activities, including acts of deliberate, large-scale disruption of computer networks, especially of personal computers attached to the Internet by means of tools such as computer viruses, computer worms, phishing, and other malicious software and hardware methods and programming scripts.
Cyberterrorism is a controversial term. Some authors opt for a very narrow definition, relating to deployment by known terrorist organizations of disruption attacks against information systems for the primary purpose of creating alarm, panic, or physical disruption. Other authors prefer a broader definition, which includes cybercrime. Participating in a cyberattack affects the terror threat perception, even if it isn't done with a violent approach.
By some definitions, it might be difficult to distinguish which instances of online activities are cyberterrorism or cybercrime.
Cyberterrorism can be also defined as the intentional use of computers, networks, and public internet to cause destruction and harm for personal objectives. Experienced cyberterrorists, who are very skilled in terms of hacking can cause massive damage to government systems, hospital records, and national security programs, which might leave a country, community or organization in turmoil and in fear of further attacks.
The objectives of such terrorists may be political or ideological since this can be considered a form of terror
Cyber Laws
Cyber Laws of India
In Simple way we can say that cyber crime is unlawful acts wherein the computer is either a tool or a target or both. Cyber crimes can involve criminal activities that are traditional in nature, such as theft, fraud, forgery, defamation and mischief, all of which are subject to the Indian Penal Code. The abuse of computers has also given birth to a gamut of new age crimes that are addressed by the Information Technology Act, 2000.
We can categorize Cyber crimes in two ways
The Computer as a Target :-using a computer to attack other computers.
e.g. Hacking,Virus/Worm attacks,DOS attack etc.
The computer as a weapon :-using a computer to commit real world crimes.
e.g. Cyber Terrorism, IPR violations,Credit card frauds,EFT frauds, Pornography etc.
Cyber law (also referred to as cyberlaw) is a term used to describe the legal issues related to use of communications technology, particularly "cyberspace", i.e. the Internet. It is less a distinct field of law in the way that property or contract are as it is an intersection of many legal fields, including intellectual property, privacy, freedom of expression, and jurisdiction. In essence, cyber law is an attempt to integrate the challenges presented by human activity on the Internet with legacy system of laws applicable to the physical world.
Why Cyberlaw in India ?
When Internet was developed, the founding fathers of Internet hardly had any inclination that Internet could transform itself into an all pervading revolution which could be misused for criminal activities and which required regulation. Today, there are many disturbing things happening in cyberspace. Due to the anonymous nature of the Internet, it is possible to engage into a variety of criminal activities with impunity and people with intelligence, have been grossly misusing this aspect of the Internet to perpetuate criminal activities in cyberspace. Hence the need for Cyberlaws in India.
What is the importance of Cyberlaw ?
Cyberlaw is important because it touches almost all aspects of transactions and activities on and concerning the Internet, the World Wide Web and Cyberspace. Initially it may seem that Cyberlaws is a very technical field and that it does not have any bearing to most activities in Cyberspace. But the actual truth is that nothing could be further than the truth. Whether we realize it or not, every action and every reaction in Cyberspace has some legal and Cyber legal perspectives.
Does Cyberlaw concern me ?
Yes, Cyberlaw does concern you. As the nature of Internet is changing and this new medium is being seen as the ultimate medium ever evolved in human history, every activity of yours in Cyberspace can and will have a Cyberlegal perspective. From the time you register your Domain Name, to the time you set up your web site, to the time you promote your website, to the time when you send and receive emails , to the time you conduct electronic commerce transactions on the said site, at every point of time, there are various Cyberlaw issues involved. You may not be bothered about these issues today because you may feel that they are very distant from you and that they do not have an impact on your Cyber activities. But sooner or later, you will have to tighten your belts and take note of Cyberlaw for your own benefit.
Advantages of Cyber Laws
The IT Act 2000 attempts to change outdated laws and provides ways to deal with cyber crimes. We need such laws so that people can perform purchase transactions over the Net through credit cards without fear of misuse.
The Act offers the much-needed legal framework so that information is not denied legal effect, validity or enforceability, solely on the ground that it is in the form of electronic records.
In view of the growth in transactions and communications carried out through electronic records, the Act seeks to empower government departments to accept filing, creating and retention of official documents in the digital format. The Act has also proposed a legal framework for the authentication and origin of electronic records / communications through digital signature.
From the perspective of e-commerce in India, the IT Act 2000 and its provisions contain many positive aspects. Firstly, the implications of these provisions for the e-businesses would be that email would now be a valid and legal form of communication in our country that can be duly produced and approved in a court of law.

Companies shall now be able to carry out electronic commerce using the legal infrastructure provided by the Act.

Digital signatures have been given legal validity and sanction in the Act.

The Act throws open the doors for the entry of corporate companies in the business of being Certifying Authorities for issuing Digital Signatures Certificates.

The Act now allows Government to issue notification on the web thus heralding e-governance.

The Act enables the companies to file any form, application or any other document with any office, authority, body or agency owned or controlled by the appropriate Government in electronic form by means of such electronic form as may be prescribed by the appropriate Government.

The IT Act also addresses the important issues of security, which are so critical to the success of electronic transactions. The Act has given a legal definition to the concept of secure digital signatures that would be required to have been passed through a system of a security procedure, as stipulated by the Government at a later date.

Under the IT Act, 2000, it shall now be possible for corporates to have a statutory remedy in case if anyone breaks into their computer systems or network and causes damages or copies data. The remedy provided by the Act is in the form of monetary damages, not exceeding Rs. 1 crore.
Human Directory
A human-edited directory is created and maintained by editors who add links based on the policies particular to that directory. Human-edited directories are often targeted by SEOs on the basis that links from reputable sources will improve rankings in the major search engines. Some directories may prevent search engines from rating a displayed link by using redirects, nofollow attributes, or other techniques. Many human-edited directories, including DMOZ, World Wide Web Virtual Library, Business.com and Jasmine Directory, are edited by volunteers, who are often experts in particular categories. These directories are sometimes criticized due to long delays in approving submissions, or for rigid organizational structures and disputes among volunteer editors.
Human-powered directories, such as the Yahoo directory, Open Directory and Look Smart, depend on human editors to create their listings. Typically, webmasters submit a short description to the directory for their websites, or editors write one for the sites they review, and these manually edited descriptions will form the search base. Therefore, changes made to individual web pages will have no effect on how these pages get listed in the search results.
Human-powered directories are good when you are interested in a general topic of search. In this situation, a directory can guide and help you narrow your search and get refined results. Therefore, search results found in a human-powered directory are usually more relevant to the search topic and more accurate. However, this is not an efficient way to find information when a specific search topic is in mind.
CPA
Cost per action (CPA) is an online advertising marketing strategy that allows an advertiser to pay for a specified action from a prospective customer. Doing a CPA campaign is relatively low risk for the advertiser, as payment only has to be made when a specific action takes place.
Cost per acquisition (CPA), also known as cost per action, pay per acquisition (PPA) and cost per conversion (CPC), is an online advertising pricing model where the advertiser pays for a specified acquisition – for example a sale, click, or form submit (e.g., contact request, newsletter sign up, registration etc.)
Direct response advertisers often consider CPA the optimal way to buy online advertising, as an advertiser only pays for the ad when the desired acquisition has occurred.
The desired acquisition to be performed is determined by the advertiser. In affiliate marketing, this means that advertisers only pay the affiliates for leads that result in a desired action such as a sale.
This removes the risk for the advertiser because they know in advance that they will not have to pay for bad referrals, and it encourages the affiliate to send good referrals.
Radio and TV stations also sometimes offer unsold inventory on a cost per acquisition basis, but this form of advertising is most often referred to as "per inquiry". Although less common, print media will also sometimes be sold on a CPA basis.
CPC
The terms pay-per-click (PPC) and cost-per-click (CPC) are sometimes used interchangeably, sometimes as distinct terms. When used as distinct terms, PPC indicates payment based on click-throughs, while CPC indicates measurement of cost on a per-click basis for contracts not based on click-throughs.
For example, consider a campaign where payment is based on impressions, not clicks. Impressions are sold for $10 CPM with a click-through rate (CTR) of 2%.
1000 impressions x 2% CTR = 20 click-throughs
$10 CPM / 20 click-throughs = $.50 per click
Cost Per Click (CPC) refers to the actual price you pay for each click in your pay-per-click (PPC) marketing campaigns:
A "click" on one of your PPC text ads represents a visit, or an interaction with your company's product or service offering. Every click in a PPC campaign represents attention from a person who is searching for something that you offer. This attention is what you're buying, as an advertiser, so it's important to note two factors:
What type of attention you're going after, and

How much you're paying for it.
The Importance of Cost Per Click in Search Advertising
Cost-per click is important because it is the number that is going to determine the financial success of your paid search campaigns, and how much AdWords will cost for you.
Your return on investment, whether you're over- or underpaying for each action, will be determined by how much you are paying for clicks, and by what kind of quality you are getting for that investment.
Since the overall ROI of your campaigns is determined by how much you're paying for clicks and the quality of traffic they're bringing in, it is important to think about cost per click in terms of both cost and value. You want to identify and target clicks that are both inexpensive and valuable.
CRM
CRM or Customer Relationship Management is a strategy for managing an organisation's relationships and interactions with customers and potential customers. A CRM system helps companies stay connected to customers, streamline processes, and improve profitability.
When people talk about CRM, they are usually referring to a CRM system, a tool that is used for contact management, sales management, productivity, and more. The goal of a CRM system is simple: Improve business relationships.
What do people mean when they say CRM?
CRM helps users focus on their organization's relationships with individual people including customers, service users, colleagues, or suppliers.
When people talk about CRM, they might mean any of three things:
CRM as Technology: This is a technology product, often in the cloud, that teams use to record, report and analyse interactions between the company and users. This is also called a CRM system

 or solution.

CRM as a Strategy: This is a business' philosophy about how relationships with customers and potential customers should be managed  

CRM as a Process: Think of this as a system a business adopts to nurture and manage those relationships.
What does CRM software do?
CRM software records customer contact information such as email, telephone, website social media profile, and more. It can also automatically pull in other information, such as recent news about the company's activity, and it can store details such as a client's personal preferences on communications.
The CRM system organizes this information to give you a complete record of individuals and companies, so you can better understand your relationship over time.
CRM software improves customer relationship management by creating a 360° view of the customer, capturing their interactions with the business, and by surfacing the information needed to have better conversations with customers.
Why is CRM important?
CRM enables a business to deepen its relationships with customers, service users, colleagues, partners and suppliers.
Forging good relationships and keeping track of prospects and customers is crucial for customer acquisition and retention, which is at the heart of a CRM's function. You can see everything in one place — a simple, customizable dashboard that can tell you a customer's previous history with you, the status of their orders, any outstanding customer service issues, and more.
Gartner predicts that by 2021, CRM technology will be the single largest revenue area of spending in enterprise software. If your business is going to last, you know that you need a strategy for the future. For forward-thinking businesses, CRM is the framework for that strategy.
Klout
Klout was a website and mobile app that used social media analytics to rate its users according to online social influence via the "Klout Score", which was a numerical value between 1 and 100. In determining the user score, Klout measured the size of a user's social media network and correlated the content created to measure how other users interact with that content. Klout launched in 2008.
Lithium Technologies, who acquired the site in March 2014, closed the service on May 25, 2018.
Klout used Bing, Facebook, Foursquare, Google+, Instagram, LinkedIn, Twitter, YouTube, and Wikipedia data to create Klout user profiles that were assigned a unique "Klout Score". Klout scores ranged from 1 to 100, with higher scores corresponding to a higher ranking of the breadth and strength of one's online social influence. While all Twitter users were assigned a score, users who registered at Klout could link multiple social networks, of which network data was then aggregated to influence the user's Klout Score.
PeerIndex
PeerIndex is a London-based company providing social media analytics based on footprints from use of major social media services  Facebook, LinkedIn, Quora, and Twitter). Part of an emerging group of Social Media Analytics providers, PeerIndex helps social media contributors assess and score their influence and benefit from the social capital they have built up.
PeerIndex currently tracks approximately 45 million Twitter profiles, making the company one of the leaders in its sector. 
PeerIndex was founded in 2009 by Azeem Azhar, a former journalist and Reuters executive, Ditlev Schwanenflügel, a former McKinsey consultant and Bill Emmott (the former Editor-in-chief of The Economist) backed by a number of internet investors.
Banner Ad
A web banner or banner ad is a form of advertising on the World Wide Web delivered by an ad server. This form of online advertising entails embedding an advertisement into a web page. It is intended to attract traffic to a website by linking to the website of the advertiser. In many cases, banners are delivered by a central ad server. When the advertiser scans their logfiles and detects that a web user has visited the advertiser's site from the content site by clicking on the banner ad, the advertiser sends the content provider some small amount of money (usually around five to ten US cents).
This payback system is often how the content provider is able to pay for the Internet access to supply the content in the first place. Usually though, advertisers use ad networks to serve their advertisements, resulting in a revshare system and higher quality ad placement.
Interstitial Ad
On the web, interstitials are web pages displayed before or after an expected content page, often to display advertisements or confirm the user's age (prior to showing age-restricted material). Most interstitial advertisements are delivered by an ad server. They should not be confused with cookie consent pages directives set by the Data Protection Directive from the EU.
Some people take issue with the use of such pages to present online advertising before allowing users to see the content they were trying to access.
Meaning
In this context, interstitial is used in the sense of "in between". The interstitial web page sits between a referenced page and the page which references it—hence it is in between two pages. This is distinct from a page which simply links directly to another, in that the interstitial page serves only to provide extra information to a user during the act of navigating from one page to the next.
In digital marketing, the term "interstitial" is often used in the sense of "interstitial advertising", rather than "interstitial webpage". In some cases, this may lead to confusion because interstitial ads are not always served on interstitial web pages. According to a standard advanced by the IAB, an interstitial (also known as a between-the-page ad) can either be displayed on a separate webpage, or appear briefly as an overlay on the target page. Moreover, mobile advertising guidelines created by the Mobile Marketing Association (MMA) include in-app interstitial ads, that are integrated into applications, rather than web pages.
In January 2017 Google added a search ranking penalty to pages with interstitials.
AdMob
Google AdMob is a mobile advertising platform that you can use to generate revenue from your app.
AdMob is a mobile advertising company founded by Omar Hamoui. The name AdMob is a portmanteau for "advertising on mobile". It was incorporated on April 10, 2006. The company is based in Mountain View, California. In November 2009 it was acquired by Google for $750 million. The acquisition was completed on May 27, 2010.
 Apple Inc. had also expressed interest in purchasing the company the same year, but they were out-bid by Google.  Prior to being acquired by Google, AdMob acquired the company AdWhirl, formerly Adrollo, which is a platform for developing advertisements in iPhone applications. AdMob offers advertising solutions for many mobile platforms, including Android, iOS, webOS, Flash Lite, Windows Phoneand all standard mobile web browsers.
AdMob is one of the world's largest mobile advertising platforms and claims to serve more than 40 billion mobile banner and text ads per month across mobile Web sites and handset applications.
On May 16, 2013, Google announced a rebuild of the AdMob platform at their 2013 I/O using technology from their other platforms like AdSense with the goal of helping app developers to build their business.
Bounce Rate
A bounce is a single-page session on your site. In Analytics, a bounce is calculated specifically as a session that triggers only a single request to the Analytics server, such as when a user opens a single page on your site and then exits without triggering any other requests to the Analytics server during that session.
Bounce rate is single-page sessions divided by all sessions, or the percentage of all sessions on your site in which users viewed only a single page and triggered only a single request to the Analytics server.
These single-page sessions have a session duration of 0 seconds since there are no subsequent hits after the first one that would let Analytics calculate the length of the session. Learn more about how session duration is calculated.
Bounce rate is an Internet marketing term used in web traffic analysis. It represents the percentage of visitors who enter the site and then leave ("bounce") rather than continuing to view other pages within the same site. Bounce rate is calculated by counting the number of single page visits and dividing that by the total visits. It is then represented as a percentage of total visits.
Bounce rate is a measure of "stickiness." The thinking being that an effective website will engage visitors deeper into the website. Encouraging visitors to continue with their visit. It is expressed as a percentage and represents the proportion of single page visits to total visits.
Bounce rate (%) = Visits that access only a single page (#) ÷ Total visits (#) to the website.
Page Views
A page view is a visit to a page on your website. If the visitor reloads a page, this counts as an additional page view.  If the user navigates to a different page and then returns to the original page, this will count as another page view. A visit is defined as a sequence of consecutive page views without a 30-minute break. A visit always contains one or more page views.
A "Pageview" is recorded whenever a full page of your website is viewed or refreshed. The count of pageviews is the total number of times the pages of your website were viewed or refreshed within the selected time period.  Pageviews are not uniqued.
Landing Page
Landing pages are a valuable tool for lead generation and one that ~67% of medium-size companies regularly implement.
What is a landing page?
Sometimes the term 'landing page' is meant as a destination page – i.e., any page where website visitors land when they first reach your site. In fact, you'll notice a report in Google Analytics which examines landing page traffic.
A landing page is also an important term and concept for inbound marketing and lead generation. It's a web page deliberately created to help you convert visitors to your site into leads because it provides you with the means for capturing an email address.
Basically guys landing page is somewhere you get your viewers to and want to take an Action! Probably make them sign for your email, or click something, or buy something specific. Its something many marketers do.
In digital marketing, a landing page is a standalone web page, created specifically for the purposes of a marketing or advertising campaign. It's where a visitor "lands" when they have clicked on a Google AdWords ad or similar.
Landing pages are designed with a single focused objective – known as a Call to Action (CTA).
This simplicity is what makes landing pages the best option for increasing the conversion rates of your Google AdWords campaigns and lowering your cost of acquiring a lead or sale.
Landing pages are often linked to social media, e-mail campaigns or search engine marketing campaigns in order to enhance the effectiveness of the advertisements. The general goal of a landing page is to convert site visitors into sales or leads. If the goal is to obtain a lead, the landing page will include some method for the visitor to get into contact with the company, usually a phone number, or an inquiry form. If a sale is required, the landing page will usually have a link for the visitor to click, which will then send them to a shopping cart or a checkout area. By analyzing activity generated by the linked URL, marketers can use click-through rates and conversion rate to determine the success of an advertisement.
Log File and Analysis
With the help of a log file analysis, statistics about page access or key figures about the use of a website or a web server can be collected. The log file analysis is based on the so-called log files, which are read out. Today, page tagging used by analysis tools has in many cases replaced the traditional analysis of log files. This is not to be confused with social tagging.
What is Log File Analysis for SEO?
Log file analysis has many applications outside of SEO, such as site security. In terms of search engine optimization, the process usually involves downloading the file from your server and importing it into a log file analysis tool, where all the information about every "hit" on the site (whether bot or human) can be analyzed to inform SEO decisions and learn about previously unknown issues.
Log file analysis is an arduous process that frequently results in the discovery of critical technical SEO problems that could be found no other way. Log files contain incredibly accurate data that allow a brand to better understand how search engines are crawling their site and the kind of information they are finding.
Log file data includes a record of the URL/resource that was requested, action taken, time and date, IP of the machine it originated from, user agent/browser type, and other pieces of information.
A new server log entry like the one above will be created each time a resource is requested from your website.
One benefit of log file analysis for SEO is to audit where a site's crawl budget is spent. The higher the authority of the domain, the higher the crawl budget that is allocated by the search engines. While log file analysis can't impact the crawl budget your site receives from Google, it can help to optimize how that budget is used. Some of the ways this is done include:
Identifying which URLs are crawled the most frequently and optimizing toward those

Identifying client and server errors and implementing fixes

Identifying large/slow URLs and making efforts to increase speed

Identifying orphaned pages that would not show up in a site crawl
Advantages of a log file analysis
An analysis of the log files offers the following advantages:
Reorganization of historical data: Web servers continuously record log files. If the files are saved again and again, these files can be evaluated flexibly.
Access numbers remain within your own network: whoever carries out log file analyses and does not transfer the task to an external service provider retains control of his access data.
Measurement of aborted downloads: when logging the web server, a log file records all files that have been stored there and can be downloaded by a user. Logfiles use the timestamp of individual hits to log exactly how long and how much a user has downloaded. Problems with downloaded files can therefore be determined more precisely with the log file analysis.
Firewalls do not interfere with the protocol: when a website is accessed from a server, the firewall does not interfere. The log file can therefore log the access exactly.
Automatic logging of crawlers: Log files record every visit to the web server automatically. This also includes search engine bots.
No JavaScript or cookies required: In contrast to web analysis tools, no JavaScript codes or cookies are required for log file analysis. This makes the analysis less susceptible to technical problems. Log files can also be recorded even when users block web analytics tools.
Simple formatting: If the log file is not too large, the data can be read out and segmented with conventional data processing programs such as Excel. Therefore, no complex program solutions are required.
Disadvantages of log file analysis
The disadvantages of log file analysis:
Caching and proxies: since a log file can only record data that is created by direct server access, all accesses that occur via the cache memory of the browser and via proxy servers are not included in the protocol. Therefore, the traffic of a page is only inaccurately determined with the logfile analysis.
Regular updates necessary: To ensure that logfiles always deliver correct figures, the webmaster has to update the software for data collection again and again. This results in additional maintenance costs.
Additional storage requirements: because logfiles are automatically logged, the amount of data for the log files can quickly become very large in case of high visitor traffic, as each server access is registered. Those who perform log file analyses of large websites themselves therefore need additional storage resources.
Complex data preparation for large amounts of data: for log file analysis, the individual log files must first be entered into a data preparation program. This means extra work, especially for many data sets.
No tracking of widgets or AJAX: a log file can only store data resulting from server requests. For example, if actions within a page are carried out using AJAX, they will not be reflected in the log file, as these are not real server queries.
Inaccurate assignment of visits: if a user uses a dynamic IP assignment when surfing and accesses a website several times, the log file shows several accesses although it was only one user at a time. This makes the traffic count inaccurate. The same applies if several users with the same IP access a website. These are then counted as one visitor only.
Less data: compared to web analysis tools, the log file analysis offers far less data. For example, it cannot display important KPIs such as bounce rates.
Cookie
A cookie is a message given to a web browser by a web server. The browser stores the message in a text file. The message is then sent back to the server each time the browser requests a page from the server.
Other Names
Cookies may also be called a web cookie, Internet cookie, browser cookie or HTTP cookie.
What do Web Cookies Do?
The main purpose of a cookie is to identify users and possibly prepare customized web pages for them. When you enter a website using cookies, you may be asked to fill out a form providing such information as your name and interests. This information is packaged into a cookie and sent to your browser which stores it for later use. The next time you go to the same website, your browser will send the cookie to the server. The server can use this information to present you with custom pages. For example, instead of seeing a generic welcome page you might see a page that welcomes you by name or shows when you last visited the site.
Information Obtained by Cookies
A cookie will typically contain a string of text with information about the browser. Some websites do use cookies to store more personal information about you, however, this can be done only if you provide that personal information. Legitimate websites will encrypt personal information stored in the cookie to prevent unauthorized usage by another party with access to your cookie folder.
Cookies have parameters that can be passed to them:
The name of the cookie.

The value of the cookie.

The expiration date of the cookie: this determines how long the cookie will remain active in your browser.

The path the cookie is valid for. Web pages outside of that path cannot use the cookie.

The domain the cookie is valid for. This makes the cookie accessible to pages on any of the servers in a domain.

The need for a secure connection: this indicates that the cookie can only be used under a secure server condition.
Google Panda
Google Panda is a major change to Google's search results ranking algorithm that was first released in February 2011. The change aimed to lower the rank of "low-quality sites" or "thin sites",  in particular "content farms",  and return higher-quality sites near the top of the search results.
Panda is the official name of a Google algorithm update developed to reduce the prevalence of low-quality, thin content in the search results, and to reward unique, compelling content.
Google Panda is a series of on-going algorithm updates and data refreshes for the Google search engine that the company rolls out to help refine its search algorithm to improve the value of search query results for users.
The Google Panda updates specifically tweak the algorithm as part of Google's continual efforts to elevate high-quality sites and web pages to the top of the organic search results while lowering, or penalizing, the rank of lower-quality or "thin' web sites and pages, particularly those sites that display a large amount of advertising without much in terms of high-quality content.
How Does Google Panda Differ from Google Penguin and Google Hummingbird?
Google Panda is frequently confused with two other algorithm improvements from Google, Google Penguin and Google Hummingbird. Google Panda updates are focused primarily on ensuring that low quality and poor content web sites are pushed farther down the search results so that higher quality sites can receive priority exposure.
Google Penguin updates, on the other hand, target sites that utilize Black Hat SEO in an attempt to boost their search engine results. These sites breach the Google Webmaster Guidelines, and as a result, Google Penguin updates penalize these sites in the search engine's results.
While Google Panda and Penguin both serve as updates for Google's existing search algorithm engine, Google Hummingbird delivers a completely new search algorithm. Google Hummingbird seeks to improve the search engine experience for users by going beyond keyword focus and instead taking into account more of the context and surrounding content in the entire search phrase to offer a natural-language, or conversational, approach to search queries.
How Often Are Google Panda Updates Rolled Out?
The original Panda update debuted in February 2011, and at least three additional major updates have followed, with the May 2014's Panda 4.0 Update. The company also has a history of rolling out minor updates, sometimes as frequently as monthly.
The Panda updates are closely followed by the Search Engine Optimization (SEO) industry as well as companies and web developers across the world, as the Panda changes can significantly impact the amount of traffic a web site receives from natural, or organic, search results.
Google offers regular advisory updates on its blog to help provide direction to SEO companies, web developers and content providers for improving the content and design of their web sites and pages to avoid being lowered, or penalized, in the search engine results.
Triggers for Panda
The Panda algorithm update addressed a number of problematic phenomena in Google SERPs, including:
Thin content – Weak pages with very little relevant or substantive text and resources, such as a set of pages describing a variety of health conditions with only a few sentences present on each page.

Duplicate content

 – Copied content that appears on the Internet in more than one place. Duplicate content issues can also happen on your own website when you have multiple pages featuring the same text with little or no variation. For example, a chimney sweep company might create 10 pages, one for each city the business serves, with content that is nearly identical on all of the pages with only the city names swapped out (e.g. "We clean chimneys in Denver" on one page and "We clean chimneys in Boulder" on the next, and "We clean chimneys in Aspen" on the next).

Low-quality content – Pages that provide little value to human readers because they lack in-depth information.

Lack of authority/trustworthiness – Content produced by sources that are not considered definitive or verified. A Google rep stated

 that sites aiming to avoid Panda's impact should work to become recognized as authorities on their topic and entities to which a human user would feel comfortable giving their credit card information.

Content farming

 – Large numbers of low-quality pages, often aggregated from other websites. For example, of a content farm might be a website that employs large numbers of writers at a low wage to create short articles covering a vast variety of search engine queries, producing a body of content that lacks authority and value to readers because its core purpose is simply to gain search engine rankings for every conceivable term.

Low-quality user-generated content (UGC) –  An example of this type of low-value User Generated Content would be a blog that publishes guest blog posts that are short, full of spelling and grammatical errors and lacking in authoritative information.

High ad-to-content ratio – Pages made up mostly of paid advertising rather than original content.

Low-quality content surrounding affiliate links – Poor content around links pointing to paid affiliate programs.

Websites blocked by users – Sites that human users are either blocking directly in the search engine results or by using a Chrome browser extension

 to do so, indicating low quality.

Content mismatching search query – Pages that "promise" to deliver relevant answers if clicked on in the search results, but then fail to do so. For example, a website page might be titled "Coupons for Whole Foods," but when clicked on, there might be no coupons or there might just be a page of ads, leading to disappointment.
HTTP and HTML
 First thing first. HTML is a Language while HTTP is a Protocol. If that went a bouncer like the Doctor Strange Eye Opening Scene. Lets try to discuss here.
HTML stands for HyperText Markup Language.

 It is a well known markup language used to develop web pages. It has been around for a long time and is commonly used in webpage design.

HTTP, on the other hand, stands for Hypertext Transfer Protocol.

 It is a means of data communication for the World Wide Web. It is an application protocol for distributed, collaborative, hypermedia information systems.

HTML stands for HyperText Markup Language. It is a well known mark up language used to develop web pages. It has been around for a long time and is commonly used in webpage design. XML or Extensible Markup Language defines a set of rules for encoding documents in a format that can be read by both, human and computer.

HTML is written using HTML elements, which consist of tags, primarily and opening tag and a closing tag. The data between these tags is usually the content. The main objective of HTML is to allow web browsers to interpret and display the content written between the tags. The tags are designed to describe the page content. HTML comes with predefined tags. They allow one to insert images, text, videos, forms and other pieces of content together into a cohesive webpage.

HTTP, on the other hand, stands for Hypertext Transfer Protocol. It is a means of data communication for the World Wide Web. It is an application protocol for distributed, collaborative, hypermedia information systems. Basically, it works as means of telling where the data on the World Wide Web travels from and where to. It allows computers to pass information in an orderly fashion.

HTTP is the protocol to exchange or transfer hypertext. Hypertext is a multi-linear set of objects that are used to build a network by using hyperlinks between the nodes, such as text or words.

A disadvantage of HTTP is that it is difficult to implement Web sites that react intelligently to user input. This is mainly due to the independent execution of the commands. This difficulty in implementation led to the development of other technologies, such as ActiveX, Java, JavaScript and cookies.
HTML (Hypertext Markup Language) is a language for marking the normal text so that it gets converted into hypertext. Again, not so clear. Basically, HTML tags (e.g. "<head>", "<body>" etc.) are used to tag or mark normal text so that it becomes hypertext and several hypertext pages can be interlinked with each other resulting in the Web. Please note that the HTML tags are used to help render web pages as well in the Browser. On the contrary, HTTP (Hypertext Transfer Protocol) is a protocol for transferring the hypertext pages from Web Server to Web Browser. For exchanging web pages between Server and Browser, an HTTP session is setup using protocol methods (e.g. GET, POST etc.). This would be explained in another post.
HTML is a language for marking the normal text so that it gets converted into hypertext. Again, not so clear. Basically, HTML tags are used to tag or mark normal text so that it becomes hypertext and several hypertext pages can be interlinked with each other resulting in the Web.
Please note that the HTML tags are used to help render web pages as well in the Browser. On the contrary, HTTP is a protocol for transferring the hypertext pages from Web Server to Web Browser. For exchanging web pages between Server and Browser, an HTTP session is setup using protocol methods. This would be explained in another post.
To understand this difference between HTML and HTTP. Think of HTML as C language and HTTP as FTP. Now one can write C programs in C language and then one can transfer these C programs from Server to Clients using FTP. Same way, web pages are written in HTML and these web pages are exchanged between Server and Clients using HTTP.
Since HTML is a language and HTTP is a protocol, they are two different things though related. In fact, it's possible to exchange HTML web pages without HTTP . Even, it's possible to transfer non HTML pages using HTTP. More details on XML in some other post. We hope that the above clarifies the difference between HTML and HTTP.